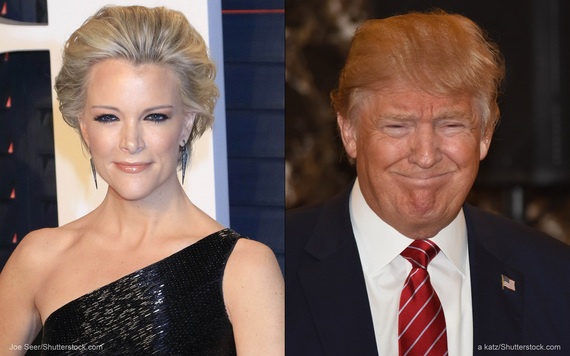 The Fox News Republican presidential debate last night covered key issues -- taxes, terrorism, healthcare -- but most of the focus was on Donald Trump's shifting policies.
Marco Rubio and Ted Cruz worked hard to convince voters that giving the billionaire the party's presidential bid was a recipe for disaster. Ohio Gov. John Kasich, meanwhile, played nice, abstaining from Trump attacks in favor of pushing his own platform.
Fox News' Megyn Kelly served as moderator for the debate. Though the reporter and Trump have a history of taking jabs at one another, the two were surprisingly civil with one another. On the stage, however, Republican candidates bickered about everything from Trump's genitals to the validity of his tax plan.
Fox News Republican Debate Gets Raunchy
The Fox News Republican debate started off more like a testosterone-fueled conversation at a bar than a nationally-televised 2016 presidential election event featuring GOP candidates.
After Marco Rubio said at a rally in Virginia on Sunday that Donald Trump has small hands -- implying that another part of him was small -- the controversial candidate took it upon himself to bring up the topic, saying, "... he referred to my hands, if they are small, something else must be small. I guarantee you there is no problem. I guarantee."
Ted Cruz and Marco Rubio Make Plea to Voters
Supporting the warnings of an anti-Donald Trump speech delivered by 2012 Republican presidential nominee Mitt Romney, Marco Rubio and Ted Cruz joined forces in an attempt to use the debate as a platform to convince voters not to choose the businessman as their party's candidate.
Their tone took on an especially urgent plea, ahead of caucuses and primaries this weekend in Kansas, Maine, Kentucky, Louisiana and Puerto Rico, which could push Trump farther ahead in the Republican presidential polls for the 2016 race.
Rubio took every chance he could to position Trump as dishonest, while Cruz condemned him for donating to Hillary Clinton's 2008 presidential campaign.
"For 40 years, Donald has been part of the corruption in Washington that you're angry about," said Cruz in a plea to voters. "And you're not going to stop the corruption in Washington by supporting someone who has supported liberal Democrats for four decades, from Jimmy Carter to John Kerry to Hillary Clinton."
Ted Cruz and Donald Trump on Tax Plans
In a rare moment when the spotlight wasn't on Donald Trump, Ted Cruz touted a plan he says would eliminate the IRS, introduce a simple flat tax and reduce federal spending by $500 billion.
Of course, the discussion quickly moved to Trump's proposed tax cut, which would increase the national debt by $10 trillion over 10 years. Trump defended his stance by promising to eliminate both the Department of Education's Common Core State Standards Initiative and most of the Department of Environmental Protection.
Moderator Chris Wallace was quick to point out that Trump's plan doesn't add up. In response, Trump discussed the lack of regulation and "waste" of pharmaceutical companies.
Marco Rubio and Donald Trump On Immigration
Megyn Kelly called Donald Trump out on a recent BuzzFeed report that, based on an off-the-record New York Times interview, suggests Trump is more flexible on immigration than he's led voters to believe. Trump said he still plans to build a wall and will be hard on illegal immigrants, noting, "Look at our borders, they're like Swiss cheese."
Rubio urged Trump to permit the New York Times to release audio of the immigration conversation so voters could see his actual views on immigration, but he refused.
Kelly proceeded to question Trump about a statement on his campaign website arguing that granting visas to highly-skilled workers would "decimate American workers" -- something he spoke in favor of during a CNBC debate. In response, he admitted he had changed his position. Consequently, she accused him of using his supposedly strict immigration policies as a ploy for votes, to which he adamantly denied.
Donald Trump, Megyn Kelly Meet Again
Nearly drawing as much attention as the candidates themselves was the bitter Donald Trump-Megyn Kelly rivalry.
At a Fox News Republican debate in August 2015, Trump became extremely defensive when Kelly questioned him about his past treatment of women, which prompted him to suggest she was lashing out because she had blood pouring out of her "wherever" -- which many assumed was a reference to menstruation.
Trump's comments spurred a public feud with Kelly, during which he stated that he has no respect for her. Their rivalry even caused him to skip a Fox News Republican debate she was moderating in January.
Despite their highly-anticipated reunion at the Republican debate in Detroit, the two remained poised with one another. After exchanging pleasantries at the beginning, Trump restrained himself during intense questioning from Kelly on everything from his stance on illegal immigrants to speculation that he often changes his mind on issues.
After the debate, Trump even praised her and the other moderators, saying, "I really think the moderators were very, very good tonight."
More from GOBankingRates:
Calling all HuffPost superfans!
Sign up for membership to become a founding member and help shape HuffPost's next chapter