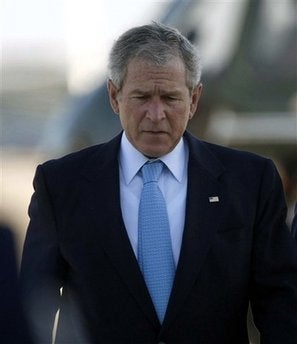 As I reported here weeks ago, the new (and fourth) Bob Woodward book on President Bush would be published a week after Labor Day, under strict secrecy with his Washington Post promised first dibs. Late today, however, Fox News said it had obtained an advance copy, and quickly spilled some of the beans.
Within two hours, the Post had published a detailed look on its Web site at www.washingtonpost.com -- moving only after the Fox News news emerged. Their story even mentions the Fox scoop and promises its own four-part series starting on Sunday.
Bill Sammon, writing at FoxNews.com, had revealed that "The War Within" "renders a mixed verdict on Bush, lauding the president's surge of troops into Iraq, but saying 'too often he failed to lead.'"
One colorful extract: Woodward quotes John McCain expressing frustration with the Bush White House, clenching his fists in the West Wing and exclaiming to the author: "Everything is f---ing spin."
The Post account, by Steve Luxenberg, obviously in the can and ready for just this eventuality, reveals that Bush pushed Pentagon chief Donald Rumsfeld out without telling Dick Cheney -- and that Cheney then told him he disagreed with that.
But the Post story leads with: "The Bush administration has conducted an extensive spying operation on Prime Minister Nouri al-Maliki, his staff and others in the Iraqi government, according to a new book by Bob Woodward."
The second main point: "The book also says that the U.S. troop surge' of 2007, in which President Bush sent nearly 30,000 additional U.S. combat forces and support troops to Iraq, was not the primary factor behind the steep drop in violence there during the past 16 months.
"Rather, Woodward reports, 'groundbreaking' new covert techniques, beginning in 2007, enabled U.S. military and intelligence officials to locate, target and kill insurgent leaders and key individuals in extremist groups such as al-Qaeda in Iraq."
More: "The book portrays an administration riven by dissension, either unwilling or slow to confront the deterioration of its strategy in Iraq during the summer and early fall of 2006."
Woodward reports that the the president did not "express much urgency for change during the months when sectarian killings and violent attacks against U.S. forces in Iraq began rising, reaching more than 1,400 incidents a week by October 2006 -- an average of more than eight an hour. 'This is nothing that you hurry,' he told Woodward during one of the interviews, when asked whether he had given his advisers a deadline for revising the war strategy."
What the Post calls "a critical epilogue assessing the president's performance as commander-in-chief" concludes that Bush "rarely was the voice of realism on the Iraq war" and "too often failed to lead."
Greg Mitchell's new book on Iraq and the media--with plenty of Woodward--is titled "So Wrong for So Long."
Calling all HuffPost superfans!
Sign up for membership to become a founding member and help shape HuffPost's next chapter