Fox News, its co-president Bill Shine and its former chairman Roger Ailes were hit with another sexual harassment lawsuit on Monday, the latest accusations to rock a network already reeling from revelations this past weekend about its biggest star, Bill O'Reilly.
On-air contributor Julie Roginsky filed a complaint Monday in New York state court claiming that Ailes made repeated sexual advances toward her. After she turned them down, Roginsky alleges that Fox News and Shine, specifically, retaliated against her by denying her opportunities at the top-rated cable news network.
Shine, a longtime Fox News executive, became co-president after the resignation of Ailes, who left amid widespread harassment allegations in July. The lawsuit alleges that Roginsky faced repercussions for not joining "Team Roger" by initially defending the network boss following the sexual harassment lawsuit filed by former host Gretchen Carlson.
The latest allegations raise more troubling questions about Shine's current stewardship of Fox News and the toxic culture fostered during Ailes' 20-year reign.
Roginsky's claims follow other recent lawsuits against high-level Fox employees that alleged sexual assault and racial discrimination, and a New York Times investigation published Saturday on $13 million having been paid in settlements to five O'Reilly accusers. Meanwhile, Fox News host Andrea Tantaros' suit against Ailes, Shine, and others executives is still outstanding.
A Fox News spokesperson did not immediately respond to a request for comment.
The recent suits come as federal investigators are looking into whether 21st Century Fox, the Murdoch family-run parent company of Fox News, properly informed investors about settlement payments to various women who'd accused Ailes of harassment. Though 21st Century Fox hired an outside law firm last summer to investigate claims against Ailes, Lisa Bloom, the attorney for a former Fox News guest accusing O'Reilly of harassment, called Sunday for an independent investigation.
Ailes' interest in Roginsky, who'd been appearing on Fox News since 2004, allegedly began in earnest in 2015, after she landed a co-hosting role on the afternoon show "The Five." According to the suit, Ailes would call her in for one-on-one meetings, where conversation would lead to Roginsky's personal life. Ailes allegedly would ask who she was dating and why she wasn't married.
This was just the beginning of the inappropriate behavior Roginsky describes in the suit: "During these meetings, Ailes additionally (and without irony) volunteered the advice that Roginsky should engage in sexual relationships with 'older, married, conservative men' because 'they may stray but they always come back because they're loyal.'"
Ailes also told Roginsky, in what seemed like a clear warning, that he was loyal but that loyalty was a two-way street, according to the suit.
At the meetings, Ailes would insist on a kiss hello, but he would be seated in a low armchair. That meant Roginsky had to bend down to reach his cheek, according to the suit.
All along, Roginksy, who the lawsuit describes as a liberal, thought she was in the running for a permanent position on "The Five." But in April 2015, Ailes called Roginsky in for what would be their final one-on-one. He "toyed" with Roginsky, the suit alleges, about giving her a permanent spot. Then he allegedly said that "if it wouldn't get us both in so much trouble," he would take her out for a drink. Instead, Ailes suggested a drink in his office.
When Roginsky declined, Ailes dismissed her and refused to meet with her again, despite repeated requests, according to the suit. Ailes gave Roginsky's spot to Geraldo Rivera.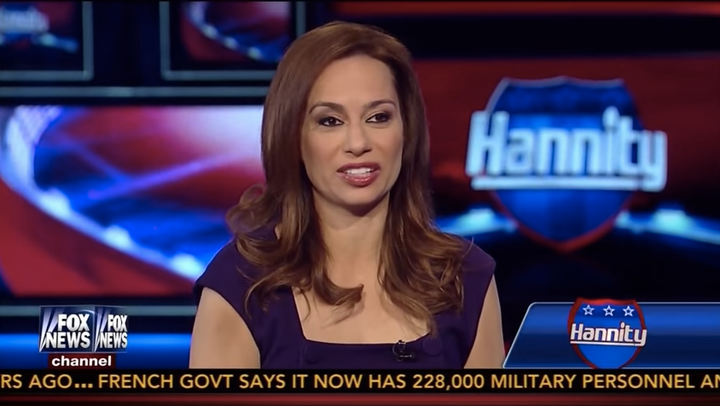 After Carlson filed her suit against Ailes last summer, another Fox contributor, Angela McGlowan, asked Roginsky if she was game to join "Team Roger," the group of Fox employees and contributors publicly defending Ailes against Carlson's allegations and other complaints.
Roginsky refused to sign up for the project, telling McGlowan she believed Carlson's claims and that she had also been propositioned by Ailes. According to the suit, McGlowan told Fox News executives ― including Shine, the current co-president ― about Roginsky's claims.
Roginsky is being represented by attorney Nancy Erika Smith, who also represented Carlson.
The accusations in Roginsky's suit appear particularly damming for Shine. She claims that even after she personally told him of her experience with Ailes, he and other executives at Fox took no action to investigate ― even as an outside law firm, hired by Fox, investigated the charges against Ailes over the summer.
Yet Roginsky remained hopeful, particularly after Ailes was ousted in July. She repeatedly tried to meet with Shine, seeking a full-time slot on the Fox program "Outnumbered."
But instead of meeting with Shine, she heard from Fox News counsel Dianne Brandi, who told Roginsky that she would not be considered for a position if she was threatening to sue Ailes, according to the suit.
When she finally met with Shine in the fall, he seemed more interested in talking about the Eagles than about her career prospects. According to the suit, Shine told Roginsky she should watch a Showtime documentary about the rock band because their story was very similar to the story of Fox News.
"In the same way that such brilliant musicians as Glenn Frey, Linda Ronstadt and Jackson Browne could only have come together at 'one place and one time in history,' so it was with Bill O'Reilly, Sean Hannity, Suzanne Scott, Roger Ailes and Bill Shine coming together to form Fox News," the lawsuit says, in an apparent paraphrase of Shine's remarks.
In a follow-up meeting in December, Shine told Roginsky he'd only recently learned about Ailes' harassing women at Fox. But the suit argues that couldn't have been true, since Shine had years before helped negotiate a secret multimillion-dollar payment to former Fox employee Laurie Luhn, who said she'd suffered years of abuse from Ailes.
At the December meeting, Shine again asked Roginsky if she'd seen the Eagles documentary. She had not.
Shine didn't wind up giving her a permanent hosting slot.
Read the full suit below:
Related
Popular in the Community