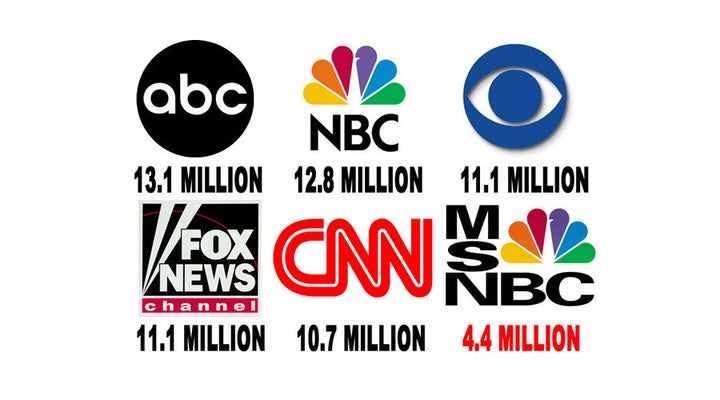 Update: The final numbers are in: 69.9 million viewers watched the Vice Presidential debate, making it the most watched debate since 1992 and the most watched VP debate ever. From The Hollywood Reporter's James Hibberd:
Thursday's highly anticipated face-off between Alaska governor Sarah Palin and Delaware senator Joe Biden was the most-watched debate in 16 years

[Thursday] night's event was seen by 69.9 million viewers, according to Nielsen Media Research.

That's the most-viewed debate -- presidential or vp -- since the second round of Bill Clinton, Ross Perot and George Bush debating in 1992 (which also received 69.9 million).

Thursday's event was 33% higher than Friday's debate between John McCain and Barack Obama. It's 61% higher than the 2004 debate between Dick Cheney and John Edwards, and ranks 8% higher than the former most-watched vp debate record holder -- the 1984 match between George Bush and Geraldine Ferrarro.
Cable Ratings: Fox News had its highest rated telecast ever Thursday night, drawing 11.1 million viewers for the Vice Presidential debate (from 9:01 pm-10:33 pm Eastern time).
CNN came in second with 10.7 million viewers, while MSNBC came in a distant third with 4.4 million viewers.
The Vice presidential debate replaced George Bush's Presidential Address from March 19, 2003, which drew 9.7 million viewers, as the network's highest rated telecast in its 12-year history.
Fox News also saw its highest prime-time average ever: it averaged 9.2 million viewers from 8-11pm.
CNN won the coveted Adults 25-54 demographic, averaging 4.5 million to Fox's 3.8 million and MSNBC's 1.9 million viewers.
Network Ratings: On the networks, ABC took the top spot, averaging 13.1 million viewers for the VP debate. NBC came in second with 12.82 million, while CBS came in third with 11.1 million viewers.
ABC also won the post-debate analysis (10:37 pm-11:00 pm Eastern), drawing 9.8 million viewers to NBC's 9.6 million and CBS' 8.0 million.
Final Numbers (total viewers):
ABC: 13,130,000
NBC: 12,820,000
CBS: 11,100,000
Fox News: 11,098,000
CNN: 10,685,000
MSNBC: 4,412,000
Related
Popular in the Community