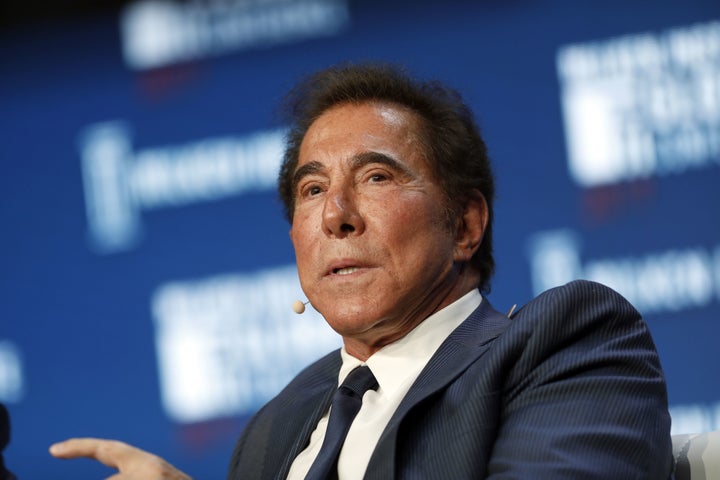 Fox News announced on Friday it would not book Steve Wynn on any future installment of "The Wise Guys," a network special he previously co-hosted. The announcement came after allegations emerged of recurrent sexual harassment by the Las Vegas casino mogul.
The billionaire businessman has been accused of a decades-long pattern of sexual harassment and abuse toward workers at his casinos, The Wall Street Journal reported on Friday. Wynn, who also served as the Republican National Committee's finance chairman until his resignation on Saturday, recently appeared as a guest on the Fox News special.
In a statement on Friday, Fox said it would no longer book Wynn should the show return.
"We will not be booking Steve Wynn on any potential future installments of 'The Wise Guys,' if it moves forward beyond a one-off special," a spokesperson told HuffPost.
Dozens of current and former employees at Wynn's gambling establishments said they had experienced or witnessed chronic abuse by the billionaire, who owns several sprawling casinos and is estimated to be worth over $3.6 billion.
The allegations detailed in the Journal article ranged from lewd comments and inappropriate touching to soliciting sex acts from women who worked as manicurists and massage therapists at Wynn's Las Vegas casinos.
One former employee at Wynn Las Vegas said the mogul pressured her into having unwanted sex with him after she gave him a manicure in 2005. Wynn later agreed to pay the woman a $7.5 million settlement after she filed a report.
"The idea that I ever assaulted any woman is preposterous," Wynn said in a statement shared with HuffPost. "We find ourselves in a world where people can make allegations, regardless of the truth, and a person is left with the choice of weathering insulting publicity or engaging in multi-year lawsuits. It is deplorable for anyone to find themselves in this situation."
Wynn was appointed to head the RNC's finance committee in January 2017. He has supported both the Democratic and Republican parties with financial contributions over the years. But Wynn threw his support behind the latter during the 2016 election cycle, donating some $833,000 to Republican joint fundraising committees, according to Forbes.
This story has been updated to clarify that Fox News' statement referred only to not booking Wynn on any future installment of 'The Wise Guys.' It has also been updated to include news of Wynn's resignation as RNC finance chair.
Popular in the Community