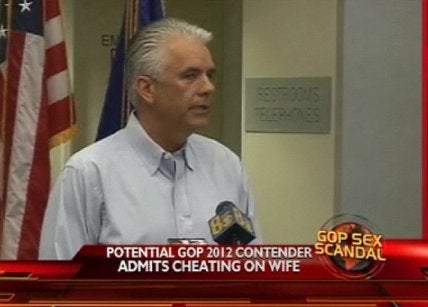 Fox New is denying claims that Doug Hampton — whose wife Cynthia is the other woman in Senator John Ensign's sex scandal — sent the network a letter pleading for help exposing the affair five days before the Senator announced it in a press conference and that Ensign came forward with the affair because he knew Fox was working on the story.
The Las Vegas Sun reported Friday that Hampton sent Fox News' Megyn Kelly a two-page, single-spaced letter dated June 11 detailing the affair and asking for help in exposing the Senator. The Senator came forward with the affair on June 16 — in part, a spokesman told the Sun, because his office had learned that Hampton approached "a major television news channel."
"We learned of this fact before the news conference," the spokesman told the Sun.
Tom Lowell, senior producer of "America's Newsroom," hosted by Kelly and Bill Hemmer, says no one at Fox News ever received a printed letter, but that a booker on the show received an email from Hampton with the letter attached on June 15 — the day before the Senator's press conference.
"We never received any letter from Mr. Hampton," Lowell told the Huffington Post. "He might have sent it, but we never received it. He did reach out to us about 24 hours before the news conference, and he sent an e-mail to a booker on my staff."
Lowell said that a member of his editorial staff followed up with Hampton that day.
"We followed up with him, but he seemed evasive and not credible, thus we didn't pursue it," he said. "We certainly weren't going to rush to air with accusations against a sitting Senator without doing due diligence on the reputability of the claims.
"We always evaluate people when they call into the newsroom in terms of: does this sound like its solid? Does it sound like its actionable?" Lowell said. "There were some questions here, so we decided that we would make some inquiries but that it wasn't something we needed to move on immediately. And before we could nail everything down and confirm this story the Senator had already announced his press conference.
"We get hundreds and hundreds of items a week," he added. "They could be requests for help, please look into this, I think someone did this...we have to filter all that. Clearly this guy had a story to tell and we just didn't get to it before the Senator got to it."
Lowell also stated emphatically that no one at Fox News reached out to the Senator to alert him about the story.
"I know there are people asking if we alerted the senator," Lowell said. "Definitely no one on our editorial team called anyone in Senator Ensign's office prior to the announcement. We just hadn't gotten to that point of confirming the story yet. Somehow, somebody told the Senator something and I don't know how that happened. But I categorically deny that we ever reached out to the senator in any way shape or form prior to him making his announcement."
Ensign spokesman Tory Mazzola could not be reached for comment Friday morning.
Popular in the Community