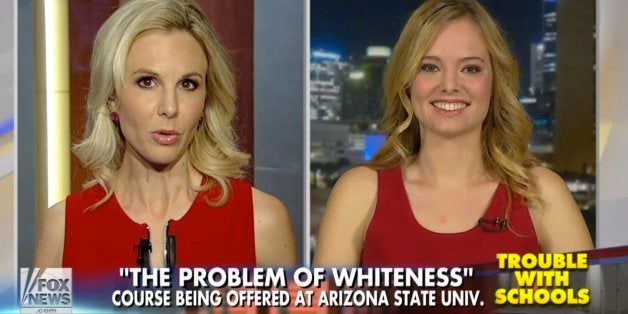 A Fox News host raised alarm bells Friday over a university course that studies whiteness, saying that the titles of the books used in the class make it clear that the syllabus aims to stoke anti-white resentment among students.
But the authors of two of those books, one of whom is herself white, say the claim is ridiculous.
In a Friday segment of "Fox & Friends," co-host Elisabeth Hasselbeck described an Arizona State University course called "U.S. Race Theory & the Problem of Whiteness," taught by Lee Bebout, an assistant professor at the school. Hasselbeck characterized the class as an attack on white people, calling it "quite unfair, and wrong, and pointed."
Those books view "white people as a root cause of social injustices in this country," Clark told Hasselbeck.
Reached for comment Sunday, Hill told The Huffington Post that the Fox News segment made little sense to her, especially as she herself is white.
"Of course I'm white too," Hill told HuffPost in an email. "And my parents and grandparents and all my aunts and uncles are white, and my sister and brother and their spouses and kids are white, and my husband and my kids are white, and my only grandkid is white, so of course I hate white people and I want other people to hate them too."
Hill, a professor of anthropology and linguistics at the University of Arizona, then emphasized that she was making those remarks sarcastically in order to highlight the absurdity of the Fox News claim.
"This is a book that comes out of my own world, a world that I live in, and uses very conventional anthropological methods for analyzing the language of that world," Hill told HuffPost by phone on Monday. "My analysis wouldn't come as a surprise to anyone studying white racism. It's pretty standard stuff."
Delgado, a professor at the University of Alabama School of Law, also dismissed Fox News' portrayal of his book and the course's subject matter.
"I think Fox's main criticism is absurd," Delgado told HuffPost. "Critical race theory -- at least in my view of it -- is not fixated on white people. Fox should realize it is just not about them and their favorite audience."
Delgado said the field of critical race theory aims to better understand race relations by studying the effects and interplay of different cultures, institutions and histories.
"It's about racism, it's about power, it's about influence, it's about law -- about how law shapes and instructs racism and racial relations in this country, what causes it to change," Delgado said.
Both Hill and Delgado said Fox News did not reach out to them for comment, either before or after they aired the segment calling their books racist. Neither Fox News nor Clark responded to HuffPost's requests for comment about the authors' views on the segment.
Bebout declined to comment to HuffPost, pointing instead to the school's communications department, which provided the following statement:
This course uses literature and rhetoric to look at how stories shape people's understandings and experiences of race. It encourages students to examine how people talk about -- or avoid talking about -- race in the contemporary United States. This is an interdisciplinary course, so students will draw on history, literature, speeches and cultural changes -- from scholarly texts to humor. The class is designed to empower students to confront the difficult and often thorny issues that surround us today and reach thoughtful conclusions rather than display gut reactions. A university is an academic environment where we discuss and debate a wide array of viewpoints.
Delgado's work has already attracted controversy elsewhere in the state. The Tucson school board banned Critical Race Theory from classroom instruction for a year and a half after Arizona's education department declared that a controversial Mexican-American studies curriculum, which used the book, was illegal.
The Arizona state legislature passed a law in 2010 aimed at restricting that Tucson program in particular. The school board shut down the program in January 2012 under pressure from state officials and banned seven books from the curriculum, including Delgado's, arguing that they had been cited in a lawsuit against the district over the ethnic studies law.
Delgado told HuffPost he was proud to have his book included in the prohibited curriculum, which independent researchers have credited with improving the graduation rate and performance on state tests in the majority-Latino school district.
"Those young, animated and in my view quite gifted teachers were teaching kids in Tucson schools about their own histories and their own culture and how to understand racial dynamics in the United States," Delgado said. "They were teaching them how to think about their own condition, and their own histories, and why their own families were where they were in the social pecking order. And the kids got extremely excited, wanting to go to college, wanting to be lawyers, wanting to change things and make them right."
"I was thrilled when I found out that my book was helping fire up young students," he added.
The 9th U.S. Circuit Court of Appeals heard oral arguments this month in a lawsuit brought by Tucson students seeking to overturn the state's ethnic studies law. The three-judge panel has yet to release its decision.
This article has been updated to note that Jean Stefancic is the co-author, with Richard Delgado, of the book Critical Race Theory.
Before You Go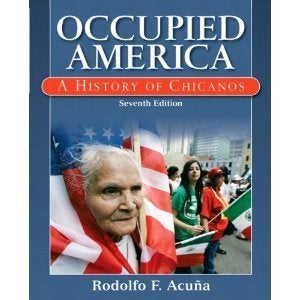 Latino Books Once Banned In Arizona
Popular in the Community