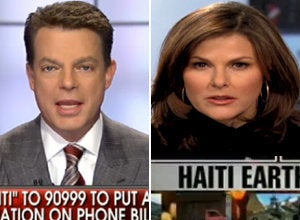 Fox News has won the ratings race for Haiti coverage thus far, often beating both CNN and MSNBC combined, but CNN has solidly upended MSNBC for the second place slot.
In total day coverage, Fox News averaged 1.501 million viewers Wednesday and 1.524 million viewers Thursday. CNN, meanwhile, averaged 942,000 total viewers Wednesday and 913,000 total viewers Thursday, significantly more than MSNBC's total day averages of 449,000 (Wednesday) and 434,000 (Thursday).
In the A25-54 demographic, the disparity is even more dramatic: Wednesday, Fox News averaged 426,000 A25-54 viewers and CNN averaged 337,000; MSNBC, meanwhile, averaged just 129,000. Thursday, Fox News averaged 411,000 A25-54 viewers and CNN averaged 328,000; MSNBC averaged 130,000.
In primetime, Fox News was more dominant (perhaps because its opinion programs haven't been all that Haiti-focused). Tuesday night the night the earthquake coverage was breaking Fox News averaged 765,000 A25-54 viewers in primetime and CNN averaged 343,000 A25-54 viewers; MSNBC, which was criticized for all but ignoring the developing coverage in primetime, averaged just 214,000 A25-54 viewers.
CNN's struggles in the primetime demographic particularly compared to MSNBC have been well-documented, but the past few nights of earthquake coverage have shown CNN solidly on top of MSNBC in the prime demo.
Wednesday night, while Fox News won with 799,000 A25-54 viewers, CNN (593,000 A25-54 viewers) crushed MSNBC (296,000 A25-54 viewers). Anderson Cooper's 10PM program, which has been one of CNN's most troubled hours, even beat Fox News' "On The Record with Greta Van Susteren" Wednesday in the demo, averaging 701,000 A25-54 viewers compared to 675,000 for "On the Record." But even at 8PM, CNN's "Campbell Brown" (540,000) solidly beat MSNBC's "Countdown with Keith Olbermann" (362,000); and at 9PM, CNN's "Larry King Live" (537,000) solidly beat MSNBC's "Rachel Maddow Show" (264,000). Of course, Fox News won both those hours, with Bill O'Reilly (and Sarah Palin's debut) averaging 982,000 A25-54 viewers at 8PM and "Hannity" averaging 741,000 A25-54 viewers at 9PM.
Thursday night, Fox News was particularly strong in the prime demo, averaging 878,000 A25-54 viewers (on the heels of Bill O'Reilly's whopping 1.085 million A25-54 viewers and Sean Hannity's 927,000 A25-54 viewers). CNN averaged 578,000 A25-54 viewers to MSNBC's 295,000. On the program level, Campbell Brown who herself has struggled in the ratings was the network's top program, averaging 619,000 A25-54 viewers and soundly beating Keith Olbermann's 351,000 A25-54 viewers. At 9PM, Larry King's 529,000 A25-54 viewers beat Rachel Maddow's 320,000. And at 10PM, where Greta Van Susteren (622,000) took back the lead from Anderson Cooper (587,000), the repeat of "Countdown" averaged just 215,000 A25-54 viewers.
Calling all HuffPost superfans!
Sign up for membership to become a founding member and help shape HuffPost's next chapter