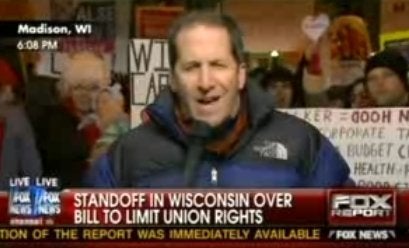 A Fox News reporter was heckled by a crowd of Wisconsin protesters who chanted, "tell the truth!" during his entire report on Monday.
It was the second time that a Fox reporter received a less-than-friendly welcome from the protesters, who are fighting the Republican governor's attempt to end collective bargaining for Wisconsin's public sector workers. On Saturday, Fox Business reporter Jeff Flock was nearly drowned out by chants of "Fox lies." This time, it was Fox News reporter Mike Tobin who received the brunt of the crowd's animus towards the channel.
"Shep, you're going to have to listen above the hecklers as I answer your question," he told anchor Shepard Smith. The chants persisted through Tobin's entire exchange with Smith. When he finished his report, Smith said, "Mike Tobin, with not a lie in the bunch," a reference to the earlier incident.
WATCH:
Calling all HuffPost superfans!
Sign up for membership to become a founding member and help shape HuffPost's next chapter