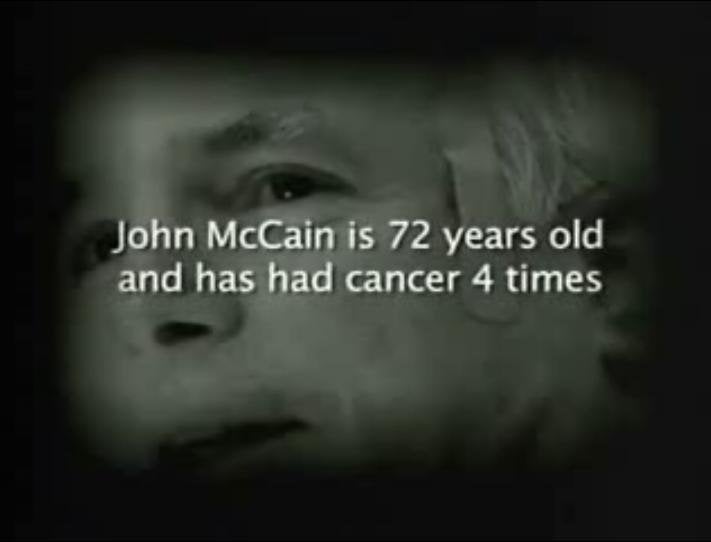 Brave New Films' most recent political ad, detailing the medical history of GOP nominee John McCain and which raises concern about his recurrent melanoma, has over the past week been rejected by all three cable news networks, for reasons various and sundry. MSNBC for example, took the ad out of rotation because Bill O'Reilly yelled at them and this made them sad, or something. O'Reilly was likely incensed because BNF has made Mr. "Fuck It We'll Do It Live" the butt of many jokes. They've been pretty unsparing to O'Reilly's network, as well. BNF's Robert Greenwald is the man behind the documentary Outfoxed, and we'll not soon forget his tribute to the network's many pornographic offerings.
With that in mind, it's hardly surprising that the Fox News Channel would refuse BNF's ad about McCain's medical history. Interestingly, however, the network has made a rather inept attempt at couching their rationale along journalistic lines, telling the filmmakers that the ad was not suitable for airing because they "couldn't come up with conclusive proof of [their] 'claim' that McCain has had four melanomas." BNF sent along articles attesting to the underlying facts of McCain's skin cancer history from sources such as the New York Times, the Washington Post, and the Los Angeles Times, but these efforts failed to meet or exceed Fox's standard of journalistic excellence. Of course, by that logic, you know who else fails to meet or exceed Fox's standard of journalistic excellence? Fox News.
NOTE: At the time this post was authored, the actual advertisement in question was unavailable through Brave New Films, as their account with YouTube had been suspended, for reasons unknown. The ad can be seen in its entirety on this clip from The Young Turks.
Calling all HuffPost superfans!
Sign up for membership to become a founding member and help shape HuffPost's next chapter