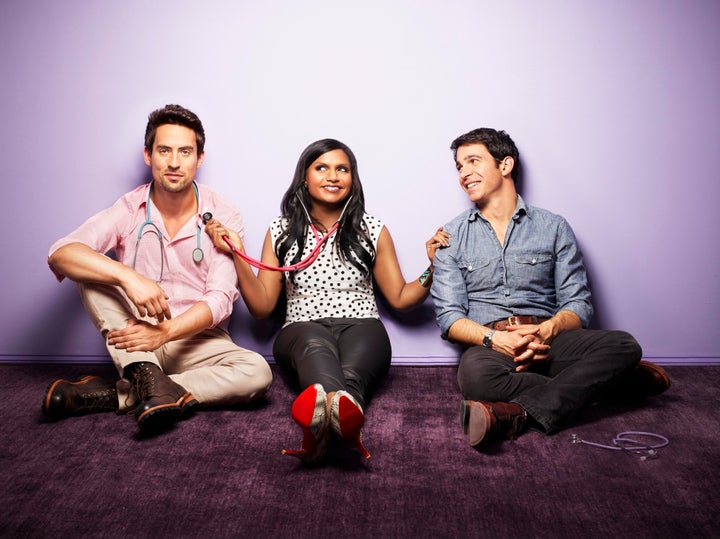 We've seen Fox's new fall and midseason pilots, and while they're not for review (things often change drastically before the shows are set to premiere), we do want to share our first reactions with you.
This quick guide is designed to get you excited for some new shows ... and to warn you to curb your enthusiasm for others. Just keep in mind that we'll have full reviews of the final pilots closer to airdate. For now, here are our snap judgments of all of Fox's new shows for the 2012-2013 TV season. (Note: Midseason offering "The Goodwin Games" was not yet available for viewing.)
Here's how we broke them down:
Watch It - awesome show, can't wait for more
Skip It - it's either horrible or just totally not their thing
DVR It - there's potential, will give it a second chance
FALL 2012

"BEN AND KATE" Read more about "Ben and Kate" and watch the trailer here Ryan: Skip It Trying very, very hard to be quirky/cute, and not quite making it.
Furlong: DVR It It's not laugh-out-loud funny -- at all -- but this family comedy has heart and some potential.
Etkin: Skip It Not even the adorable little redhead from "We Bought A Zoo" (Maggie Jones) could save this sitcom. When your best running joke is about high-fives, you've got problems.
Harnick: Skip It The little girl is adorable, nothing else about the show is. Can she get a series with Crystal the Monkey?
Moaba: Skip It This is supposed to be a comedy, I think, but the only two moments that approached chuckle-worthy status featured Ben trying to open a sealed cookie jar and Kate getting stuck inside her shirt.
Weingus: DVR It Very sweet and more than a little corny, you can't help rooting for this dysfunctional brother-sister duo.
Prudom: Skip It Full of sitcom clichés, it aims for "New Girl" quirkiness but overshoots and lands firmly in obnoxiousness. There could be comedic potential here, but the pilot doesn't really show it, and Nat Faxon seems to have mistaken himself for Will Ferrell without the timing.
"THE MINDY PROJECT" Read more about "The Mindy Project" and watch the trailer here Ryan: DVR It I wanted to like this all-over-the-place pilot more than I actually did, but I'll give it a chance, given its pedigree.
Furlong: Watch It Mindy Kaling is TV's newest and most realistic heroine, bringing her self-deprecating charm and a hopeless romantic attitude to life with a quirky but capable OB/GYN alter-ego. I want her to be my doctor ... or my best friend.
Etkin: Watch It Mindy Kaling had me at "When Harry Met Sally." Though the lead can be a bit of a "poor me" character, she's more enjoyable to watch than "New Girl's" Jess (an inevitable comparison). Unfortunately, however, the supporting characters are far weaker.
Harnick: Watch It I want to give this show a chance. There was sort of an odd feeling to the pilot, but I'm looking forward to watching the show get into a groove.
Moaba: Watch It Mindy's stream of consciousness rambling, self-doubt and infinite romantic comedy references almost cross the line into irritating territory, but she manages to make herself the butt of so many jokes that the show comes off as funny and endearing. I'm pretty sure my girlfriend will make me watch this with her, and I won't have a problem with it.
Weingus: Watch It Kaling manages to combine the best parts of Kelly Kapoor with the worst (and most comical) aspects of being a career-centered 30-something. A must watch!
Prudom: Watch It The only comedy pilot of the season to make me laugh multiple times -- it's charming, sweet and snarky, and Mindy Kaling is delightfully dysfunctional.
"THE MOB DOCTOR" Read more about "Mob Doctor" and watch the trailer here Ryan: Skip It The pilot was actually all right, considering the comically melodramatic title and premise, but I don't see myself feeling the need to schedule a return visit to this physician.
Furlong: DVR It Once you get past the ridiculous premise (and no, it isn't easy), this one-two punch of medical drama and mob intrigue is pretty compelling, thanks in large part to lead Jordana Spiro.
Etkin: DVR It Though it's not really my cup of tea -- and the name sounds straight up VH1-worthy -- "Mob Doctor" is gripping enough to keep me coming back for another episode.
Harnick: DVR It I'm not completely sold. I love a good medical drama and the added mob element spices it up, but at the same time it could bog it down.
Moaba: DVR It Okay, so it's a craven attempt to marry two genres with different demographics, but "The Mob Doctor" is surprisingly well executed. Paging all forlorn "House" fans.
Weingus: Watch It The combination of a compelling pilot and Jordan Spiro's outstanding performance makes "The Mob Doctor" irresistible.
Prudom: DVR It The mafia element adds a unique twist to the standard medical formula and I adore Zach Gilford, but these types of shows aren't really my thing, so I doubt it'll ever be appointment viewing for me. (I'll probably Skip It, but there's nothing overtly wrong with it for me to recommend you do the same, especially if you're a fan of medical dramas.)
"THE FOLLOWING" Read more about "The Following" and watch the trailer here Ryan: DVR It This creepy drama is probably too dark for me to follow long-term -- I'm not a fan of the serial-killer genre -- but the performances by Kevin Bacon and James Purefoy (a longtime favorite) are generally strong, so I might try to overcome my queasiness … for a few episodes, anyway.
Furlong: Watch It Hands down the best new show of the season. Period. In fact, this is one of the best, most suspenseful, most action-packed pilots I've ever seen.
Etkin: Watch It ... But only with the lights on. "The Following" will make you squirm and it reminds me of the very best of Kevin Williamson's suspense works -- from the original "Scream" to the lady killer episode of "Dawson's Creek" -- only now, he's all grown up. I may not be able to sleep on Monday nights in 2013.
Harnick: Watch It The FBI in "The Following" is clueless -- thank god they have Kevin Bacon! However, the twists kept me interested and ready for another episode.
Moaba: Watch It If you squint hard enough while watching "The Following," you can see plenty of similarities between Kevin Bacon and Kiefer Sutherland in "24." Maybe it's just the chiseled jawlines and receding hairlines, but then again, this could be Fox's next hit thriller.
Weingus: Watch It It's a serial killer drama starring Kevin Bacon. What's not to love?
Prudom: Watch It Hands down the most gripping, gruesome pilot of the season. I had to watch parts of it through my fingers, but the stellar cast and cinematic production values make it a must watch. I'm just sad we have to wait until midseason for it.
Tell us: Which of these new Fox shows are you excited to see for yourself?
Check out our snap judgments of other pilots here, by network:
Check out photos from Fox's new 2012-2013 shows here:
PHOTO GALLERY
New Fox Primetime Series
Calling all HuffPost superfans!
Sign up for membership to become a founding member and help shape HuffPost's next chapter
BEFORE YOU GO