With the exception of the London matchup between the Miami Dolphins and New Orleans Saints, Fox Sports plans to follow "standard procedure" and broadcast regionalized coverage without airing the national anthem. The network added, "However, our cameras are always rolling and we will document the response of players and coaches on the field."
The decision was a shift from last week when Fox Sports broadcast the national anthems from games, Sports Illustrated reported.
During the national anthem ahead of the London game, which Fox Sports did broadcast, the entire New Orleans Saints team kneeled before the music began, but stood for the entirety of the "Star Spangled Banner."
Last week, nearly a dozen Saints players sat on the bench during the national anthem ahead of their matchup against the Carolina Panthers. When the Dolphins played the New York Jets, the entire team locked arms in a show of solidarity with the players who kneeled.
This week, three Miami Dolphins players kneeled while the rest of the team remained standing.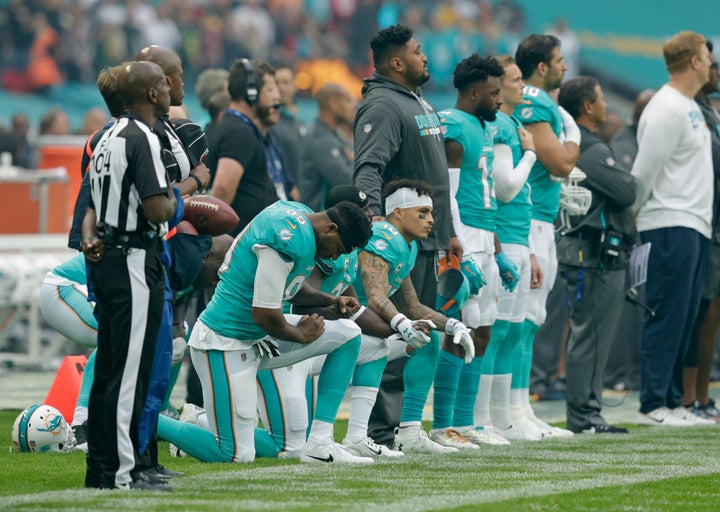 One of the kneeling Dolphins players was safety Michael Thomas, who fought back tears last week while responding to Trump's harsh rhetoric.
"I got a daughter. She's going to have to live in this world," Thomas told reporters last week. "I'm going to do whatever I got to do to make sure she can look at her dad and be like, 'Hey, you did something, you tried to make a change.'"
Related
Popular in the Community