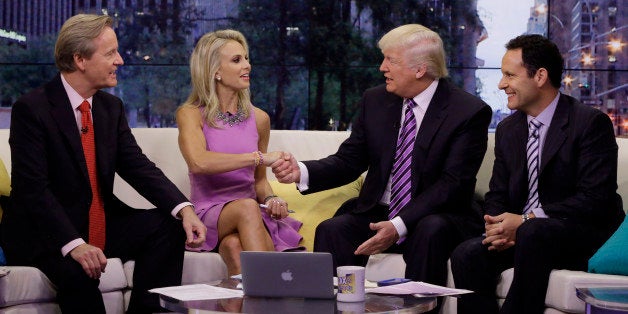 The hosts of "Fox & Friends" stood by their frequent and favorite program guest Donald Trump Tuesday morning, following NBC's announcement that it would end its business relationship with the real estate mogul and 2016 GOP presidential candidate.
Trump responded to NBC's decision during a campaign speech in Chicago on Monday, claiming that NBC was already unhappy with him for running for president instead of hosting his hit reality TV show, "The Celebrity Apprentice." Trump also maintained that his remarks about immigration were "correct."
"Fox & Friends" co-hosts Steve Doocy, Elisabeth Hasselbeck and Brian Kilmeade agreed with Trump Tuesday morning, arguing that the "Apprentice" brought in a huge profit for the network, and gave away money in return. The hosts seemed to speak highly of Trump for his handling of the situation.
"He is not going to take it lying down," Kilmeade said.
"[NBC] never wanted him to run in the first place," Hasselbeck added, "perhaps because he was bringing in millions of viewers to the network ... and money."
"It was the No. 4 show on TV!" Doocy replied.
"I guarantee you they would not be worried about this if he wasn't doing so well," Kilmeade argued.
Doocy also added that Trump "was right" in his comments about immigrants, adding that the southern border "does have a problem." He admired of Trump for standing by his comments and not apologizing or backing down.
"He takes no prisoners," Doocy said.
Calling all HuffPost superfans!
Sign up for membership to become a founding member and help shape HuffPost's next chapter