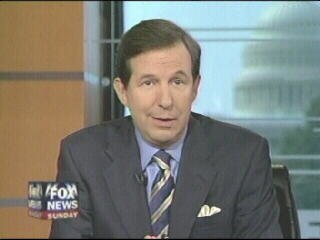 Fox News Sunday host Chris Wallace spent his Monday night freaking out on the participants of a panel discussion that followed a screening of Frost/Nixon. According to the Washington Post's "Reliable Source" column, Wallace got frosty after the other panelists compared Richard Nixon's offenses to the actions of President George W. Bush:
At a screening of the new movie "Frost/Nixon" last night, the Fox News host jolted his fellow audience members by tearing into the A-listy panelists (including director Ron Howard and author Jim Reston) for comparing Richard Nixon's impeachment-bait misdeeds to George W. Bush's actions in the war on terror.

"It trivializes Nixon's crimes," an angry Wallace said from his seat at the National Geographic theater. "Whatever George W. Bush did was after 9/11. . . and in service of trying to protect this country." Scattered applause and boos from the media-political crowd.
This led to a sharp exchange between Wallace and historian Robert Dallek, who insisted that a similar paging through Bush's Presidential records would likely validate the comparison.
Wallace: "You're making suppositions based on no facts whatsoever."

Dallek: "Oh, come on, you read the New York Times."

Wallace: "I see no personal gain in what George Bush did after 9/11."
According to the Reliable Source, Wallace skipped out on the "post-discussion schmooze."
Related
Popular in the Community