Like many non-Catholics, I first encountered Father James Martin, SJ, when he appeared as a regular guest on the brilliant late night satirical news program The Colbert Report. His easy demeanour and charm made him an enjoyable guest. As a pastor, the topics he came to share were also of particular interest to me.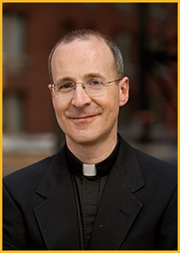 However, it was not until I heard him talking about his book "The Jesuit Guide to (Almost) Everything: A Spirituality for Real Life" (Harper One., 2010) that I began to read his books. However, once I started, I couldn't get enough. So when I heard that Father James was writing a novel, I was excited. As an author of non-fiction books on faith myself, I was intrigued with this shift of genre, something I had just begun exploring myself.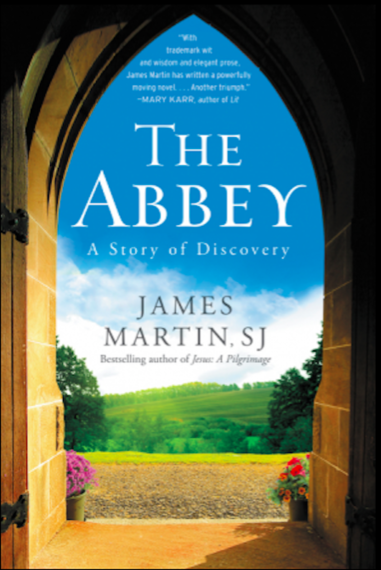 The novel is called "The Abbey: A Story of Discovery", a moving story of three lives intersecting- a grieving mother who lost her son three years earlier; an ambitious young architect who finds himself working as a handyman; and the wise, yet uncertain abbot of a local monastery. While each struggles with their unique challenges alone, it is when their lives come together that they begin their shared journey toward faith, hope and love. Martin brings his characteristic ease of personality into both the characters and the prose, quickly bringing readers comfortably into the story. He handles the most delicate and painful themes with a pastoral compassion that invites readers to find hope in their own struggles.
I was pleased to interview Father James about the book, the move to fiction and what's in store for him in the future.
Jamie Arpin-Ricci: How was writing fiction different from you?
James Martin: ​It was a freer process. But at the beginning I was pretty skittish about it. The idea for the book came to me in a dream, which I scribbled down around 2 AM one morning. When I woke up the next morning, I reread my scrawl, and thought, "That's not such a bad story." But I wondered: "How am I going to write this?" I have no pretenses of being a great novelist, but then I figured, "Well, I can certainly tell a story. I do that in most of my writing." So I decided to simply tell the story in my own voice. That was extremely freeing.
All of my other books have been either spirituality or memoir, or some combination: in other words, non-fiction. And I enjoyed writing them all. But fiction was much more fun. My last book, on Jesus, for example, took a few years to write, and there was a ton of research that needed to be done--going back to the original Greek texts of the Gospels and so on. Not with this one. I joked to my friends: No Greek, no research no footnotes!
JAR: What unique advantages does fiction have over non-fiction, especially when writing about faith and spirituality?
JM: It may be a little easier to create situations that more specifically encapsulate a spiritual dilemma and elaborate spiritual answers than in real life. That is, in the novel the reader will meet Anne, the protagonist, who has a very specific set of spiritual​ problems. A focused set of challenges. Anne's overarching challenges are, in essence, being angry at God and doubting God. She's a human character of course, but in fiction you can focus her struggles to clarify them a bit. In the real world, she'd have a ton of other problems, which might distract from the focus of the story.
It's the difference between real life and a parable. Just the basics in a parable, and in this novel.
JAR: The subtitle of the book says, "A Story of Discovery". Without spoilers, of course, what does that mean?
​
JM: That each of the three characters discovers something about God and about themselves. Each of them, like each of us, is on a journey that, ultimately, leads to a recognition of God in new ways, and an understanding of themselves in fresh ways. And, of course, they discover one another.
JAR: While many people of faith will be drawn to the book, what does your book offer those who are not religious?
JM: The fundamental idea underlying The Abbey is that God meets you where you are. It's an essential insight for both the devout and the doubting. Anne is not a religious person at all--she has stopped going to church except for weddings and funerals. And isn't even sure if she believes. So she's like many people today. But she still has that natural hunger, that human desire, for God. Father Paul, a Trappist monk she meets, invites her, through some gentle conversations, to identify that desire. And to explore it. And then she starts to see glimpses of God in her daily life--meeting her where she is. ​
JAR: Which works of fiction and fiction authors most inspire you?​
JM: Here's a confession: I read much more nonfiction than fiction. But as for novels, that's an easy question to answer. My avatar for this kind of writing--let's call it spiritual fiction--is Ron Hansen's Mariette in Ecstasy, the luminous story of the religious experiences of a young nun in upstate New York in the early 20th century. It's gorgeously written, and I return to it every few years.
As for other novelists, I think I favor the older ones: Jane Austen, ​Thomas Hardy, Nathaniel Hawthorne. A much more recent novel that I loved was Colum McCann's Let the Great World Spin. Some of his wordplay inspired me, and freed me a bit, when I was writing The Abbey. But I also like humorists like Jean Shepherd and Fran Lebowitz. I think Wanda Hickey's Night of Golden Memories and Metropolitan Life are two of the funniest books ever written.
JAR: Can we expect more fiction from you in the future?​
JM: I'm working on a kind of historical-fiction book now: the memoirs of the Apostle Nathanael. He's the one who, when he is told the Messiah is Jesus of Nazareth, says, "Can anything good come from Nazareth?" And Jesus, delighted by his sense of humor says, "Now here is an Israelite with no guile!" In other words, here's a guy who isn't afraid to speak the truth. So he's a somewhat tart-tongued disciple, and I thought that writing his fictional memoirs might be a good way to "open up" some of the Gospel stories and, also, talk about parts of Jesus's life that remain unknown. Of course there is some historical material in there--from the Gospels.
As for another straight work of fiction, that depends on whether God gives me another dream!
JAR: Thanks for taking the time.
REAL LIFE. REAL NEWS. REAL VOICES.
Help us tell more of the stories that matter from voices that too often remain unheard.