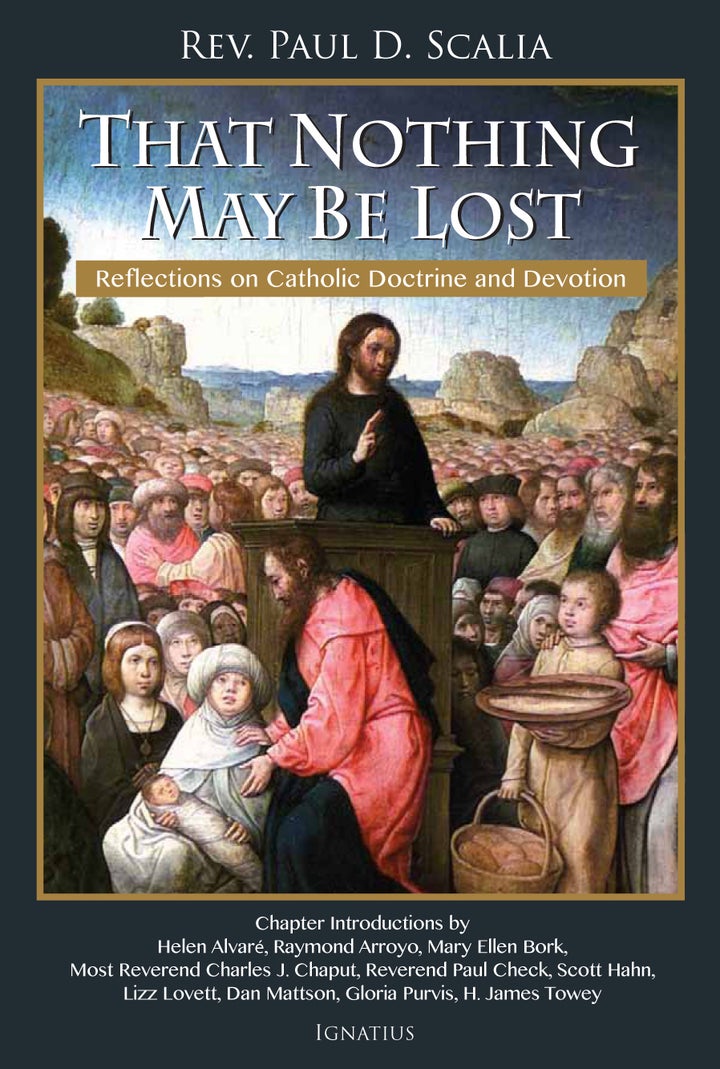 Fr. Paul Scalia, a priest of the Diocese of Arlington, VA, has penned his first book, That Nothing May Be Lost: Reflections on Catholic Doctrine and Devotion. The book hit bookshelves on March 25th, but Fr. Scalia gave me an advance peek at the beautiful compilation of his essays, with guest essayists sprinkled at the beginning of each section. It is a compelling read for both faithful Catholics, as well as, those who are still searching.
I was especially moved by the essays of Jim Towey and Liz Lovett. Each shares an encounter with the faith that is both touching and profound in very different ways, and at the same time, compliments Fr. Scalia's writings and reinforces the need for daily prayer and devotion.
I caught up with the new author to find out more about his book and life in general. Knowing that others will ask very thought provoking and serious questions about the book and author choices, I decided to go the other way.
Q: What inspired you to write this book?
A: A desire to communicate the Catholic faith and the hope to bring people closer to the Lord, and bringing about a conversation of heart. If these writings can influence that, Thanks be to God.
Q: What writers influence you and why?
A: Probably the writer who has influenced me the most is G.K. Chesterton because he can turn a phrase. His writing is fun. Ronald Knox, his writing is excellent. I think with both of them there is both a down-to-earthness about them. There is a levity and there is a precision.
Q: What essay in your book speaks to your heart?
A: Lizz Lovett's is my favorite, perhaps most of all because of my closeness to her, my love for her, and the beauty of her witness.
Q: What do you think makes a good priest?
A: A good priest is one who unites deep personal prayer, clear teaching, reverent liturgy, and generous service. These are all one thing, really, and the priest needs to bring them into a unity in his life -- all after the example of Christ Himself.
Q: What book is currently on your night stand?
A: I just finished Our Mutual Friend by Dickens. I like Dickens a lot. Dickens has the jeweler's eye for the human person. He knows persons; he knows personalities; he knows the human heart.
Q: Did your mom and dad encourage you to write? What did your dad think about your writing?
A: Not explicitly. My dad was, obviously, a writer. My mom is always reading. So being in that atmosphere encouraged it, and my dad encouraged a precision in writing and thinking.
Q: What did your dad think about your writing?
A: My dad liked my writing and encouraged the book. When I told him I was collecting these essays to be in a book, he was very encouraging in his unique way.
Q: Favorite saint and why?
A: St. Joseph because he is the best human example of putting authority for service. A great example of masculine virtue.
Q: Parishioners have their pet-peeves about other parishioners arriving late and rifling through handbags. What is your pet-peeve when you are preaching?
A: Kids are going to cry, and when they do they should be taken out, but, OK if you really want to know, car keys don't need to be played with, thumbing through the purse, looking at your emails or texts during Mass, clipping your nails, answering cellphones during Mass.
We are going to play a game. I am going to name pairs of individuals, and you're going to tell me which one of the two you would want to have dinner with and why.
"Johnny Cash. He knows the sorrows and joys of the human heart and his music is better."
Gregory the Great or Leo X?
"Gregory the Great because his writings are brilliant, his love of the liturgy, and what he had to teach about the Mass and sacred music."
Ted Williams or Babe Ruth?
"Ted Williams because I'm a Boston Red Sox fan and Babe Ruth would be an awkward dinner. Ted Williams is the splendid splinter, the last one to bat over 400, and a hero to any Boston Red Sox fan."
Mother Teresa or young Grace Kelly
"I know I should say Mother Teresa, of course, but Grace Kelly because she is a fascinating individual."
Ronald Reagan or Winston Churchill
"Ronald Reagan because he's an American and I would like to get his take on America more. Winston Churchill is so quintessentially English I don't know that we would connect as well."
Justin Timberlake or Jimmy Fallon
"Is there a third option? Both. They're funny together."
Q. Who did you pick to win NCAA Tourney?
Popular in the Community