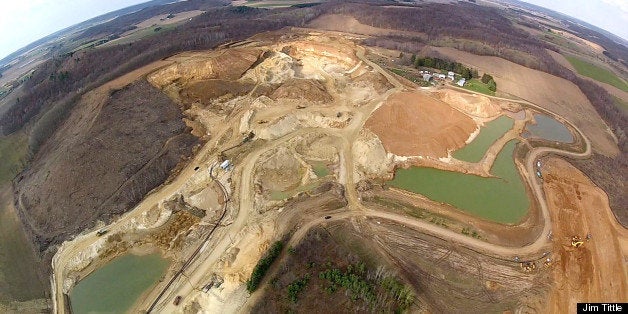 After winning just one game the previous year, the Glenwood City Hilltoppers football team reveled in taking home the Wisconsin Division 7 state championship last season.
And in typical small-town fashion, the whole community rallied behind them, recalled Chris Schone, whose son quarterbacked the junior varsity squad.
But now, Schone said, something is "tearing the community apart." A nearly 400-acre open-pit frac sand mine has been proposed for a site less than half a mile from the school, and now those residents who welcome the mine's promises of wealth and prosperity have squared off against those who fear its consequences to their health, way of life and property values.
"Our home is also about a half-mile from the mine," added Schone, who grew up in Glenwood City and owns a nearby gas station and restaurant. "Our four children would be exposed 24 hours a day."
The site sits even closer to the Hilltopper baseball diamond, track and football field.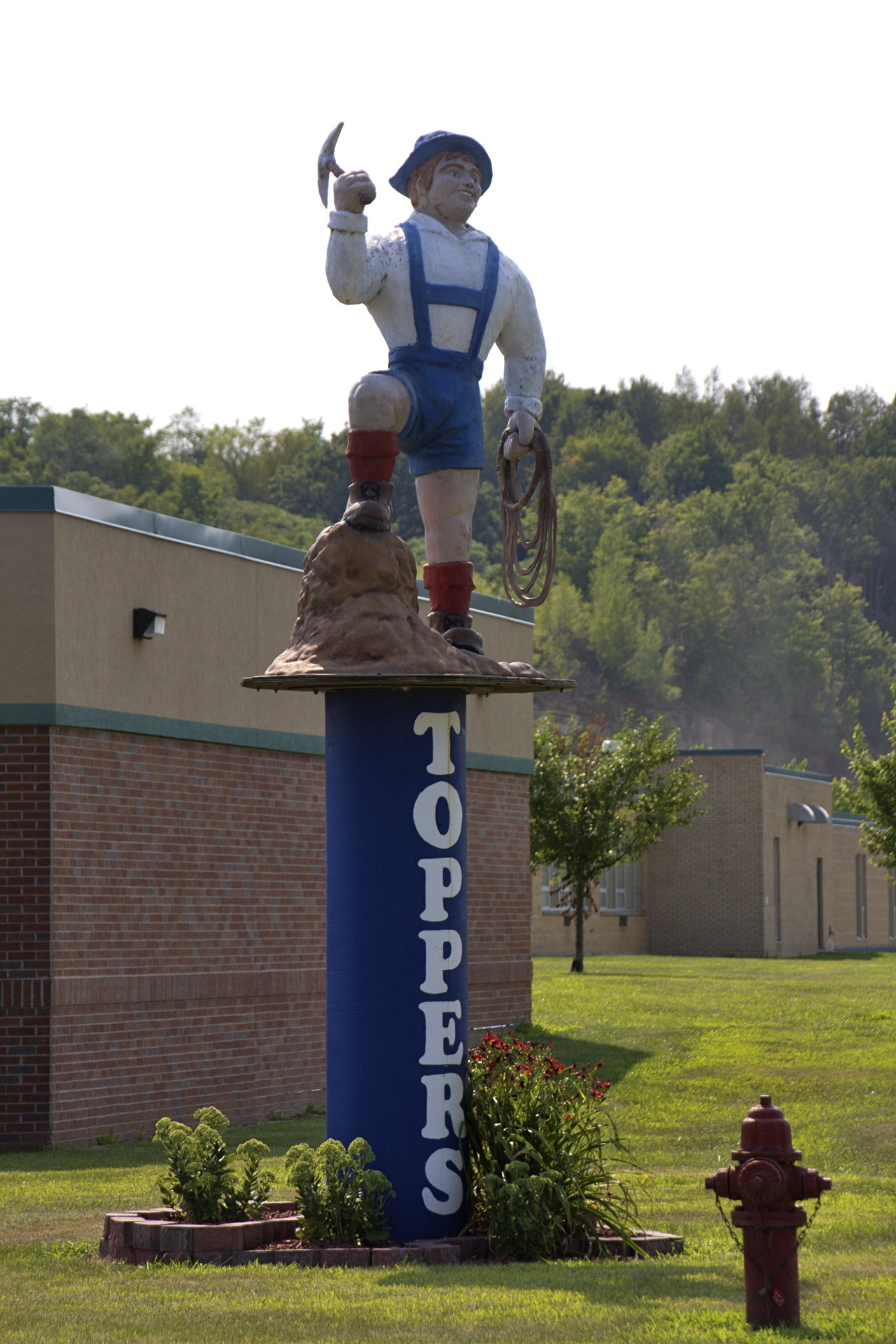 The proposed frac sand mine is less than half a mile from Glenwood City School, in the hills just beyond the football field. (WIVoices.org)
"You can call them the Flatlanders by the time they're done," said Jim Laskin, who owns a cafe in the small midwestern town, which is known for its 57 hills. (A number some residents half-joke will soon be adjusted.)
"This is nuts," he added. "Four years ago, this industry didn't exist."
As the rush to excavate natural gas has intensified across the U.S., so too has the dash to cash in at every stage of the production process, including in the extraction and processing of silica sand, an essential ingredient in horizontal hydraulic fracturing, or fracking.
With over 100 frac sand sites already underway across the state, Wisconsin is now the nation's leading supplier of frac sand.
"It's breaking out in little pockets all over," said Jim Tittle, a Minnesota-based documentary filmmaker, of the boom in silica sand mining. "There's lots of contention. Both sides have gotten organized."
A report published in May by the Wisconsin Democracy Campaign, a watchdog group, highlighted a 21-fold increase in campaign donations from sand mining interests for Wisconsin elections over the last six years.
Schone suggested that he knows town officials who have "done a 180" on the issue. He suspects some swings are due to the discovery of valuable sand under those officials' own property.
In filming his new documentary, "The Price of Sand," Tittle met people who went from unemployment to high-paying jobs in the frac sand industry.
"But this is not a panacea. This is not going to fix the jobs problem," he said, suggesting that available work will be short-lived and volatile. "It's more like short bursts, like a five-hour energy drink."
Industry representatives paint a different picture.
"Even if the job is only for 30 years, that's 30 years of having a job versus standing in the unemployment line," said John Behling, a lawyer representing Texas-based Vista Sand, the company that is proposing the mine in Glenwood City, adding that they anticipate providing between 40 and 55 full-time jobs.
Behling pointed out that mining has been part of the Wisconsin landscape for over 100 years. "It's called the Badger State not because of the animal," he said, "but because of how the mining activity made it look from a distance, like the hills were populated with large badgers."
Tittle's film and a separate new economic study on the industry's costs and benefits to the state are adding further fuel to the heated debate.
The report, commissioned by the Wisconsin Farmers Union, Wisconsin Towns Association and the Institute for Agriculture and Trade Policy, concluded that jobs created by the frac sand industry will have little impact on the state's overall employment.
"Take any projection, and it represents a total of about 1 percent of employment in an area," said the report's lead author, Thomas M. Power, who is a research professor and professor emeritus of economics at the University of Montana in Missoula.
"Earlier experiences with mining didn't lead to sustained prosperity," added Power, referring to Appalachia and other mining regions that suffer persistent poverty. "We know something is going on with mining other than just high wages. Whatever that other thing is seems to cancel out the wealth produced and leave the area in very bad shape when the mining ends."
He added that the natural boom-and-bust cycle of mining, coupled with likely detriments to tourism and other industries, make "gobbling into the hillsides" all the more worrisome.
Power, who recently traveled to a dozen or so frac sand mining sites already active around Wisconsin, said he became concerned as he watched other small Wisconsin towns become tasked with decisions about opening up new frac sand mines and processing facilities. Power said his report attempts to elucidate the kinds of "questions they need to ask and get answered before committing the landscape to this rapidly growing industry."
Meanwhile, Wisconsinites are keeping their eye on what is happening in Illinois, New York and other states that are currently debating whether or not to open up their borders to large-scale fracking.
In a letter addressed to members of the Illinois General Assembly on Tuesday, a group of concerned Wisconsin residents raised their concerns. "We beg you to declare a moratorium on fracking in Illinois," they wrote, "as we are sure that, should you move forward with this regulatory bill and open your state to large-scale fracking, the demand for frac sand will increase further."
With more frac sand mining, the letter goes on, will come increased risks, from air and water contamination to heavy truck and rail traffic.
Dr. Brenda Tabor-Adams, an equine veterinarian in New Auburn, Wis., said that she has had enough second-hand experience of the mines that she is now ready to move: Her home is within a mile of multiple frac sand mines and processing plants. Silica dust and traffic congestion are a constant concern, she said, particularly with her 2-year-old son.
"I have a truck going past my house every minute, all day long. Used to be that if someone drove by, it was probably one of your neighbors, and you'd wave to them," she said. As for the mining operation's financial benefits, Tabor-Adams said, "I personally haven't seen an influx of positive business or money into the community yet. I'm patiently waiting."
She suggested that her town is "collateral damage" for the industry.
R.J. Sikes, an operating partner for Vista Sand, downplays similar concerns for Glenwood City. He noted that the company would monitor the air and water around the Glenwood City community, as well as eventually install protections such as vegetated berms. "As an additional safety measure for the school and its students," Sikes wrote in an email to The Huffington Post, "Vista Sand has already offered to limit its off-site trucking during peak busing hours and special events."
"Vista Sand is excited for the opportunity to help provide economic revitalization to the Glenwood City community," he said.
Sikes confirmed that the company is now looking into an alternate avenue to push its proposal, by working with the Glenwood City town board to annex the land. The move would sidestep county zoning requirements. WIVoices.org is closely following the city's current efforts to draft an ordinance, the first step before an annexation, and has posted videos of animated town meetings.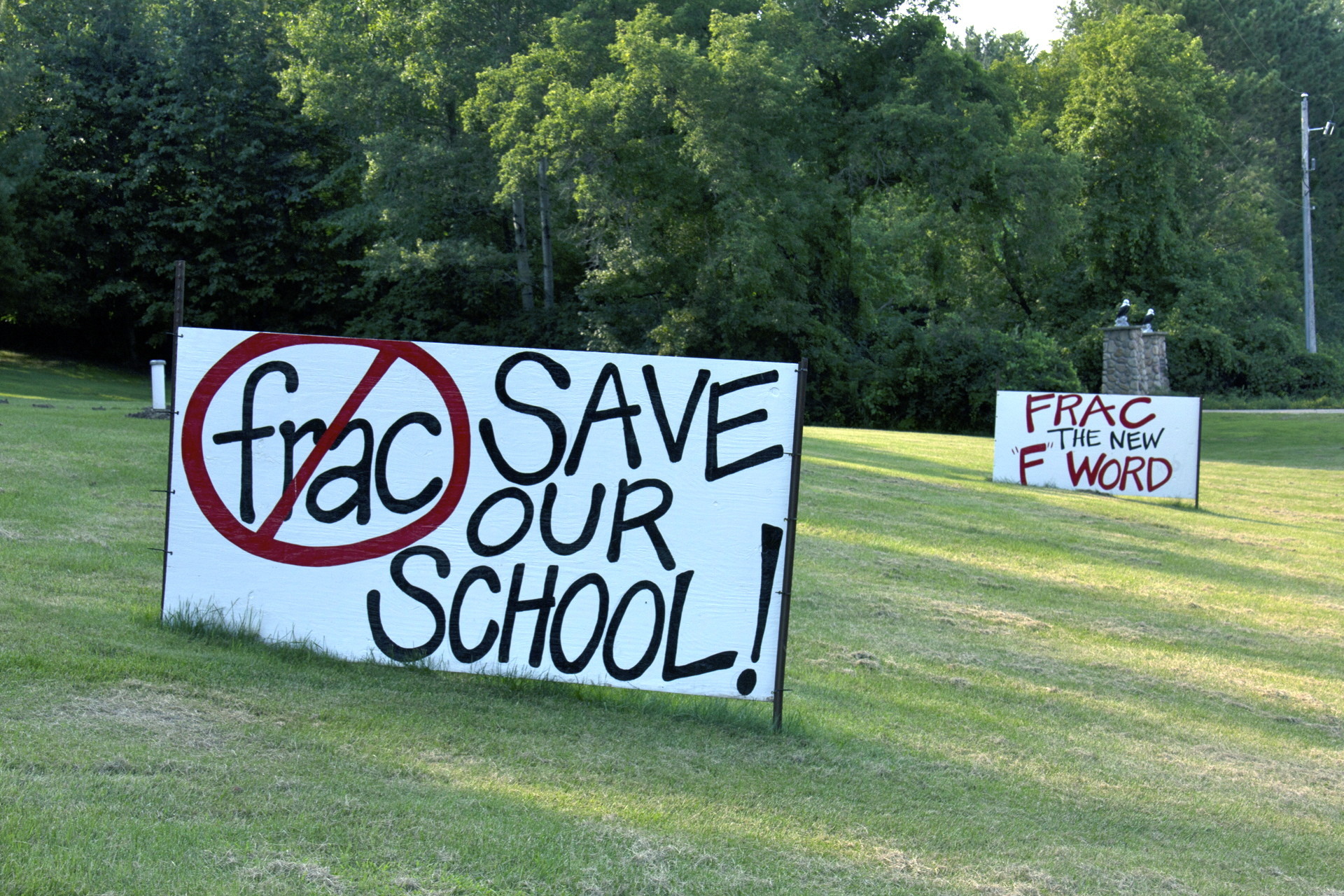 The Schones display their opposition to the frac sand mine in their yard. (WIVoices.org)
"The city government runs out of a doublewide trailer," said Laskin. "They are in no position whatsoever to regulate a billion-dollar business."
But Laskin maintains some hope, given the mounting opposition within the community. The majority of vocal residents, he said, agree that the location -- next to a school, senior center and residential neighborhood -- is "extraordinarily bad."
So while the industry may be on a winning streak, taking on towns such as New Auburn before they know what hit them, said Laskin, their luck could turn "as people get wise to their game."
Related
Popular in the Community