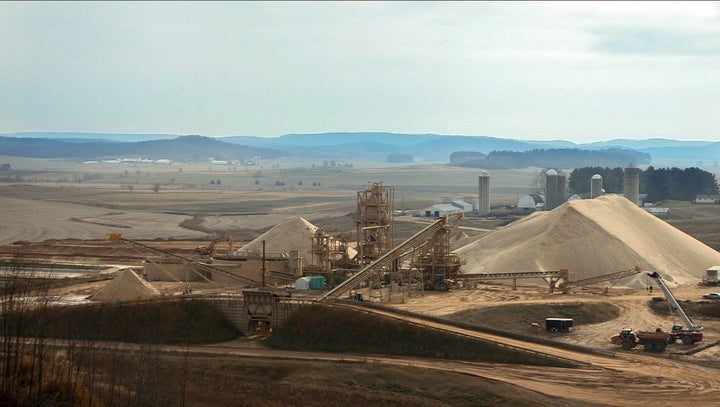 While flying back home to Wisconsin earlier this fall, Victoria Trinko had no trouble spotting her family farm from the sky. She simply looked for the frac sand mines that have begun to punctuate the rural Midwestern landscape.
From the ground, tending to her cows, Trinko said she is more likely to feel, smell or taste the presence of those mines and the trucks hauling its powdery sands toward an expanding array of natural gas drilling sites. The sand is an essential ingredient in the hydraulic fracturing, or fracking, process.
"When I walk in from the field, I can feel the dust on my face. This grit, I can chew it," said Trinko, the town clerk for Cooks Valley, Wis. In October, about a year after a mine opened within a half-mile of her home, she was diagnosed with asthma.
Trinko can't prove a connection, much as it's been tough for residents at the other end of the natural gas production line to definitively say that drilling has poisoned their air and water. But she is one of a number of Midwest residents convinced of the health hazards posed by the frac sand mining that has proliferated in tandem with fracking. The process of fracking requires blasting large volumes of water, chemicals and silica sand into bedrock. Up to 4 million pounds of the sand is used per well to prop open the newly created rock fractures that release the natural gas.
Wisconsin's sands happen to be perfectly suited for such a task. Since May 2010, the number of mines and processing plants in the state jumped from 10 to about 110, according to Thomas Woletz of the Wisconsin Department of Natural Resources.
The burgeoning business, say industry representatives, is a boon for the state's economy.
"We've provided thousands of great-paying jobs, which will be here for decades," said Martin Lehman, a spokesman for the Badger Mining Corp. "There's never been a non-occupational adverse health effect from silica sand. Badger takes the health of our neighbors and communities very seriously."
But the relative lack of research or monitoring of the sand mining's impacts has left a "big gaping question mark," said Jim Tittle, whose documentary film "The Price of Sand" is set to debut in late January.
"As much as the companies say there are no worries, I've travelled around the state and keep hearing stories about people living fairly close to mines having lung issues," said Tittle.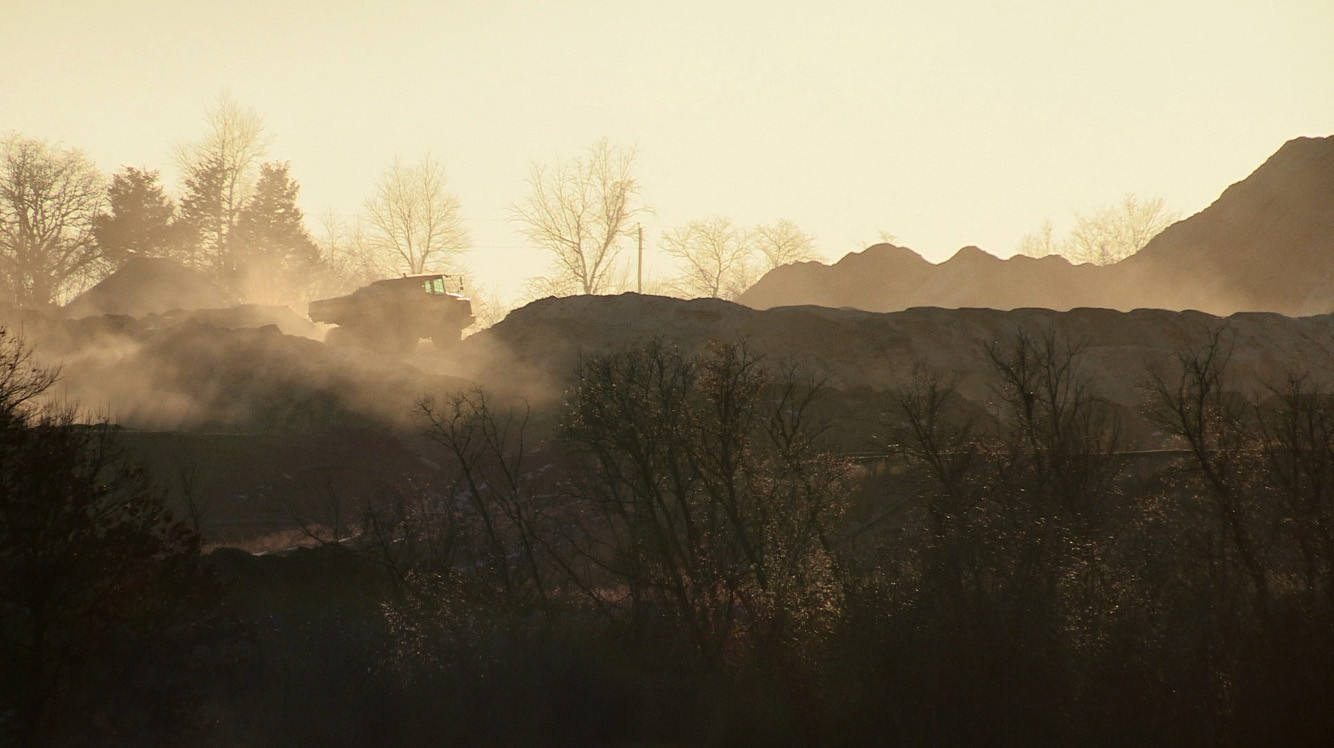 Frac sand dust blows from piles at a mine in Woodbury, Minn. (Photo by Jim Tittle)
In addition to aggravating asthma and other respiratory conditions, inhalation of fine silica sand dust is known to cause problems that can develop years, even decades, later, including cancer and silicosis, an irreversible lung disease that has historically plagued miners and construction workers.
The federal government released an occupational hazard alert in June after a study found the majority of air samples taken at fracking sites had more silica dust than recommended. Nearly a third had at least 10 times the recommended limit. The researchers did not study effects of the dust on nearby residents or on mining operations.
Crispin Pierce, an environmental health expert at the University of Wisconsin-Eau Claire, has spent the last four years investigating these overlooked impacts. While the data is preliminary, he said his team has found high levels of small particles in the air around sand mining and processing areas "where the public would be exposed." Some samples exceeded federal standards.
While any silica dust can be harmful if the particles are small enough to slip past the body's defenses, the freshly fractured crystalline silica from mining and processing operations is thought to be particularly damaging. One grain of silica sand is comprised of many crystalline silica particles. Fractured free by industrial blasting or crushing, these particles are sharp, chemically reactive and, according to Pierce, have been shown to cause more lung inflammation in animals than the kind of weathered silica likely to be kicked up from a farm field or dirt road.
Despite these dangers, crystalline silica dust is not regulated as a hazardous pollutant by the U.S. Environmental Protection Agency or by Wisconsin, as Pierce and others would like to see. Rather, it is indirectly regulated as particulate matter. Woletz noted that mining companies are required to have a plan for controlling so-called fugitive dust released during mine blasting or blowing off trucks, trains, conveyors or storage piles.
"The fugitive dust is constant," said Katie Garrity, a geriatric nurse in Prairie du Chien, Wis.
She said she is concerned about the vulnerable and "voiceless" elderly population neighboring the frac sand loading facility in her town, which she said runs 24 hours a day.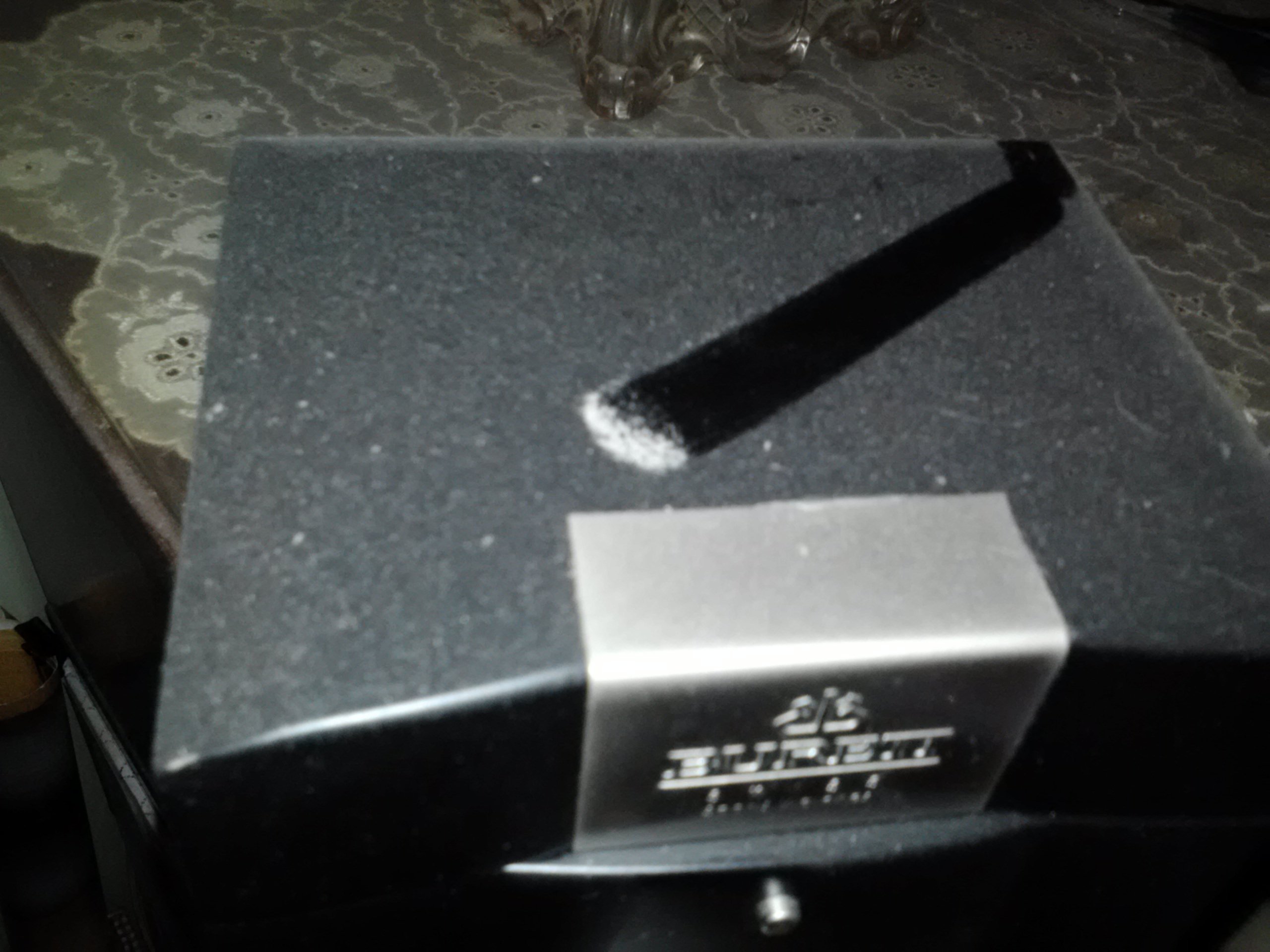 Katie Garrity's bedroom faces a frac sand loading site. She said she now has to change her furnace filters every 5 weeks.
Lehman suggested that Badger and the other members of the Wisconsin Industrial Sand Association do a lot to monitor and control the dust. That includes watering, covering and shielding the sand. "We are a very highly regulated industry," Lehman said.
Pierce's concerns don't end with the dust. He said he also worries about diesel exhaust fumes and processing plant chemicals, which he said may infiltrate groundwater. Mining damage to the natural filtering layers of earth could also open a pathway for agricultural pollutants.
Then there are the bright lights, loud noises and inconvenient and potentially dangerous traffic. Trinko said there was about a truck every minute coming and going near her home -- before the road became so torn up that it was impassable.
While away for a week in September -- to visit a cousin who, she noted, lives at the "other end of the fracking business" in Pennsylvania -- Trinko said her symptoms subsided. Within a week of her return, her chest tightness, wheezing and coughing returned, prompting her to visit a doctor.
"My pulmonary specialist told me I had asthma and that it was probably due to my environment," said Trinko. "It's not healthy to be here."
CORRECTION: This article has been edited to say that mining companies must have a plan for controlling so-called fugitive dust. A previous version said Wisconsin doesn't regulate fugitive dust.
Related
Before You Go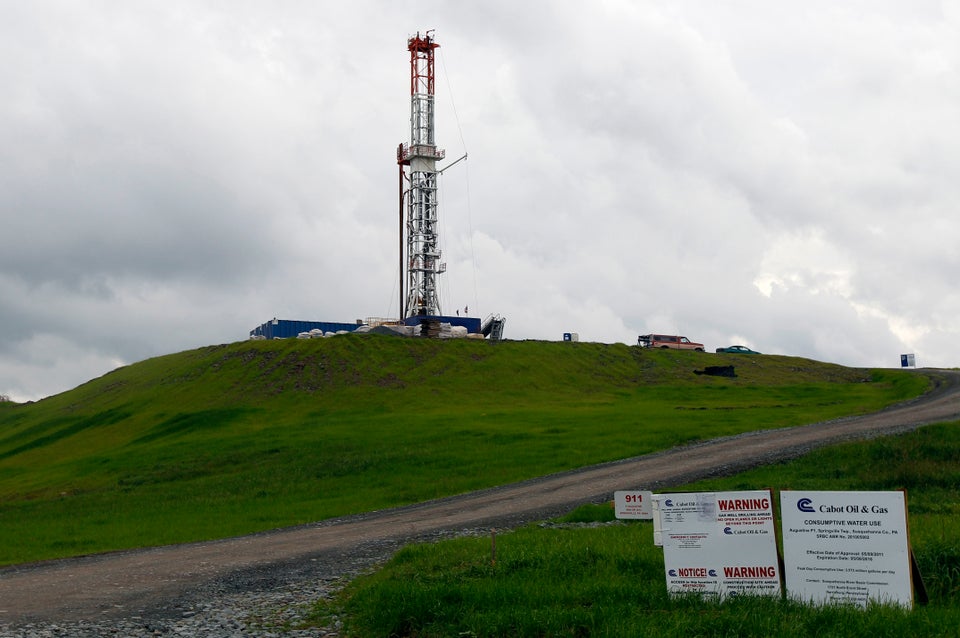 Drilling And Fracking Photos
Popular in the Community