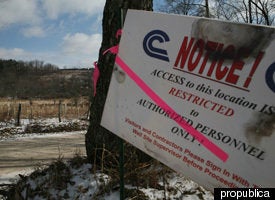 Pennsylvania environment officials are racing to clean up as much as 8,000 gallons of dangerous drilling fluids after a series of spills at a natural gas production site near the town of Dimock late last week.
The spills, which occurred at a well site run by Cabot Oil and Gas, involve a compound manufactured by Halliburton that is described as a "potential carcinogen" and is used in the drilling process of hydraulic fracturing, according to state officials. The contaminants have seeped into a nearby creek, where a fish kill was reported by the state Department of Environmental Protection. The DEP also reported fish "swimming erratically".
The incident is the latest in a series of environmental problems connected to Cabot's drilling in the Dimock area. Last winter drinking water in several area homes was found to contain metals and methane gas that state officials determined leaked underground from Cabot wells. And in the spring the company was fined for several other spills, including an 800 gallon diesel spill from a truck that overturned.
Neither Cabot Oil and Gas nor Halliburton immediately returned calls for comment on Monday. A Halliburton spokesperson sent an email referring any questions to information on the company's website.
DEP officials were also unavailable for interviews, but said through e-mail that faulty piping is suspected and that they have not confirmed the exact cause of the spill. A press spokesperson said to expect an announcement and actions towards Cabot by Tuesday.
ProPublica interviewed state officials several months ago about drilling problems in Dimock. "Cabot has definitely had their share of problems out there," Craig Lobins, a regional oil and gas division director, said then. "Some of them is just being a little bit careless… or sloppy, or maybe a little bit of bad luck too."
The drilling fluid spill Wednesday may be the most serious yet, because it involves chemicals that are known to pose a risk to human health and has spread into the area's surface water system.
According to a Material Safety Data Sheet provided to the state this week by Halliburton, the spilled drilling fluid contained a liquid gel concentrate consisting of a Paraffinic solvent and Polysaccharide, chemicals listed as possible carcinogens for people. The MSDS form – for Halliburton's proprietary product called LGC-35 CBM – does not list the entire makeup of the gel or the quantity of its constituents, but it warns that the substances have led to skin cancer in animals and "may cause headache, dizziness and other central nervous system effects" to anyone who breathes or swallows the fluids.
It is not yet clear exactly what led to or caused the spill. State officials report that at least 1,000 gallons of fluid were spilled Wednesday afternoon, and another 5,900 gallons at about 10 p.m. that night. The substance was reportedly a clay-like mixture, with the Halliburton gel mixed at about five gallons per 1,000 gallons of water. A DEP spokesperson said in an email that the spills appear to be the result of supply pipe failures. In one case a pressurized line may have broken, and in another a seal may have given way.
People at the scene described a "grey gooey substance" spread across the ground and said barricades of hay bales and plastic had been set up to confine the sludge. According to an emailed account from Vincent Fronda, who lives in nearby Johnson City, NY and went to take pictures of the spill, there were "many huge puddles of the stuff in the woods west of the pad." Fronda described finding a hole with a drill bit and four-foot-deep fluids, and said workers were running a vacuum pump to try to get the bit out. State officials said the fluids had spilled into Stevens Creek.
The contamination incident comes as the state faces increasing scrutiny for its handling of a natural gas drilling boom and dozens of instances of spills and water contamination related to it across the state. Earlier investigations by ProPublica found that methane had leaked into drinking water supplies from gas wells in at least seven Pennsylvania counties. And earlier this month the DEP began investigating a suspected chemical spill in the northwestern part of the state, hundreds of miles from Dimock, which decimated aquatic life along a 30-mile stretch of pristine river. No determination has been made in that case either, but waste fluids from drilling are among the possibilities being investigated.
Abrahm Lustgarten is a reporter for ProPublica, America's largest investigative newsroom.

Related
Popular in the Community