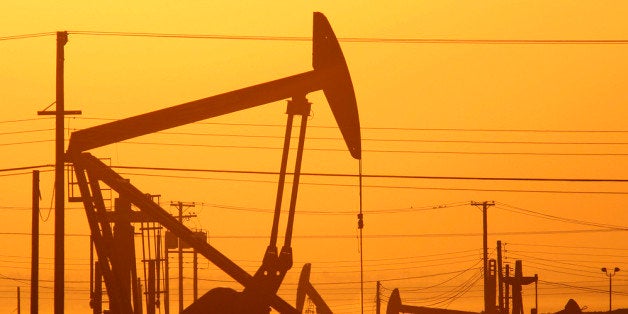 WASHINGTON -- The Environmental Protection Agency is requesting public comments on how it might go about "enhancing transparency for chemicals and mixtures used in hydraulic fracturing."
Hydraulic fracturing, often called fracking, uses high-pressure blasts of a mixture of water, chemicals and sand to break into shale rock formations and release the oil and natural gas contained therein. On Friday, the EPA issued what is known as an "advance notice of proposed rulemaking" -- in other words, a heads up that the agency is looking at new regulations for the disclosure of chemicals used in fracking. Those chemicals have become a contentious subject as natural gas development has boomed in the United States, with citizens and environmental activists calling for mandatory disclosure.
In its announcement, the EPA said it is seeking comments on "what information could be reported and disclosed for hydraulic fracturing chemicals and mixtures and the approaches for obtaining this information, including non-regulatory approaches." The comment period is open to the public and will last for 90 days. The full notice is available online.
Many companies that use fracking fluids have claimed that their mixtures are proprietary information and that it would put them at a competitive disadvantage to disclose them. The industry started its own voluntary disclosure program, FracFocus, in 2011, but many companies have opted for partial disclosure.
"Today's announcement represents an important step in increasing the public's access to information on chemicals used in hydraulic fracturing activities," said James Jones, EPA's assistant administrator for the Office of Chemical Safety and Pollution Prevention, in a statement Friday. Jones said the agency would seek to "ensure that we complement but not duplicate existing reporting requirements."
Steve Everley, a spokesman for Energy In Depth, a program of the Independent Petroleum Association of America, said via email that the state and voluntary programs are already providing increased disclosure.
"States across the country already have strong disclosure requirements, chiefly through the use of FracFocus.org, which even the Obama administration has praised for providing transparency to the general public," said Everley. "I imagine none of that will ever be good enough for most of the groups who pushed EPA into this process, though."
"It's time for the administration to demand answers about the chemicals that are being used to frack in our communities," said Matthew McFeeley, an attorney at the Natural Resources Defense Council, in a statement. "For too long, the oil and gas industry has been allowed to keep their chemical cocktails a secret, while injecting them underground alongside drinking water sources, storing them in families' backyards and transporting them through neighborhood streets."
Related
Popular in the Community