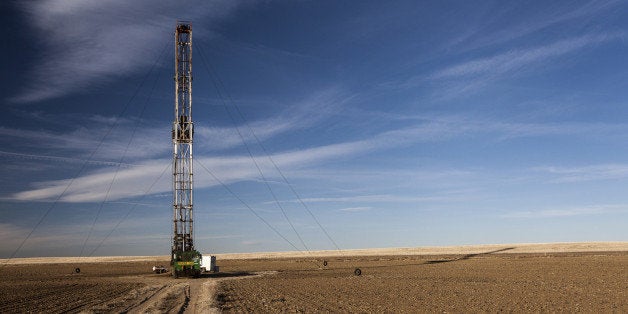 WASHINGTON -- When it comes to environmental pollutants, sometimes what's legal is what's most worrying. That's the conclusion of a new report on a major loophole in the regulations governing hydraulic fracturing.
The report, released Wednesday by the Environmental Integrity Project, looks at what is known as the "Halliburton loophole" -- an exemption from existing rules that allows companies to inject some petroleum-based chemicals into the ground without obtaining a permit.
Hydraulic fracturing, or fracking, uses a high-pressure mix of water, sand and chemicals to tap into oil and natural gas reserves stored in shale rock. While the Safe Drinking Water Act, first passed in 1974, regulates what can be injected into the ground, energy legislation in 2005 exempted many fluids used in fracking from those restrictions. Companies are still supposed to disclose if they are using diesel fuel in their fracking operations and obtain a permit. But they don't have to do that for other petroleum-based chemicals. The provision became known as the Halliburton loophole because of then-Vice President and former Halliburton CEO Dick Cheney's reported involvement in crafting the law.
As the Environmental Integrity Project points out in the new report, fracking operations continue to use petroleum products that contain the same dangerous chemicals found in diesel. That includes benzene, which is a carcinogen, as well as toluene, xylene and ethylbenzene. Without permitting and enforcement measures in place, many environmental and health advocacy groups are concerned that these hazardous chemicals could leak into drinking water supplies.
Using information drawn from the industry's voluntary disclosure site, FracFocus, and the material safety data sheets for chemicals, the report identifies six fracking fluid components that contain more benzene than found in diesel. Twenty-one fluid components had higher levels of ethylbenzene, toluene or xylene. Some wells are using a lot of these chemicals; one in Dimmit County, Texas, reported using 48,000 gallons of a mixture that contains benzene, the environmental group found. All of this is perfectly acceptable under current law.
"The scandal in this case is not illegal conduct. It's what the law actually allows you to do," said Eric Schaeffer, executive director of the Environmental Integrity Project, in a call with reporters Wednesday.
"Ideally, Congress would change the law. The law makes no sense," Schaeffer said. "Benzene-rich alternatives to diesel get a free pass, and that makes no environmental sense."
He added that while Congress "ought to fix it, I'm not holding my breath." His group has petitioned the Environmental Protection Agency to require drillers to at least disclose the use of the chemicals as part of its Toxic Release Inventory. Right now, only 14 states mandate that companies disclose the chemicals they use through the FracFocus site.
A previous report from the Environmental Integrity Project also found that some companies are still using diesel without obtaining a permit.
In May, the EPA opened a public comment period on measures that it could take to "promote the transparency and safety of unconventional oil and gas activities." EPA spokeswoman Liz Purchia noted in a statement Wednesday that the "EPA does not have authority over all hydraulic fracturing, but we use the authorities we have, consistent with the law and best available science, to protect communities from potential impacts associated with unconventional oil and gas production activities."
Related
Before You Go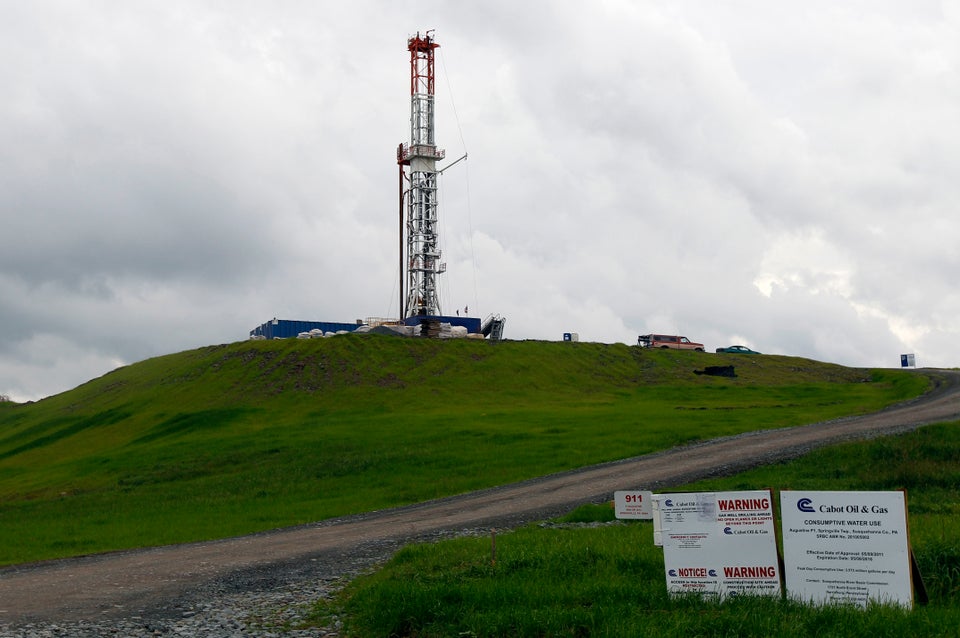 Drilling And Fracking Photos
Popular in the Community