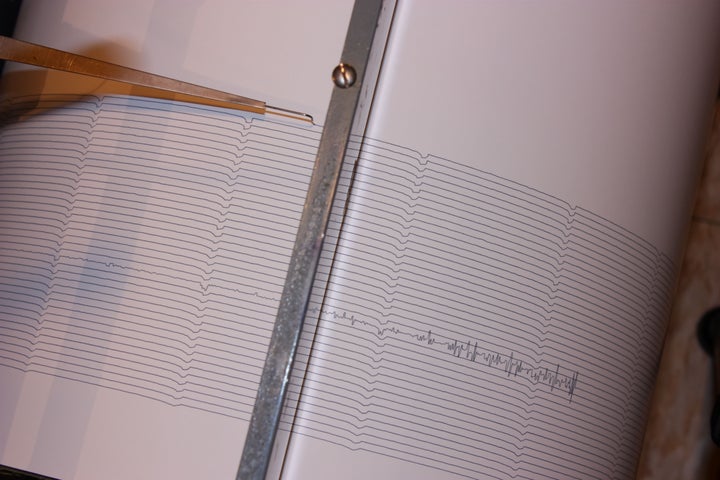 Take millions of gallons of natural gas hydro-fracking waste water then pour it down a hole dug thousands of feet down into the bedrock and what do you get? Well, according to the U.S. Department of Energy and other experts, you may get a whole lotta shakin going on. But right now, no regulations are on the books that force the oil and gas industry to take that into consideration when they dig their fracking waste wells—yet.
The risk of earthquakes put the kabosh on operations at a fracking waste-water injection well suspected of triggering a 4.0 trembler near Youngstown, OH, on New Year's Eve. This month, the state is expected to release a report to determine whether there are adequate regulations to address how these injection wells are sited and operated.
Watch NRDC geologist Briana Mordick talk about the earthquake risk in this video: 
Earthquakes linked to injection wells have been documented in numerous states, including Texas, Arkansas and even others in Ohio. Here's an excerpt from Briana's recent blog:
A similar swarm of earthquakes in the Dallas-Fort Worth area, where the Barnett Shale is being developed, was linked to produced water disposal wells. The Arkansas Oil and Gas Commission shut down a disposal well and enacted a permanent moratorium on future disposal wells in an approximately 1,200 square-mile area in the Fayetteville Shale after injection caused hundreds of earthquakes. In fact, this is not even the first time an injection well has caused earthquakes in Ohio: a series of earthquakes in Ashtabula, Ohio in 1987, 2001, and 2003 were caused by a disposal well.[1]
At the site near Youngstown, hydro-fracking wastes—called flowback water as well as produced water that comes to the surface with the oil or gas-—are imported from other states and injected deep underground, burying a toxic stream that includes carcinogens and low-level radioactive wastes. Local residents are becoming increasingly worried about industry's "out of sight, out of mind" philosophy, and they are joining forces to pressure lawmakers to increase safety regulations of the exploding number of fracking operations in their area. Here's what WYTV in Youngstown reported last week:  
Columbiana County resident Karen Bertolasio fears what oil and natural gas drilling may soon do to her community. She lives next to Beaver Creek State Park. "A lot of my neighbors are already talking about signing up," said Bertolasio. "There's nothing I would rather see happen in our state than for us to pick up and become very prosperous again, but not because people are going to be unsafe." 
Some Ohio politicians are fed up with the state's eagerness to import these kinds of wastes. "We have become in Ohio the dumping ground for contaminated brine," state Representative Armond Budish, the House Democratic leader, said at a Jan. 26 forum in Columbus. "We didn't prepare adequately for the potential for earthquakes and other environmental problems," Bloomberg reported last week. 
Experts are taking a closer look at industry practices that some say have gotten ahead of adequate safety precautions. Until the fracking industry is forced to study earthquake dangers more closely, some worry there will be more rockin' and rollin' near these wells  as they proliferate across the country, pouring more chemical-laced liquid wastes underground.  
REAL LIFE. REAL NEWS. REAL VOICES.
Help us tell more of the stories that matter from voices that too often remain unheard.