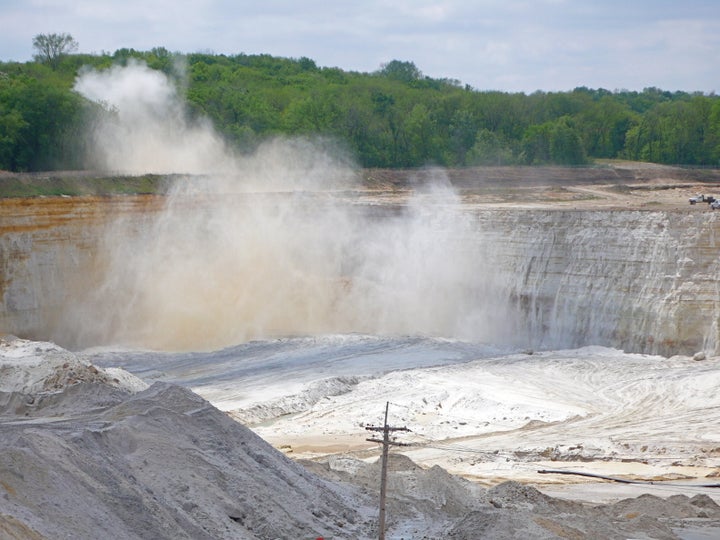 Susan and Merlin Calhoun's rural Illinois land is full of the same bluffs, canyons, waterfalls, bald eagles and barred owls that entice more than 2 million visitors to the adjacent Starved Rock State Park every year.
"I'm in awe of the place," said Merlin Calhoun, recalling how he recently counted 10 deer scattered among nearly 50 turkeys in front of their house, with five of the males "strutting their stuff."
But it's not just wildlife and tourists who are attracted to the area, much to his chagrin.
The 425-million-year-old rock formations here contain some of the nation's highest quality frac sand, an essential ingredient in the hydraulic fracturing, or fracking, process. With the proliferation of fracking -- which may soon involve Illinois as well -- the mining industry has taken notice. One company is an EPA permit away from harvesting the commodity from a 200-acre site right outside the park, not far from the Calhoun's LaSalle County home.
"It scares me that all that's pristine and beautiful here could be going away," said Merlin Calhoun. "A year from now we might have bright lights pointing at our house, constant noise, daily explosions and dust."
The Calhouns also aren't the only ones opposing the mine. Residents submitted "thousands of comments" on a draft permit posted on the state Environmental Protection Agency website earlier this fall, said Maggie Carson, a spokesperson for the Illinois EPA. A decision on that permit is still pending.
Meanwhile, proponents point out that the mine would be far from the first in LaSalle County, which calls itself the "Silica Sand Capital of the World." Six sand mines currently hold active permits in the county, according to the Illinois Department of Natural Resources.
"The objectors, by saying that the sand mine will hurt Starved Rock State Park, are being disingenuous as there's already a sand mine to the north, south, east and west," said Jonathan Brandt, an attorney representing the landowner poised to sell his farm outside the eastern entrance of the park to Mississippi Sand. He added that the other mines have not disturbed the park.
The Mississippi Sand mine would be the first to actually border Starved Rock, which opponents fear could mean an increased chance of river and wetland contamination, habitat degradation, and tourist detraction. Further, opponents suggest the growing number of LaSalle frac sand mines, including this one, represent the overall escalating scale and impact of natural gas production.
"When one project happens to impinge on a beloved place, a place one wouldn't expect, it captures the public's imagination and makes people question the whole deal," said Josh Mogerman, spokesman for the Natural Resources Defense Council.
The EPA is holding a public meeting at Starved Rock State Park Tuesday evening to discuss another nearby frac sand mine, proposed by Illinois Sand.
Diane Gassman, who lives across the street from that site, will be there. Her concerns run the gamut, including property values, and air and water pollution from the operations, she said. Gassman has two kids, and a pond that they regularly use for fishing, swimming and boating.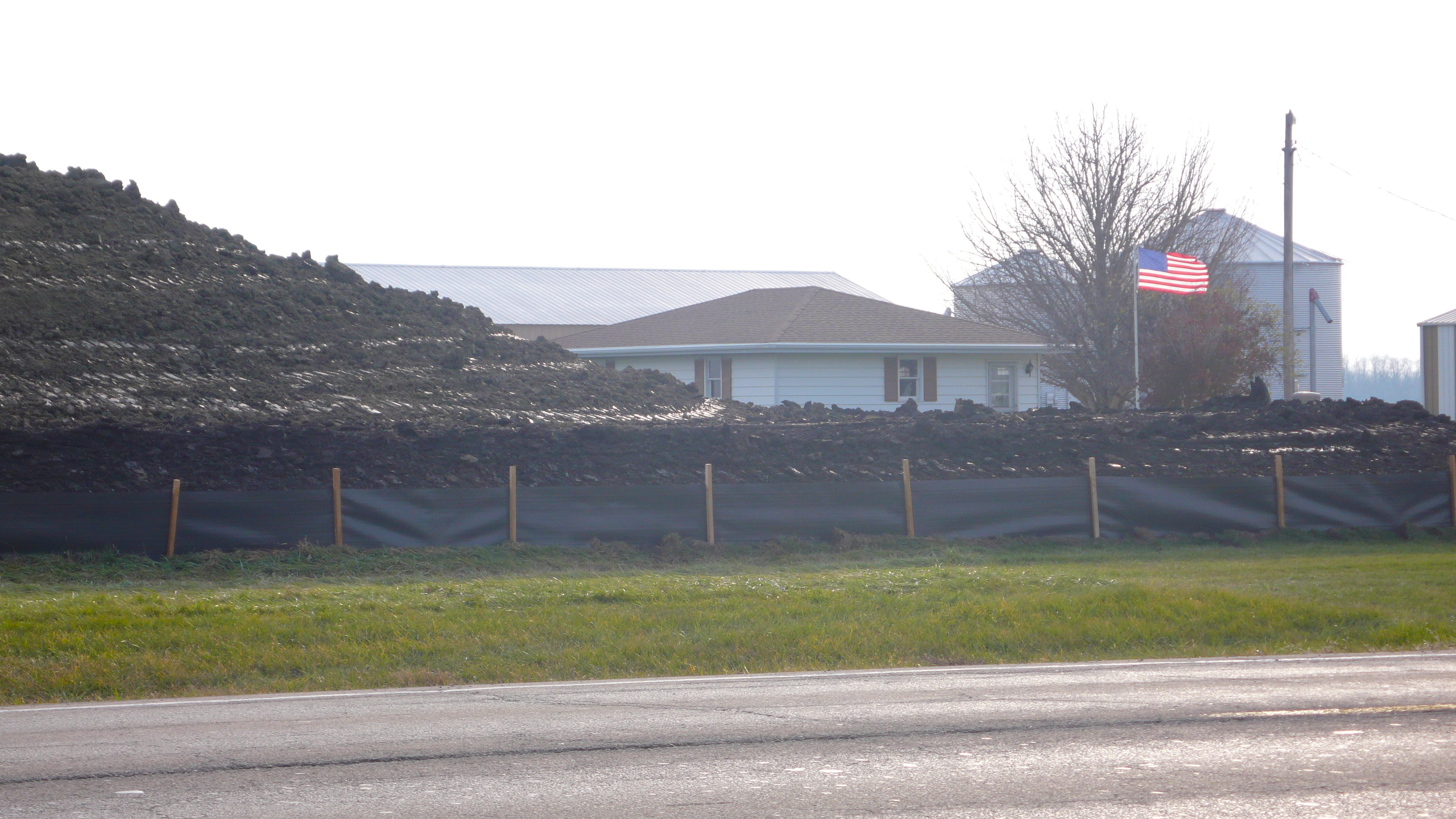 A recently created berm sits just feet from a home adjacent to the pending Illinois Sand mine in LaSalle County, Ill. (Photo by Farley Andrews)
"Another big concern is that there are so many sand mines trying to get a foot in the door here," said Gassman. "Concentrating that many mines and blasting in such close proximity to each other, I'm not sure how we'll ever determine who is damaging what."
As The Huffington Post reported last week, frac sand dust blowing from mining and sand processing operations may pose serious health risks. Farley Andrews, a local activist and photographer, said that winds in LaSalle County can be intense -- intense enough that that the county is home to a wind farm that is tethered to the East Coast grid.
Meanwhile, experts predict the state will soon become the first in the U.S. to host both frac sand mining and natural gas production. Much of Illinois, the NRDC's Mogerman noted, sits atop potentially frackable shale. Some southern Illinois landowners already have begun leasing to fracking companies.
Tony Giordano, president of Mississippi Sand, noted that both the energy industry and the environment could significantly benefit from cutting the distance that frac sand is transported. Up to 4 million pounds of the sand are used per well to prop open the newly created rock fractures that release the natural gas -- and operations are still concentrated on the East Coast, particularly Pennsylvania.
The local economy would also win should his mining plans go forward, said Giordano, who estimates hiring 35 people for his operation, as well as another 30 drivers hired by a trucking company to haul material. He added that another $9 million in indirect economic benefits could be expected from outside contractors, fuel and equipment.
"There's no reason we wouldn't peacefully coexist," he said. Giordano also noted that his company will use berms along highways and enclosures on the site to limit noise, light and dust pollution.
Opponents are quick to point out that outdoor recreation in Illinois accounts for 33,000 jobs and an annual $3.2 billion for the state, according to the Department of Natural Resources.
"Explosions, mining waste -- these things are not ideally suited for people's day trips. They might as well stay in Chicago," said Mogerman, who resides in Chicago himself and enjoys escaping to Starved Rock with his 2-year-old.
Susan Calhoun also worries about the impacts of what she calls the "new gold rush" on her beekeeping business.
"I realize mining has existed in this community for many, many years, but this whole thing seems like it's happened so fast," she said. "I don't understand why our business, which stands to benefit more people in this county on a broader spectrum than a sand mine, is less important."
UPDATE: 12/12, 2:55 p.m. -- Conservation groups filed a lawsuit on Wednesday demanding judicial review of the silica sand mining permit granted to Mississippi Sand by the Illinois Department of Natural Resources for the site adjacent to Starved Rock State Park. The complaint from the Sierra Club, Prairie Rivers Network and Openlands alleges that the department's decision was "arbitrary and capricious" and failed to protect "one of the most beautiful and popular parks in Illinois." It asks that the court void the mining permit. (Mississippi Sand still awaits a final permit from the Illinois Environmental Protection Agency.)
Before You Go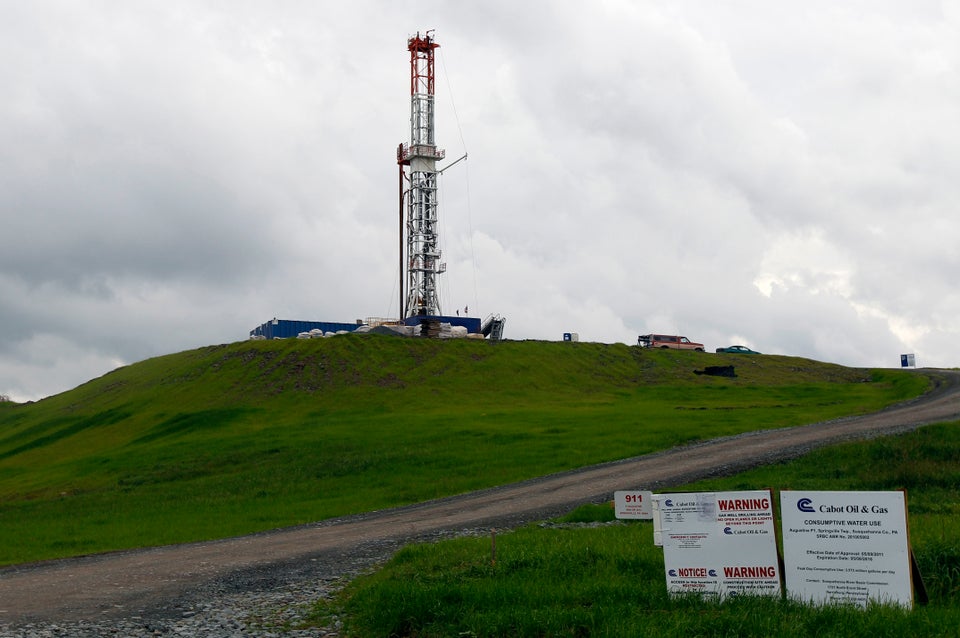 Drilling And Fracking Photos
Popular in the Community