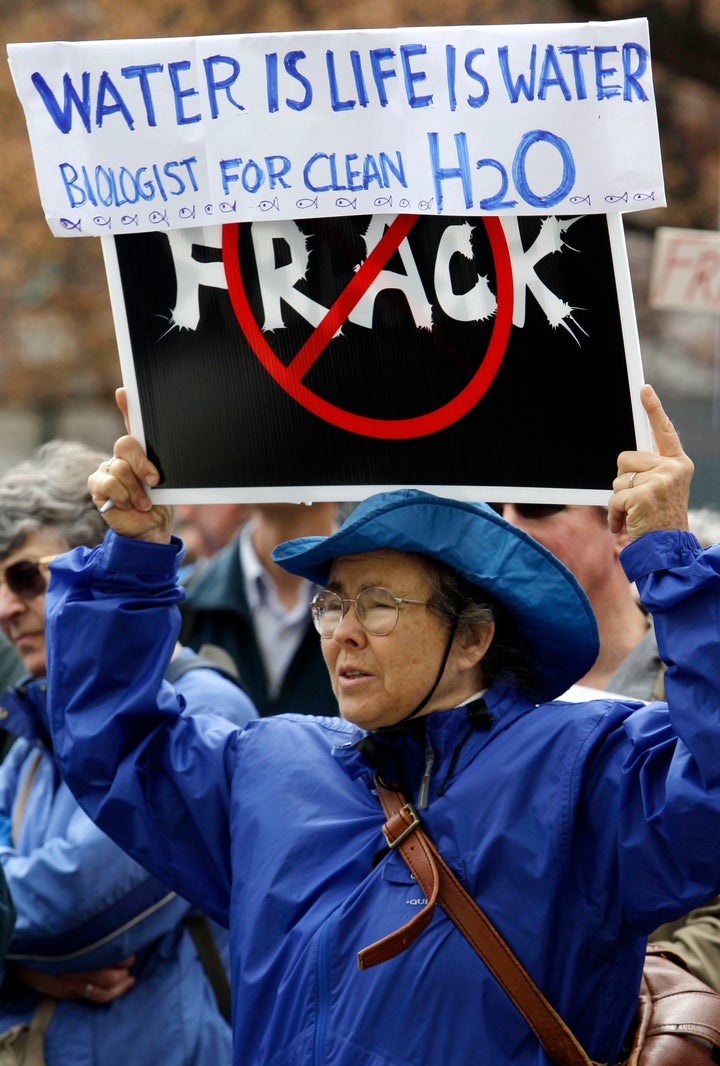 An environmental group is seeking records from the Department of Energy as part of an effort to uncover the process behind last month's creation of a 7-member panel to review the environmental safety of hydraulic fracturing, a controversial natural gas development technique.
The Environmental Working Group filed a Freedom of Information Act request Wednesday seeking all correspondence and communications relating to the creation of the panel, which the group characterized as being stacked with industry representatives and devoid of representation of citizens in communities affected by gas drilling.
"We want to see how the panel was put together," Dusty Horwitt, senior counsel for EWG, told The Huffington Post. "Did the department consider people from other agencies? Did they consider people from communities? Did they get pressure from industry groups?"
The Department of Energy announced last month that it had established a panel of "environmental, industry and state regulatory experts" at the behest of President Obama to examine the safety of modern natural gas development practices.
"America's vast natural gas resources can generate many new jobs and provide significant environmental benefits, but we need to ensure we harness these resources safely," Energy Secretary Steven Chu said in a statement issued at the time. "I am looking forward to hearing from this diverse, respected group of experts on best practices for safe and responsible natural gas production."
Among other things, the panel was charged with providing an outline of "any immediate steps that can be taken to improve the safety and environmental performance of hydraulic fracturing" within 90 days of the panel's first meeting, according to the Energy Department's initial announcement.
Over the following six months, the DOE panel is expected to provide advice to federal agencies "on practices for shale extraction to ensure the protection of public health and the environment," according to DOE.
The members of the panel include John Deutch, a professor at M.I.T. who serves as chair; Stephen Holditch, head of the department of petroleum engineering at Texas A&M University; Fred Krupp, president of the Environmental Defense Fund; Kathleen McGinty, former secretary of the Pennsylvania Department of Environmental Protection; Susan Tierney, managing principal for financial consulting firm Analysis Group; Daniel Yergin, chairman of IHS Cambridge Energy Research Associates; and Mark Zoback, a professor of geophysics at Stanford University.
EWG immediately took issue with the makeup of the group, arguing shortly after its formation that at least 6 of the 7 members have heavy ties to the natural gas industry:
From profiles of the various panel members compiled by E.W.G. in a May 10 report:
Although the panel does include Fred Krupp, the president of the reputable, New York City-based Environmental Defense Fund, EWG questioned Krupp's objectivity as well, suggesting that his group's chief spokesman on issues relating to hydraulic fracturing, Scott Anderson, had conflicts of his own:
The panel's environmental representative is Fred Krupp, president of Environmental Defense Fund, a New York-based nonprofit that focuses on environmental issues. Scott Anderson, EDF's senior policy advisor for energy and spokesman on hydraulic fracturing is a member of the Interstate Oil and Gas Compact Commission, which opposes extending the federal Safe Drinking Water Act to hydraulic fracturing. The commission website asserts that fracking "needs no further study." Anderson is a former executive vice president and general counsel for the Texas Independent Producers and Royalty Owners Association.
In response to an email query, Anderson said that "hydraulic fracturing absolutely does need more study -- and it needs tighter regulatory oversight as well," adding that the oil and gas commission to which EWG refers "doesn't speak for me or for EDF."
DOE spokeswoman Tiffany Edwards said the agency had considered a wide range of interested parties and independent experts in selecting members for the subcommittee.
"The subcommitee is balanced with respect to experience and expertise and each member is well qualified when it comes to technical and practical knowledge," Edwards said. "Some have said that the panel is too weighted toward industry while others say it is too weighted toward environmentalists. We think we got it just right, and having a diversity of perspectives will only strengthen the final product."
Among the Environmental Working Group's concerns is that the DOE's panel seems to be working on a parallel track to efforts already underway at the Environmental Protection Agency, which is in the midst of a multiyear study of hydraulic fracturing.
Horwitt says his group suspects that one of the unspoken goals of the DOE panel might be to preempt EPA's more deliberative analysis with a 90-day gloss of the issues, providing the industry with a totem that it can then use to protect itself from future criticism.
"We were surprised that this panel was created at all, especially with the EPA study already going on," Horwitt said. "So we're concerned that this panel will come out with findings in 90 days -- that's essentially early August at this point -- that some people could hold up as the Obama administration's definitive view on the issue."
EWG is urging the Energy Department, among other things, to put a neutral expert without direct financial ties to the industry in charge of the panel and include "citizens who have been affected by hydraulic fracturing" among its membership.
This report has been updated to include comment from the Department of Energy.
Calling all HuffPost superfans!
Sign up for membership to become a founding member and help shape HuffPost's next chapter