 The McIntyres of Butler County, Pa., no longer drink the water piped into their home. They no longer brush their teeth with it, shower or do laundry with it.
"We use water for nothing other than flushing the commode," said Janet McIntyre, after describing her family's wide-ranging health problems -- from projectile vomiting to skin rashes -- that she attributed to the water.
McIntyre and her husband, Fred, were among more than 100 people recently surveyed by the Oil and Gas Accountability Project at Earthworks, an environmental and public health advocacy group based in Washington, for a report published on Thursday, which suggests that widespread contamination of air and water by natural gas drillers in Pennsylvania has triggered an array of health problems, including sinus, respiratory and mood problems.
"We have a serious timing problem," Nadia Steinzor, of Earthworks, said during a press call on Thursday. "Natural gas development is accelerating rapidly, but knowledge about its impacts on the environment and people is coming much slower."
Natural gas production is expanding across the country. While the burgeoning industry has lowered U.S. energy costs, some experts and advocates say they're increasingly concerned that the natural and manmade chemicals released during drilling, hydraulic fracturing (or fracking) and reinjection are making more people sick.
"They are playing roulette with public health," said Steinzor, lead author of the report.
Rates of symptoms since drilling began generally went up the closer people lived to gas facilities, according to the survey. Children averaged 19 health problems, with throat irritation and severe headaches topping the list.
In addition to asking participants about symptoms before and after natural gas development, the research team conducted 34 air tests and nine water tests. They wrote that many of the chemicals detected have been linked to oil and gas operations, as well as with many of the symptoms reported in the survey.
Critics of the report said the 108 residents surveyed across 14 Pennsylvania counties came from Earthworks' contacts and participants' own networks.
"This report seems somewhere between anecdotal and a rigorously designed study," said Rob Jackson, a biologist at Duke University. He said the report fills a "critical gap."
"The health effects are the biggest uncertainty with this issue. There's almost no information about it," said Jackson, whose research has found some evidence for elevated levels of gases such as methane in water supplies close to gas wells. "That doesn't mean there are huge health effects. We just don't know."
Steinzor acknowledged the report doesn't prove fracking harms public health. She added: "An absence of proof is not proof of absence."
Some recent studies have offered hints. Earlier this year, researchers suggested that average birth weights may drop and peoples' exposure to known carcinogens may rise close to natural gas development sites. Another study found animals living near fracking wells suffered serious health effects. (The McIntyres' dog suddenly died around the same time they began to be sickened by what they believe is their water.)
LuAnn Brink, a visiting assistant professor of epidemiology at the University of Pittsburgh, shared Jackson's mixed reaction to the study. "Earthworks represents a biased group of highly motivated individuals. As such, the interpretability of this work is limited," she said. "However, the conclusions of this work are in line with public health, including enhanced surveillance for disease outcomes of interest in affected areas, as well as an evaluation of the 'loopholes' in environmental regulations, including the Safe Drinking Water Act, Clean Air Act and Clean Water Act, for which it was provided an exemption under the Energy Policy Act of 2005.
"Public health has not been invited to the table yet," Brink said, referring to the relatively "new industry."
Dan Whitten, spokesman for America's Natural Gas Alliance, said he sees the situation differently. "Hydraulic fracturing has been used for more than six decades with an excellent safety track record," he said. "Extensive federal and state regulations are in place to address public health and safety."
Earthworks also released a study in September that quantified doubts that environmental advocates have with such a statement. As HuffPost reported, government inspections of wells, as well as fines for regulatory violations, according to the report, are generally too infrequent and too small to change drilling company behavior.
Industry representatives dismissed that report, much as they have done with the new one.
"The conclusion of this study is not supported by either history or the broader science surrounding natural gas development," Whitten said. Companies that belong to his trade group "take seriously the responsibility of ensuring the safety of our operations."
Janet McIntyre said that drinking bottled water and using a shower at a family member's home have reduced many of the symptoms plaguing members of her family, including her young daughter. But she said she believes the continued irritability, headaches, breathing and other health problems come from air contaminated by the drilling. McIntyre is among the 80 percent of survey participants who reported smelling bad odors.
And then there's the noise. "It's constant, 24 hours a day," she said. "It keeps me up at night."
McIntyre, who turned 53 on Thursday, said this might be the first presidential election since she turned 18 in which she won't cast a vote. President Barack Obama received her vote in 2008.
"I'm so frustrated," said McIntyre. "We're not getting answers. I think Obama needs to sit back and really take a look at it, instead of just saying, ' We need this, we need this.' We need more regulations and stiffer penalties."
Of course, while both presidential candidates have expressed support for expanding natural gas development, McIntyre is aware that Republican challenger Mitt Romney has pledged to reverse Obama's four years of "overregulation."
"Not voting is not good either," she said.
Related
Before You Go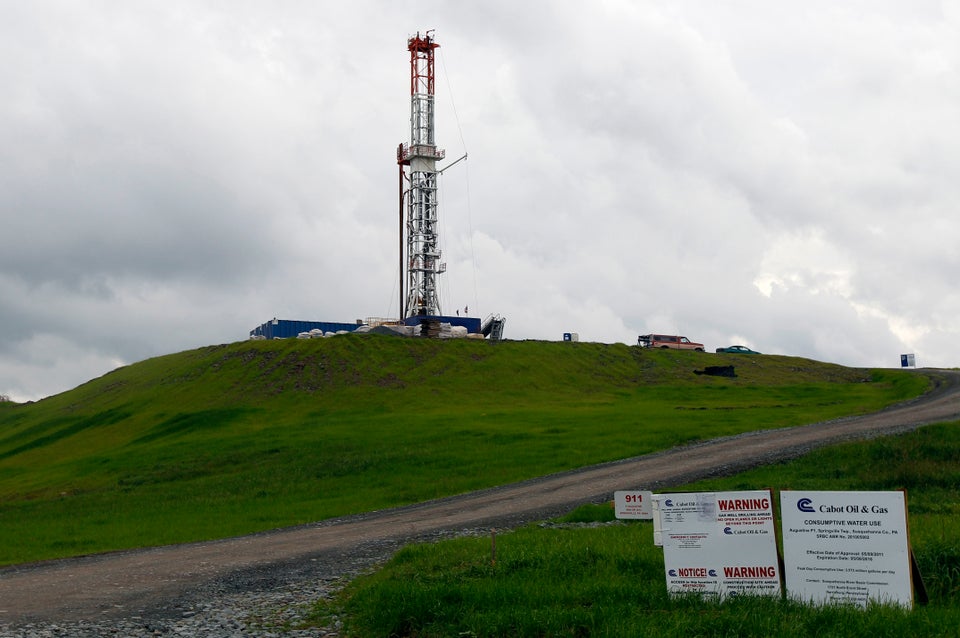 Drilling And Fracking Photos
Popular in the Community