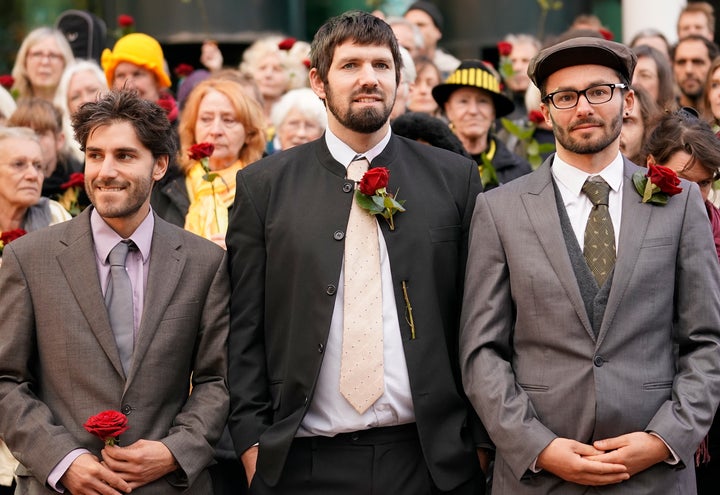 At around 8 a.m. on July 25, 2017, a piano restorer and a teacher brought a convoy of trucks to a standstill in Lancashire, a county in northwest England, when they climbed on top of two of the vehicles. In the coming hours, two further people climbed onto the convoy. The last of the group didn't come down until three days later.
Simon Roscoe Blevins, 26, Richard Loizou, 31, and Richard Roberts, 36, were given sentences of between 15 and 16 months by a jury at Preston Crown Court for "causing a public nuisance" when they occupied the trucks carrying drilling equipment to the Preston New Road fracking site. Solicitors have since confirmed that the men will be appealing their sentences. Julian Brock, 47, the fourth protester, was given a 12-month suspended sentence after pleading guilty to the same offense.
Fracking, otherwise known as hydraulic fracturing, is used to extract oil and natural gas from shale and other rock formations by pumping large volumes of water, plus sand and certain chemicals, into the ground at high pressure, fracturing the rock in the process. While the practice is prevalent in the United States, it is effectively banned in most of the U.K. except England ― where its progress has been basically non-existent since 2011 ― although energy firms Cuadrilla and Third Energy have been working to reverse that.
In preventing the trucks from reaching the Preston New Road site, which is licensed to Cuadrilla, the protesters say they sought to shine a spotlight on what they believe is fracking's irreversible environmental damage.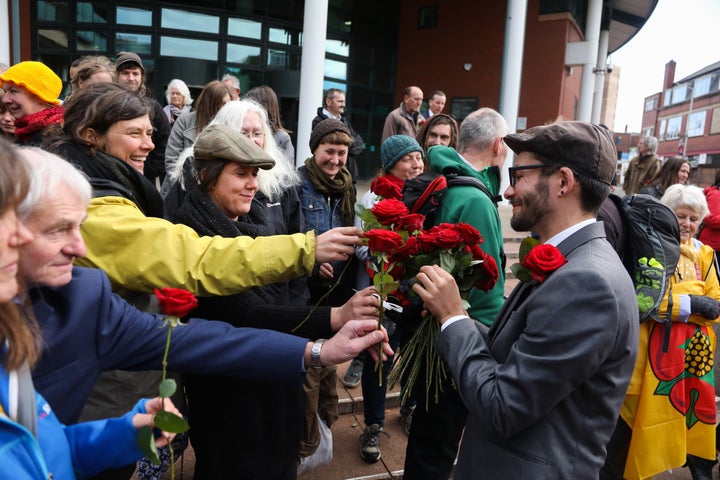 "During my trial, I was not allowed to speak about my motivations for protesting," Blevins, a soil scientist, wrote in a blog for HuffPost U.K. after his sentencing. "Let me tell you here now that my peaceful act of collective self-defence, criminalized as it has been, is for my family, and for a safer, healthier future for everyone threatened by fracking-related climate change."
Academics, campaigners and politicians are among those who have spoken out against what they say are unjustifiably harsh sentences. Many fear the jail terms are a reflection of declining acceptance of civil protest at a time when the stakes couldn't be higher in terms of climate change.
More than 1,000 academics have signed an open letter calling for a review of the sentences, voicing their "growing concern about the shrinking space for communities and environmental defenders to engage in civil opposition to fracking developments in the U.K."
John McDonnell, the U.K.'s shadow chancellor, said: "We're in a situation where, in a supposedly democratic and civilized society, people have been imprisoned simply for protesting peacefully. That cannot be acceptable." Last week, more than 20 MEPs stood together holding signs that read, "Protecting the planet is not a crime" and "Free the three!"
"Peaceful protest is the safety-valve of a healthy democracy," John Sauven, Greenpeace UK executive director, told HuffPost. "It allows ordinary people to protect their health, families and homes from harm when all other safeguards have failed."
He added, "It's a strange society that massively rewards the fossil fuel companies responsible for causing more climate change while jailing the campaigners trying to stop it."
While fracking advocates argue that natural gas, a fossil fuel, is a helpful transition fuel away from dirtier coal, many argue that fossil fuels have no role to play in a climate-stable future. Referring to the landmark report published Monday by the U.N. Intergovernmental Panel on Climate Change that calls for urgent action to phase out fossil fuels, Sauven said: "As the world's leading scientists warn that we've just years left to avert dangerous climate change, these Lancashire protesters are an example to us all. They have done what the U.K. and other world governments should immediately do: Listen to the science and take action."
Blevins, who spent 73 hours on the roof of the trucks he occupied, said in addition to furthering climate change, fracking also poses a significant risk to the environment through leaks and contamination. A 2017 study published in the scientific journal Environmental Science & Technology identified more than 6,000 fracking-related spills in four U.S. states between 2005 and 2014. Many of these spills included fracking fluids, wastewater and hydrocarbons, all of which can contain chemicals hazardous to drinking water resources.
Cuadrilla rejects claims that their operations at the Preston New Road site would cause serious environmental harm, telling HuffPost that in Lancashire they have completed "the most comprehensive Environmental Impact Assessments ever carried out" for such operations. "Our shale gas exploration site is the most monitored site in the world," said a spokesperson. "We know shale gas exploration can be done safely, securely and in an environmental [sic] responsible way."
On Saturday, hundreds of supporters for the imprisoned activists demonstrated outside the prison where the three are being held, chanting slogans including "Protest is not a crime."
"There are so many concerns when it comes to developing fracking in this rural part of Lancashire," said Barbara Richardson, 62, a retired IT programme manager who lives close to the Preston New Road site and who took part in Saturday's protest. "As well as the potential impacts to our community, our air, our soil and our water … supporting another fossil fuel industry is not the way to go. We should be looking to invest in renewable energy."
"The sentencing is wholly disproportionate," John Hobson, 59, a management consultant and local resident, told HuffPost. "If they were hoping to teach activists a lesson, which appears to be the intention here, this has backfired very badly on them. The public simply won't accept this constant erosion of their rights."
A spokesperson for the Department for Business, Energy & Industrial Strategy, which oversees the development of fracking in the U.K., said they would not comment on the anti-fracking sentences. Richardson says she has written twice to Claire Perry, the minister of state for energy and clean growth, asking her to come and speak to the local community, but has yet to receive a reply.
"Ultimately this is a question of democracy," said Richardson. "The sentences given to these guys – who are the nicest guys you can possibly meet, they just want to protect communities such as ours and protect the environment – is absolutely ludicrous."
She added, "They're being made an example of with deliberately severe and unjust sentences … What it's doing, however, is inspiring other people and strengthening our resolve to fight fracking."
For more content and to be part of the 'This New World' community, follow our Facebook page. 
HuffPost's 'This New World' series is funded by Partners for a New Economy and the Kendeda Fund. All content is editorially independent, with no influence or input from the foundations. If you have an idea or tip for the editorial series, send an email to thisnewworld@huffpost.com.
REAL LIFE. REAL NEWS. REAL VOICES.
Help us tell more of the stories that matter from voices that too often remain unheard.