The first time Bill Ferullo saw the white plumes drifting from a natural gas fracking site, he got out of his car to take pictures.
"I didn't know what it was," he recalled. "But two minutes later my chest was burning. It burned all night."
In the two years since, Ferullo has watched similar dust clouds travel as far as a mile, he estimates, from gas drilling operations around his home in Bradford County, Pa. He has also since learned what hazards they may carry. One component in particular concerns Ferullo, as well as other residents and environmental health experts: silica sand, a long-known cause of debilitating and deadly diseases such as silicosis and lung cancer.
"At frack sites, silica gets into the air and you get these huge plumes of dust that can be breathed in by workers and anybody nearby, downwind," said Miriam Rotkin-Ellman, scientist at the Natural Resources Defense Council.
"This is in people's backyards," Rotkin-Ellman added. "It doesn't take much silica to cause a health problem."
The process of hydraulic fracturing, or fracking, requires blasting large volumes of water, chemicals and silica sand into bedrock. Up to 4 million pounds of the sand is used per well to prop open the newly created fractures in the rock and release natural gas. The recent rapid expansion of natural gas production has saved Americans billions of dollars in energy costs, according to one recent study, but it has raised health concerns ranging from toxic metals contaminating drinking water to large quantities of diesel exhaust pumped into the air.
Exposure to dust containing silica sand is a relative newcomer to that list.
Eric Esswein, a senior industrial hygienist with National Institute for Occupational Safety and Health, monitored the exposure of 116 workers at 11 fracking sites and found that 79 percent of air samples had more silica dust than recommended and 31 percent had at least 10 times more than recommended. The highest reading came in with 137 times the U.S. recommended limit of silica -- what Esswein called "occupational hazard of antiquity" during a presentation of his findings at the Institute of Medicine earlier this year.
Silicosis, which has plagued miners and construction workers throughout history, can take years, even decades to appear. Once it does, it is incurable, irreversible and progressive, noted Esswein.
While some natural gas site workers who were studied wore respirators, the devices only protect up to 10 times the recommended limit of silica, explained Rotkin-Ellman. Nearby residents are not provided respirators. Esswein and his team did not study how far the silica sand travels nor any other community-wide impacts.
Prompted by the new findings, the U.S. Occupational Safety and Health Administration, along with the NIOSH, released a joint hazard alert on fracking silica in June. The document included recommendations, such as watering down dusty roads around a well site, but no new regulations for the natural gas industry.
When asked by The Huffington Post if and when revised regulations might be issued that take into account these new findings, OSHA spokesman Jesse Lawder said that the agency had "no update at this time."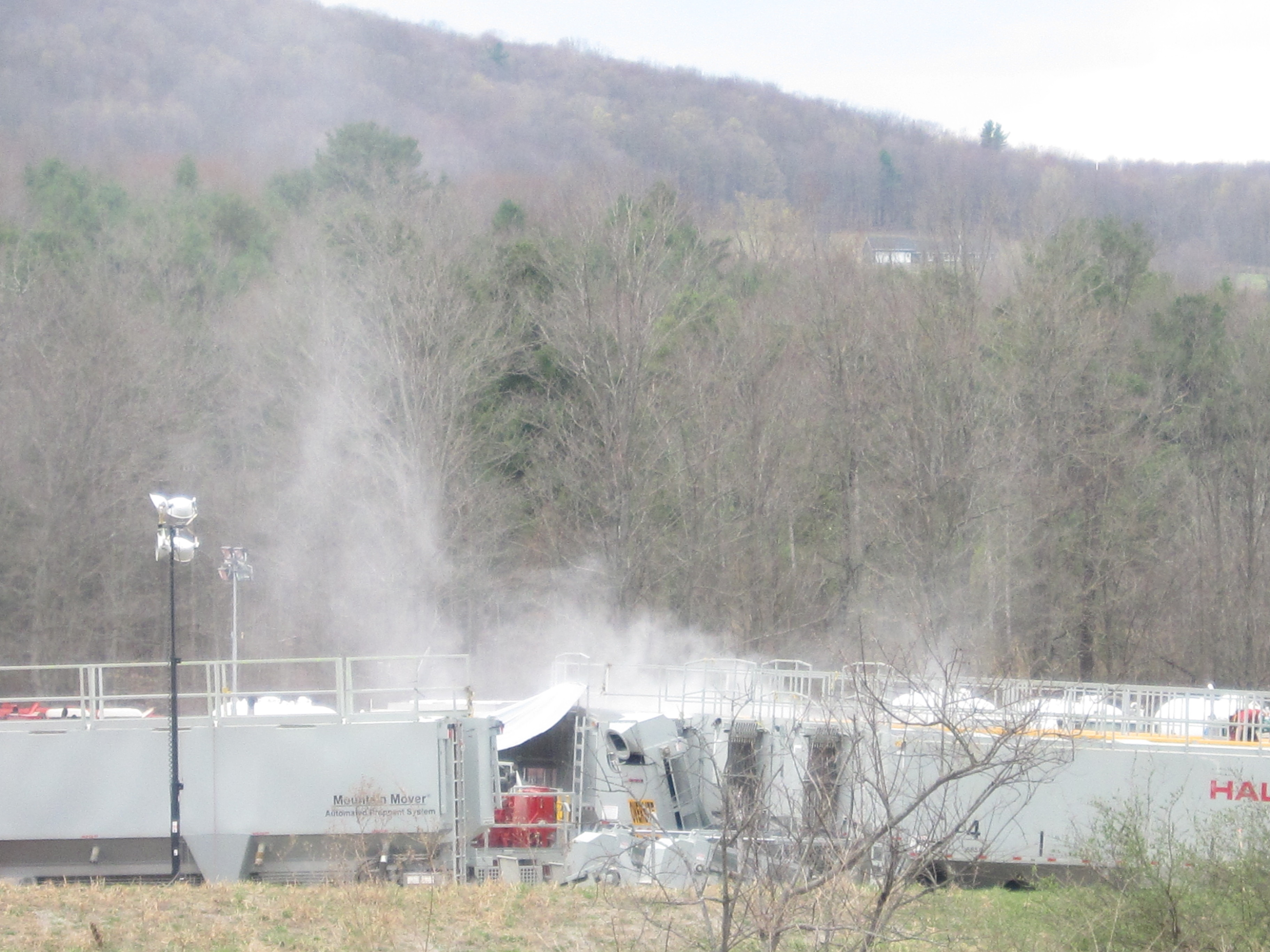 Bill Ferullo captures fracking dust rising from a natural gas site near his Pennsylvania home.
Travis Windle, spokesman for the Marcellus Shale Coalition, said natural gas companies in Pennsylvania were nevertheless following the government's advice.
"Our industry is absolutely aware of the recommendations laid out by OSHA and NIOSH, and continue to work to further raise the workforce safety bar," said Windle. "These recommendations are not an indication that our industry is somehow unsafe.
"Ensuring the health and safety of employees, contractors and of course those in the communities where we operates is our foremost priority," Windle added. "The nearly 230,000 folks who work across the natural gas industry in Pennsylvania live in these communities, and are raising their families here."
Wes Gillingham of Catskill Mountainkeeper, a grassroots advocacy group, is looking ahead to what may come if New York state opens up its portion of the East's Marcellus Shale formation to fracking. He's concerned that the state's proposed review on fracking impacts won't take into account the newly recognized health risks of fracking sand, or fully evaluate the array of other concerns. The New York Department of Environmental Protection faces a Nov. 29 deadline to complete new regulations for fracking, reported The Associated Press on Friday.
"The silicosis issue from the frack sand is one of many issues that add up to extensive health costs to our communities," said Gillingham. "This cost is many affected lives and the lives of our children."
Of course, the health risks aren't limited to communities around frack wells. Workers and residents can be exposed to airborne silica at several points in the natural gas production process -- which tends to span thousands of miles -- including mining, transportation and offloading.
Mining for fracking's essential sand is rising in tandem with the expansion of natural gas production, with an estimated annual demand in the U.S. of 40 billion pounds, and growing. Many residents in Minnesota and Wisconsin, where the prime crystalline silica is unearthed, are speaking out about their environmental and public health concerns.
As one Wisconsinite told Mother Jones earlier this year: "We don't want our kids to be lab rats for frac-sand mining companies."
Ferullo said he is worried about his own health after breathing the dust. But he's more concerned about the other nearby families with children -- some living as close as 500 feet from a fracking site -- as well as his own grandkids.
"Even my son is now concerned about bringing his daughter up here to visit," he said.
Related
Before You Go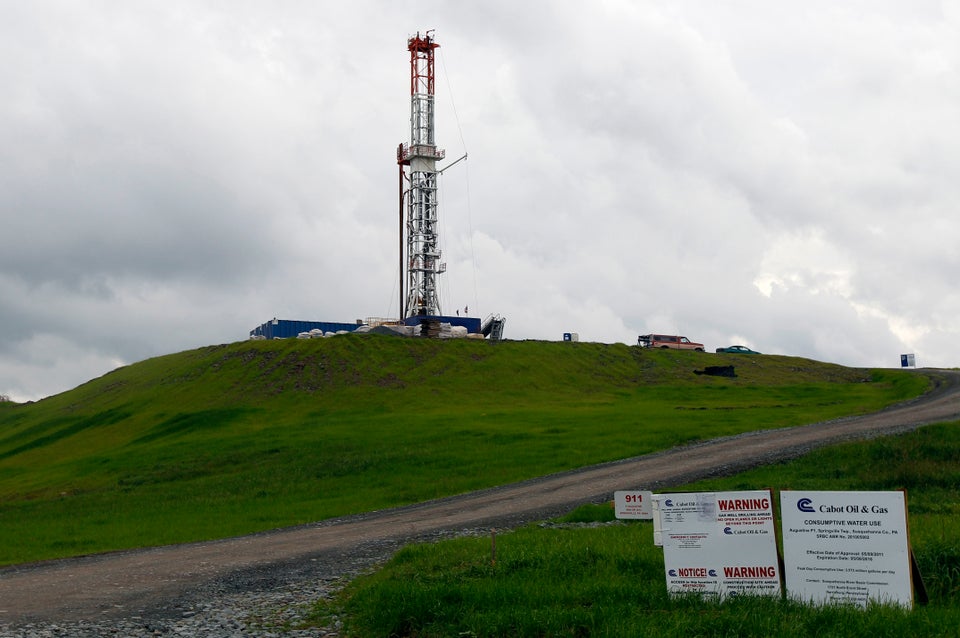 Drilling And Fracking Photos
Popular in the Community