"If you go back in history and look at how the Indians traveled, they traveled to the 'burning waters,' and that was methane in the water, and that was for warmth in the wintertime," Colorado state senator Randy Baumgardner (R) told a conservative activist in a video posted Monday. "So a lot of people, if they'll just trace back the history, they'll know how this is all -- how a lot of it's propaganda."
Baumgardner, being interviewed for activist Gordon Klingenschmitt's daily television show "Pray in Jesus Name," was responding to what he perceives as ignorance from people who criticize natural gas development. Klingenschmitt, who is also known as "Dr. Chaps," said that individuals should be able to take advantage of whatever energy source is available to them on their land, without the government intervening.
Much of the interview was focused on gun rights in Colorado, criticizing Colorado Gov. John Hickenlooper and former New York City Mayor Michael Bloomberg for their efforts to require more extensive background checks for people seeking to purchase firearms.
Baumgardner represents a portion of the state that has large oil, gas and coal resources, and says that President Obama and the Environmental Protection Agency have put coal "under attack." He defended fracking, saying people "don't understand it."
Despite Baumgardner's dismissal of concerns about "burning water," he has a stated interest in water issues. According to his website, Baumgardner "is involved with North American Water, Denver Water Board, and works with the county commissioners on water issues facing the county and the Western Slope."
It is unlikely that Baumgardner's claims about "burning water" are true. Methane that finds its way into surface waters -- lakes, rivers, etc. -- usually evaporates out quickly. Methane can be trapped in underground water sources, but proximity to shale gas wells can make the concentration of methane in water samples six times higher, according to a Duke University study.
It's unclear if Baumgardner was in fact referencing "burning springs" during the interview. Burning springs are natural seeps of methane that can catch fire, but they come from underground rock layers.
Regardless, Baumgardner's comments that "Indians" lit the water on fire are hardly comforting, especially when you're not expecting your tap water to burst into flames.
Before You Go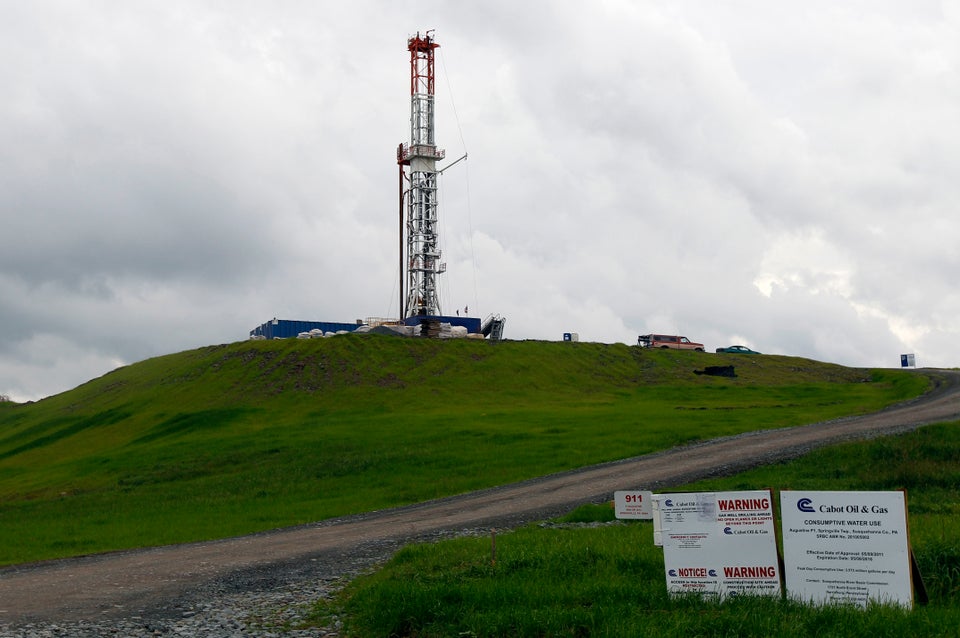 Drilling And Fracking Photos
Popular in the Community