By Michael Green with Michelle Doerr.
At the Center for Environmental Health (CEH), we have raised many serious concerns about the health and environmental risks from chemical used in fracking. We are especially concerned that communities living near fracking operations are bearing the greatest burden from this risky technology. Given the dangers from fracking, it's not surprising when these communities have fears about the effect that fracking could have on property values. But it's often surprising to hear how few rights land owners often have when conflicts arise around fracking.
After giving a talk on the dangers of fracking at the 2013 SXSW Eco Conference in Austin, TX, I was approached by a real estate broker from San Antonio named Michelle Doerr of Doerr Realty, who was concerned about the dangers from fracking and the lack of real estate disclosures in Texas about these issues. Michelle is licensed as a National Association of Realtors Green Certified broker, and she was concerned about the fracking industry's impact on her clients, who could be buying properties without being aware of the risks from fracking. She also worried about subsurface rights and the potential liability for realtors and home buyers who may not know that this issue even exists. After speaking with Michelle I thought we should collaborate on a post about these very issues. Michelle has spent a vast amount of time, energy, research and expertise with CEH to help educate us about the hidden risks from fracking for home buyers and sellers.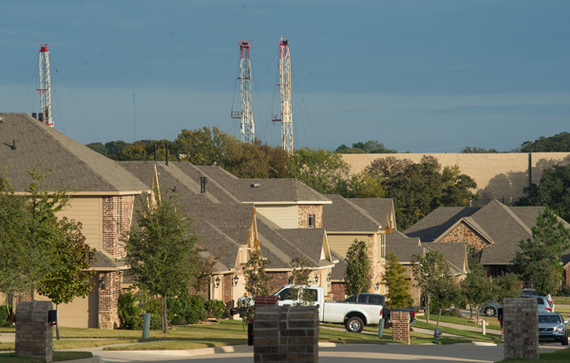 Land Rights? Your Land, Their Rights
There is no doubt that land and mineral rights mean big business for the fracking industry. A recent lawsuit by Chesapeake Energy Corp filed against its former chief executive Aubrey K. McClendon alleges that he stole valuable maps and information about unleased acreage that could be used for fracking. According to the suit, McClendon used the information to help raise more than $3 billion from investors in his new fracking ventures.
But fracking companies need more than just information, they also need legal muscle to undermine landowners' property rights, and unfortunately in many states legislators are happy to grant them unfair advantages. For example, in Ohio, a recent expansion of state law (backed by legislators who took significant campaign contributions from the oil and gas industry) would allow in some circumstances fracking under a landowner's property, even if he or she refuses to sign a lease. In New York, fracking companies argue that they retain drilling rights under five-year leases that landowners have signed more than five years ago, because the state never approved fracking (and has now banned it). The companies are going to court to demand the right to drill on the leased land, regardless of the landowners wishes, should the state ban be lifted.
Your New Home -- Above Ground Only
Property rights are also becoming an issue for buyers of new homes. A 2013 Reuters report found tens of thousands of new homes in 25 states where home builders or developers retained underground mineral rights, with little or no disclosure to inform buyers that they do not own the subsurface rights under their new homes. Reuters found that the largest U.S. home builder, D.R. Horton, is "a heavy user of the practice."
According to Michelle, "Innocent buyers are not aware of the possible ramifications of unknowingly giving away their mineral rights." She also states that when she brings this up to home buyers while signing a new home purchase contract, "They don't seem to really understand this issue and the sales people for various builders don't either." She doesn't think other realtors are really addressing this issue, "Since so little is discussed about it and most don't know to ask." As far as she is aware, fracking issues and the ramifications in real estate are not being taught in real estate courses in Texas.
When Michelle recently confronted a sales agent for one realtor about the issue, "The agent did not have a clue about what I was talking about or that it was even in their own contracts. Very few if any are having this discussion."
Home buyers would do well to learn how few rights they have when it comes to conflicts with oil and gas companies. In Texas, fracking companies who lease subsurface rights from builders or developers have virtual free reign to explore for underground resources. As a recent Texas A&M Real Estate Center publication outlines:
To the surprise of many Texas landowners, the mineral estate is dominant over the surface estate when it comes to mineral exploration and production. Simply put, an oil company (mineral lessee) has the automatic (implied) right to use as much of the physical surface and substances belonging to the surface owner as is reasonably necessary to explore and produce the minerals. This right comes without asking permission to enter and use the physical surface or the surface substances. The mineral lessee is not required to pay surface damages or clean up when it leaves.
What's happening in the Eagle Ford is important not only for Texas, but also for Pennsylvania, Colorado, North Dakota and other states where horizontal drilling and high-volume hydraulic fracturing, or fracking, have made it profitable to extract oil and gas from deeply buried shale.
Sadly, what's happening in the Eagle Ford includes some devastating impacts from fracking on residents' health. CPI describes area residents Lynn & Shelby Buehring, who live within 2.5 miles of more than 50 oil and gas wells, with an additional nine oil and gas production facilities also nearby. Six of those facilities don't report emissions data, but the state permits the other three to release 189 tons of toxic chemicals like benzene and formaldehyde, as well as 142 tons of nitrogen oxides, 95 tons of carbon monoxide, 19 tons of sulfur dioxide, 8 tons of particulate matter and 0.31 tons of hydrogen sulfide into the air each year. Since drilling began, CPI reports, Lynn Buehring now needs an asthma inhaler several times a week, and "has developed migraine headaches so intense that they've induced temporary blindness and brought her to the brink of unconsciousness."
It's time to put a stop to the fracking industry's assaults on our health and our homes. As New York recently showed, when the health effects are evaluated, responsible regulators say "no" to fracking. Our children and families should no longer be threatened by the unacceptable risks to our health and the underhanded tactics of the fracking industry when it comes to our homes.