Little did I know the enchanting fragrance I received as a gift sample at a conference in Menton was also the name of a painter who hailed from nearby Grasse, a French Riviera town made famous for perfumes.
Since that event in 2009, I became a devotée of Fragonard's "Eau de Bonheur" (literally, water of happiness) and bought it whenever I visited France or ran out and knew of someone coming from there.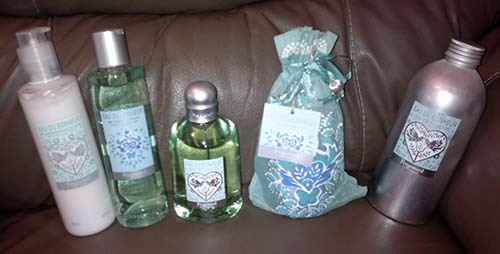 Eau de Bonheur (Abu-Fadil)
Fragonard describes it as "a sparkling fragrance that awakens the senses. A unisex eau de toilette that begins with zesty bergamot, succulent mandarin and fragrant jasmine on a woody background of aromatic maté leaves, sandalwood and cedar."
The only hitch was that I couldn't find it at the airport duty-free or in regular shops.
It's available exclusively at a boutique in Grasse where the historic factory sits, very appropriately, on 20 Boulevard de Fragonard; is sold in four other towns; and, in select shops dotting Paris.
To my delight on a recent visit to France, I stumbled across the Fragonard website -- in search of that ephemeral fragrance -- and learned of the perfume museum by the same name in Paris.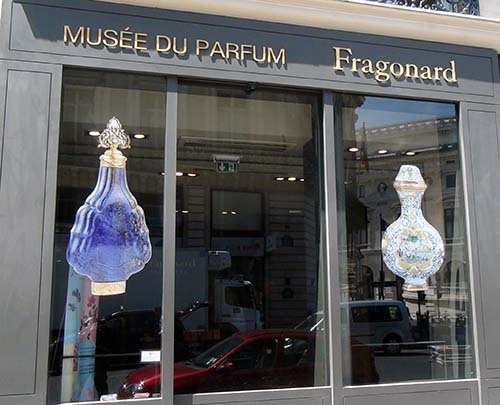 Fragonard perfume museum (Abu-Fadil)
Admission to the Napoleon III town house on the Rue Scribe was free.
Crowds of tourists and students lined up in groups or individually from opening hour to walk up the spiral stairs leading to the main floor where antique stills, holders and dainty containers behind glass display cases, and pictures introduce the uninitiated to the world of perfumes.
There were dozens of Chinese, Russians, some Americans, and other non-French nationals, on a breezy yet sunny Sunday morning being guided through the steps of how this parfumeur produced his various creations and how the French had turned fragrance making into a fine art.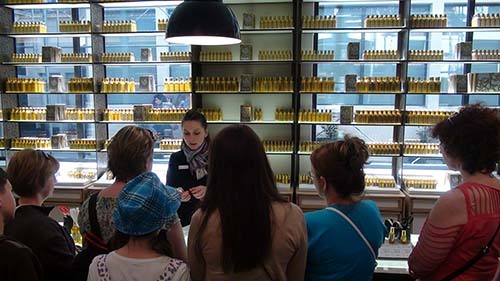 Russian tourists briefed on the art & subtleties of perfume (Abu-Fadil)
The process may involve distillation whereby steam captures oils from raw materials.
According to the museum's website, this technique was first used in antiquity but was perfected by Arabs in the 8th Century AD and is still employed today in traditional perfume making.
There's also absorption based on the ability of animal fat to naturally absorb odors, and extraction using volatile solvents.
The raw materials are plants, flowers, animal substances and synthetic ingredients.
They often range from roses, to mandarin, prunes, jasmine, vanilla, musk, caramel, lily of the valley, violet, bergamot, orange blossom, amber, sandalwood, lavender, ginger, gardenia, lemon, and saffron, to name a few.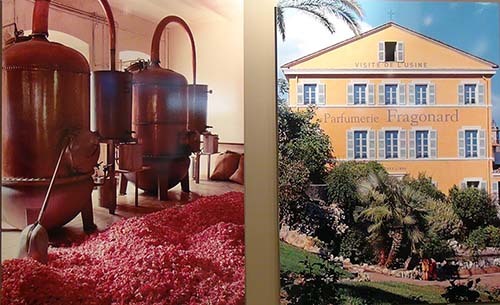 How Fragonard makes perfume (Abu-Fadil)
For men, the fragrances include cardamom, black pepper, grapefruit, magnolia, thyme, cedar wood, rosemary, pineapple, and green apples.
As with most fragrance producers, Fragonard offers a range of eaux de toilette, perfumes, colognes, soaps, body lotions, bath gels, makeup removers and skin tonics. Other products include clothing items and accessories.
I was disappointed to learn photography was not permitted at the Paris museum, notably since there was no proper guidebook about its history and how Fragonard had evolved.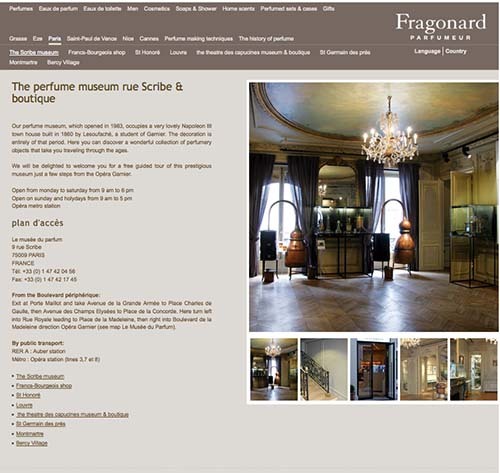 Screen shot of Fragonard perfume museum home page
But I did come across an issue of a magazine chronicling the emergence of the "Maison Fragonard" in Grasse in 1926 five years after its patron saint, Jean-François Costa, was born.
According to the magazine, Costa began developing and expanding the family business as of 1965.
He created two perfume museums in Paris and three museums in Grasse -- one for perfume, a second for apparel and jewelry, and a third in honor of Jean-Honoré Fragonard, whose work and era the parfumeur loved.
Jean-Honoré Fragonard (1732-1806), dubbed the painter of happiness, signed his paintings "Frago" and pursued his passion during turbulent times in France by creating works that reflected brightly colored characters.
Jean-François Costa and his wife Hélène were collectors of beautiful objects that became international references.
She focused on fabrics, jewelry and traditional costumes from the country's south, while his attention turned to collecting art, perfume-related objects and 18th Century furniture.
The love of beauty and the intertwining of art and fragrances were passed on to the next generation, with Anne, Agnès and Françoise Costa carrying the torch of "La Maison Fragonard."
On my next trip to the south of France, I plan to visit Grasse and learn more about the art of perfume.