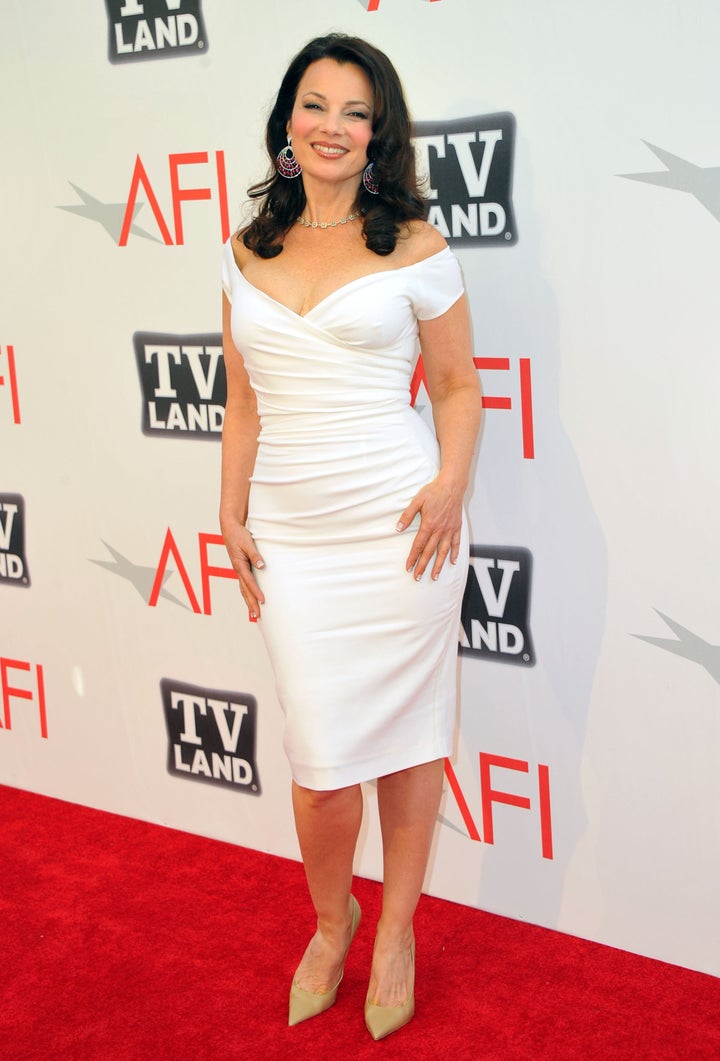 If Fran Drescher's real life story (marry high school sweetheart, divorce high school sweetheart, discover that he's gay, become best friends) sounds like a sitcom well, that's because it is. The high-talking, fast-walking persona that is Drescher has made TV sitcoms ("The Nanny") her life but now, her life is what's driving her latest project -- in "Happily Divorced," Drescher plays a Los Angeles florist who is gingerly entering the singles scene after discovering that her realtor husband of 18 years is gay.
But unlike her on-screen counterpart, Drescher's marriage didn't end because of her husband and now co-producer, Peter Jacobson's sexual orientation (she reveals they had great sex!), but rather because of his "controlling and svengali-ish" behavior -- the whole gay thing, that was just the cherry on top.
So this show is pretty much ripped from the headlines for you.
Well I usually write about what I know. When TV Land, the network that makes the show, wanted
to meet with me and talk about possible TV shows for me to write and produce, they had a couple
of ideas. The first question they asked me was, 'What show would it be if I were to star in it?' and
I said, 'That would be easy. It would be about my relationship with my ex-husband.' I asked them
if they wanted to hear other ideas and they said, 'We just bought that one.' I left the meeting and
I called Peter and I told him, 'I've just sold an idea to TV Land and I want you to come in and be my
partner.' America has really embraced us, we're very grateful for its reception.
I know it's a sitcom and the situation is played for laughs but when it happened it must have been
devastating.
I have to say I left him not the way it's portrayed in the show. I hit a midlife crisis and needed to
find my way outside of the marriage. He begged me not to leave him and cried and was very angry
with me. He didn't talk to me. When 'The Nanny' ended he moved to New York. When my manager
called him to tell him I had cancer he was in tears and the anger and hurt melted away and all that
was left was the love. He was very supportive and he wanted to be allowed in even more but I was
involved with somebody and in love with him. When I wrote the New York Times bestseller, 'Cancer
Schmancer,' that was when he came out. He told me that he had been dating men and I said, 'Okay
well whatever makes you happy.' For me it relieved a little bit of the guilt for having left him.
Did you sense at all during the marriage that he was gay?
I thought he was metrosexual. He was very controlling and svengali-ish, that was really the thing that
bothered me about him.
But that has nothing to do with him being gay.
That's my point! I left him for altogether different reasons. That wasn't our issue. We had good
sex, we had a very normal marriage. He ended up exploring his true orientation. There was nothing
keeping him straight.
Is it strange working together again?
We're in a much healthier relationship now. It's light-years from our old relationship. We've done
therapy. We understand each other. We're no longer reacting to each other, we're functioning from
ourselves.
That's interesting. If he wasn't gay it sounds like you could reconcile.
We probably could but now we have the best of both worlds.
Is he your best friend?
Yes, I mean my parents are my best friends and three or four other people but he and I have a
history. We started dating when we were 15.
Could you see the two of you moving in together in say 30 years time?
I hope in 30 years from now I'm still going to be in a sexy relationship.
Calling all HuffPost superfans!
Sign up for membership to become a founding member and help shape HuffPost's next chapter