 "I wanted to jump thought the TV set and say, 'Mr. President, move over, I got this,'" Fran Lebowitz says, recalling the frustration she felt watching Barack Obama fumble during his first debate with Mitt Romney. "These are not wily people who are beating us."
"Romney's old-fashioned conservatism is on its way out," Frank Rich says, referring to the rise of Paul Ryan and the Tea Party. "The next election will be more interesting than this one, in terms of the future of the country."
Together, they're the stars of "State of the Union," a live, election-season conversation that comes to New York City's Town Hall on October 20, amid a multi-city tour with stops in Las Vegas, Santa Barbara, Los Angeles, Bethesda, and New York, as well as a post-election engagement at the University of Texas at Austin.
Lebowitz, a contributing editor at Vanity Fair and an International Best Dressed List hall-of-famer, is perhaps the most famous victim of writer's block in the world. She completed her first collection of essays at 27, prompting John Leonard at the New York Times to write in a review of Metropolitan Life: "To a base of Huck Finn, add some Lenny Bruce and Oscar Wilde and Alexis de Tocqueville, a dash of cab driver, an assortment of puns, minced jargon, and top it off with smarty-pants. Serve without whine." That was followed by Social Studies in 1981. Fans are still waiting for Progress, her book first excerpted in Vanity Fair in 2004 which now has a 2015 publication date. In the meantime, her most powerful admirers have made efforts to capture her crackling conversation for posterity. In 2010, Martin Scorsese directed a documentary about Lebowitz, titled "Public Speaking," and now her friend Frank Rich has put her on stage -- opposite himself.
He is a worthy counterpart, for obvious reasons. Rich is currently the executive producer of VEEP, the HBO comedy series starring Julia Louis-Dreyfus. Prior to this, Rich was a longtime op-ed writer for the New York Times, where he directed his astute and withering gaze at the political landscape; his weekly column became the closest thing the publication had to a summary of its worldview. In the '80s and early '90s, he was the chief theater critic for The New York Times, earning the nickname "The Butcher of Broadway" for his ability to close a production with a single review. Last year, he left the Gray Lady and joined New York Magazine, where he serves as a writer and editor at large.
Rich met Lebowitz, whom he calls "one of the smartest and wittiest people around," more than 30 years ago, and the two transplanted New Yorkers -- he from D.C., she from Morristown, N.J. -- have remained fast friends and political allies.
In the fall of 2004, they sat down with Charlie Rose to discuss the hope for progress in American politics. Rich can't remember exactly how or why he and Lebowitz wound up there together, but during a recent phone interview with The Huffington Post he said, "All I know is we were ourselves, and some people started saying, 'You should do this more often.'"
In the ensuing eight years, politics has become even more divisive, prompting Rich and Lebowitz to take their show on the road. "We have a continuing conversation in life, so why not have it onstage?" Rich said. "We both have strong opinions."
The goal is to stimulate debate among liberals -- you're not going to find too many Rush Limbaugh fans at these events -- and remind them of what's at stake this year.
Lebowitz, in particular, wants to caution her political allies -- and her candidate -- that sitting back and waiting for people to realize that you're right and your opponent is wrong doesn't work in the era of Kim Kardashian and Honey Boo Boo. "Obama [is] living in a world where I have chosen to live in, where a raised eyebrow has an effect -- which is not the United States," she told The Huffington Post.
She went on to refer to the Republican party as a "confederacy" and eviscerate Romney's argument that his success as a C.E.O. proves that he can run the country. "[A business] has one goal: to make a profit," she said. "Even three-year-olds have more complicated goals than that."
Rich can be a generous partner, setting issues on the tee for Lebowitz to knock out of the park. But don't expect much structure beyond that. "We have a conversation that is pretty freewheeling and funny," he said.
Ultimately, audience members can hope to come away with colorful new ways to express their anti-GOP fury. "I'm pretty angry, but the problem with me is that I'm always in an extreme state of rage," Lebowitz said. "I have all this other rage in me from 1950."
Lebowitz and Rich will appear in "State of the Union" tonight, October 19, at Strathmore, in Bethesda, MD. For ticket information, click here.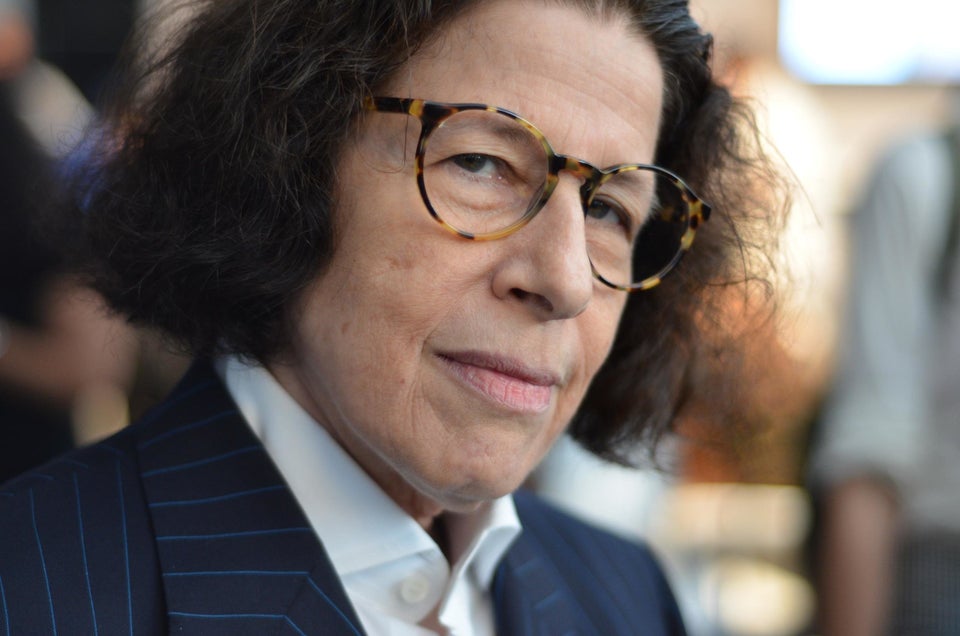 Frank Rich/ Fran Lebowitz
Related
Popular in the Community