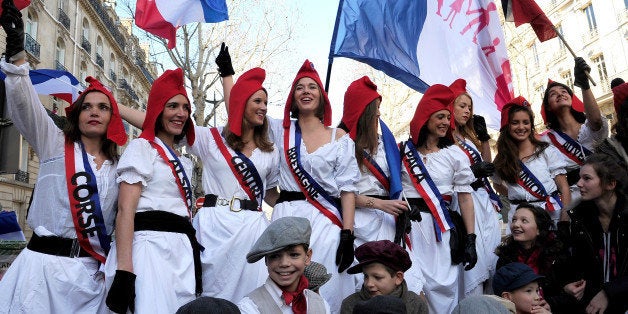 Tens of thousands of people marched in Paris and Lyon on Sunday against new laws easing abortion restrictions and legalising gay marriage, accusing French President Francois Hollande's government of "family phobia".
Police said 80,000 people took to the streets of the French capital, creating a sea of blue, white and pink -- the colours of the lead organising movement LMPT (Protest for Everyone) -- who gave a far higher turnout figure of half a million.
Demonstrator Philippe Blin, a pastor from nearby Sevres, said he felt a "relentlessness against the family" in France.
At least 20,000 rallied in Lyon, many of them ferried in aboard dozens of buses, waving placards reading "Mom and Dad, There's Nothing Better for a Child" and "Two Fathers, Two Mothers, Children With No Bearings" -- a slogan that rhymes in French.
Organisers in the south-central city estimated the crowd at 40,000, their statement describing a "wave of blue and pink".
"We are in a society that has lost many of its bearings, and everything that was an institution... which served as a foundation, has gradually disappeared," said one protester in his 40s who gave his name only as Eric. "Attacks against the family are dangerous for the family, for children, for the country."
LMPT's president, Ludovine de la Rochere, said she was thrilled with the turnout and appealed to the government to respond to the marchers' concerns.
The movement opposes a slew of policies under Hollande -- the most unpopular French president of modern times -- including last year's law allowing gay marriage.
Other targets of LMPT's protests include medically assisted procreation techniques for lesbian couples and in vitro fertilisation.
They are also demanding the scrapping of an experimental school programme aimed at combatting gender stereotypes.
In Lyon, politicians wearing their tricolour sashes walked at the front of the march behind a banner reading, in English, "Brussels, Leave Our Kids Alone".
LMPT official Francois de Vivies said the European Parliament was set to review a report on Tuesday that "again tries to tell us how we are supposed to educate our children".
The report calls for a new EU action plan to combat homophobia.
On Sunday, a few counter-demonstrators waved signs behind De la Rochere as she gave a stand-up television interview, one reading: "Protect Our Children from the Witches".
In Lyon, protesters shouted: "Hollande, You Have Broken France", with many calling for his resignation as well as that of Education Minister Vincent Peillon.
The mass protests come a week after several thousand people marched through Paris in a "Day of Anger" against Hollande's Socialist government.
Some shouted anti-Semitic slogans, and the demonstration ended in clashes between police and protesters that left 19 police officers wounded and led to the detention of 226 people.
Interior Minister Manuel Valls warned that "no excesses" would be tolerated on Sunday, and in Paris 2,000 members of the security forces were on hand as a police helicopter circled above the march and five underground train stations were closed.
Twelve far-right activists and half a dozen right-wing nationalists were briefly detained because of fears that they wanted to cause trouble, police said.
Copyright (2014) AFP. All rights reserved.
Before You Go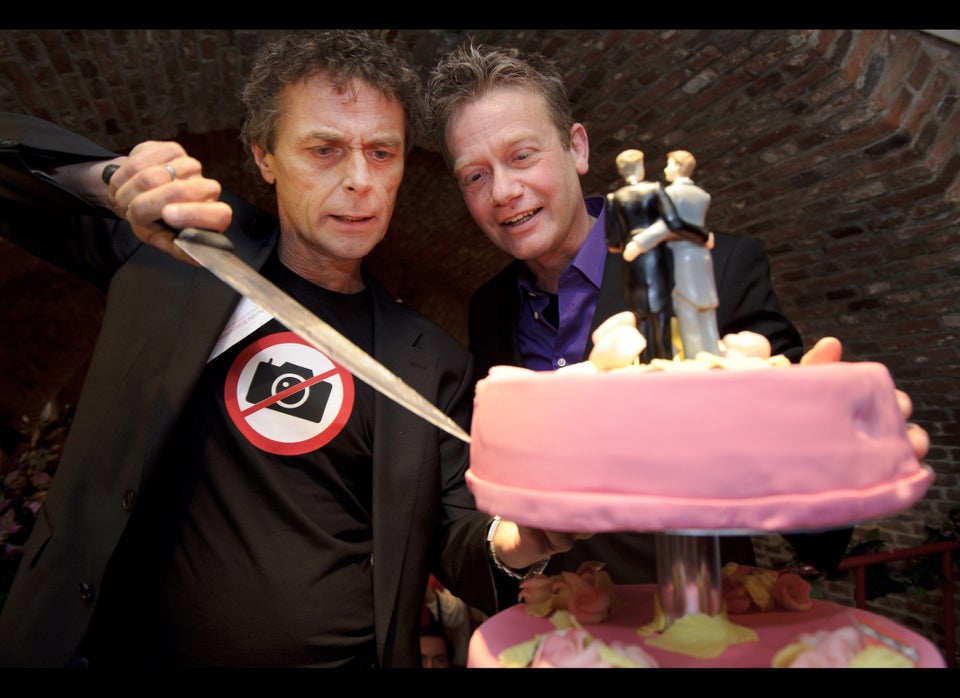 Gay Marriage Around The World
Popular in the Community