At least 43 people, including a child, were killed after a bus and a truck collided in the south of France on Friday morning.
Christophe Auger, a prosecutor from the town of Libourne, was unable to confirm the number of deceased in a press conference Friday evening, but said the total number of deaths from the bus was 41 or 42. Officials are still unclear as to whether one person who is currently unaccounted for was actually on the bus. The truck driver and his 3-year-old son have been confirmed dead. 
The passengers of the bus were mostly elderly people going on a day trip as part of a senior citizens group.
The two vehicles crashed head-on around 7:30 a.m. near the town of Puisseguin, located about 35 miles from the city of Bordeaux. Both vehicles caught on fire, and droves of firefighters were deployed to the scene.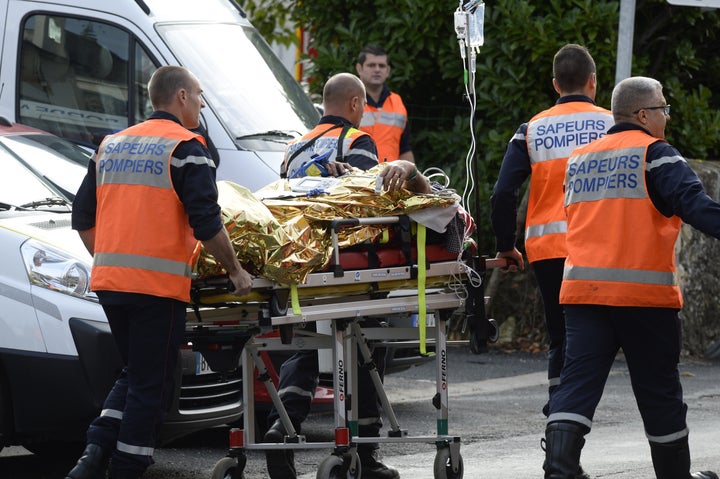 Eight people were injured in the crash. Two survivors are still in critical condition. A ninth person -- a bystander who got out of his car to rescue passengers but punching through a bus window -- was also rescued. 
One of the survivors was the driver of the bus, Puisseguin Mayor Xavier Stubblet told local news outlet Sud Ouest. A witness told Le Figaro that survivors escaped after the bus driver used an emergency latch to open the vehicle's doors.
The bus driver has been discharged from the hospital and is currently in questioning, Auger said. So far, the driver has implied that the truck driver was veering out of his lane, which could have led to the collision.
The cause of the accident is unknown. Puisseguin Deputy Mayor Gérard Dupuy said the bend in the road where the accident occurred is known to be dangerous and there have been several accidents there before.
French authorities have launched a preliminary investigation of the crash. The first phase of it will be to identify all of the victims, a process that could last up to three weeks, said Patrick Touron, director of the criminal research unit of France's police department. 
"We are overcome with emotion," said Patricia Raichin, who is the mayor of Petit-Palais-et-Cornemps, where most of the passengers were from.
Photos from the scene below:
PHOTO GALLERY
Tragic Bus Crash In France
Calling all HuffPost superfans!
Sign up for membership to become a founding member and help shape HuffPost's next chapter