CALAIS, France, Nov 2 (Reuters) - France moved hundreds of child migrants from the site of a demolished camp to reception centers across the country on Wednesday, as a feud with Britain over who takes care of the youths dragged on.
French authorities transferred more than 5,000 other migrants last week before bulldozers moved in to raze the sprawl of ramshackle shacks and tents nicknamed the "Jungle" by its inhabitants.
But about 1,500 unaccompanied children were left behind. They have been sheltered in converted shipping containers on a site on the edge of the flattened camp as France and Britain squabbled over who should take them in.
Many of them teenagers from war-ravaged Afghanistan and Sudan's Darfur region, they hugged and wished farewell to companions and charity workers before boarding awaiting buses.
By 12:30 p.m. (1130 GMT) some 20 busloads had left. The French government said the operation would be wrapped up within two days.
"Things are moving, and within 48 hours there will be no unaccompanied minors in the temporary center (in Calais)," government spokesman Stephane Le Foll told reporters after a weekly cabinet meeting.
The children's plight has triggered a diplomatic row between Paris and London, with tensions intensifying in recent days after President Francois Hollande pressed Britain to accept its share of responsibility for the minors.
British officials demanded France take better care of them.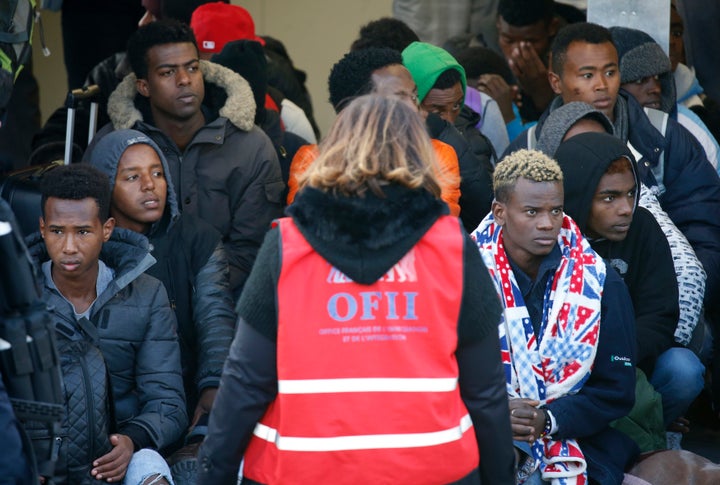 "INHUMANE CONDITIONS"
Many of the child migrants are desperate to reach Britain, which lies tantalizingly close across a narrow stretch of sea, saying they have relatives there.
European Union rules say Britain must take in unaccompanied children who have family ties. Britain has also made a wider commitment to taking in vulnerable migrant children under the so-called Dubs amendment passed in parliament this year.
Junior Brexit minister David Jones told a parliamentary committee on Tuesday that Britain had given shelter to more than 300 children since October 10, but said there had been a pause in the process of admitting children while the camp was closed.
"We anticipate that that will recommence later this week," the minister said.
The United Nations' Committee on the Rights of the Child slammed both governments for disregarding the child migrants' best interests.
"Hundreds of children have been subjected to inhumane living conditions," the committee said in a statement.
Faced with an uncertain future, the child migrants received colored bracelets marked with the number of the bus they would be traveling on.
Dozens of British Home Office officials, including Border Force staff, were in Calais on Wednesday and will visit the 60 temporary housing centers dedicated to unaccompanied children to assess their asylum requests.
The Calais camp came to symbolize Europe's fraught efforts to cope with a record influx of migrants fleeing war and poverty in Asia, the Middle East and Africa.
Hollande this week promised Calais residents the migrants would not return, and on Wednesday the prefect of the Pas-de Calais region said even the container park would be dismantled.
Charity workers, though, scoffed at the suggestion that some migrants won't try and slip back and criticized the plans to remove the shipping container site.
"We fear many of the adolescents will come back to Calais. How will the state look after them? Will they be left to sleep in the street?," said Christian Salome, head of the Auberge des Migrants charity.
(Additional reporting by Matthias Blamont in Paris, Tom Miles in Geneva and William James in London; Writing by Richard Lough; Editing by Tom Heneghan)
Calling all HuffPost superfans!
Sign up for membership to become a founding member and help shape HuffPost's next chapter
BEFORE YOU GO
PHOTO GALLERY
Authorities Demolish And Evacuate Calais "Jungle" Refugee Camp