By Emmanuel Braun and Paul-Marin Ngoupana
BANGUI, Dec 6 (Reuters) - France launched its second major African intervention in a year on Friday as its troops rushed to the Central African Republic's capital, Bangui, to stem violence that already claimed over 100 lives this week.
France, which capital Bamako earlier this year, began assembling a new 1,200-strong force for CAR just hours after winning U.N. backing to go ahead on Thursday.
"The operation has effectively started," Defence Minister Jean-Yves Le Drian told RFI radio. He said one company had arrived in Bangui from a French base in nearby Gabon, and that a helicopter group was due to be in place later in the day.
He added that the night had been calm after fighting on Thursday between the mainly Muslim former rebels now in charge of the country and a mix of local Christian militiamen and other fighters loyal to ousted president Francois Bozize. A Reuters witness and an aid worker said at least 105 people were dead.
Speaking hours after securing U.N. backing for the mission on Thursday, French President Francois Hollande vowed that the French operation would be limited in time, with the aim of handing over to African forces when possible.
Le Drian said it was "not impossible" that France could wind down its presence after six months, but Central African Republic Prime Minister Nicolas Tiangaye said it was likely the troops would have to remain longer.
"Six months seems a bit short to me; in my view we are looking at a year. If it (the French force) manages to sort out the problems, so much the better, but I would prefer it to stay in place for a year," Tiangaye told RTL radio.
Reuters reporters in Bangui said the capital was calm, with many locals staying inside to avoid heavy rain.

The former French colony has slipped into chaos since mainly Muslim rebels seized power in March, leading to tit-for-tat sectarian violence with the Christian majority. The violence on Thursday was the worst the capital has seen during the crisis.
As of Thursday, France had some 650 troops based at Bangui airport - a number Hollande said would double immediately with reinforcements from French bases in neighbouring countries.
Central African Republic is rich in gold, diamonds and uranium but decades of instability and spillover from conflicts in its larger neighbours have kept it mired in crisis.
Foreign Minister Laurent Fabius said the annual Africa-France summit starting in Paris later on Friday would discuss CAR operations, including the future handover from France to African- or U.N.-led forces.
Asked about his previous warning that there was a risk of genocide - which critics have called alarmist - Fabius said: "The term is debatable, I won't employ it again as genocide is something quite specific ... (but) we have all the elements of a major crisis and powder keg," noting that there had been what he called "the start of a religious confrontation".
Fabius said French forces would initially focus on securing Bangui and roads leading to Chad and Cameroon. They would also deploy with African forces to other towns including Bossangoa, about 300 km north of the capital, which witnesses said had come under heavy fire from former rebels on Thursday.
Michel Djotodia, leader of the Seleka former rebel alliance, is now CAR's interim president, but he has struggled to control his loose band of fighters, many of whom come from neighbouring Chad and Sudan.
Asked whether Djotodia was legitimate and should remain in power, Fabius said he had taken power "in a debatable way" but added: "I think we don't need more difficulties by adding the departure of the president." He said, however, that elections should begin by early 2015 at the latest. (Additional reporting by Mark John and John Irish in Paris; Editing by Kevin Liffey)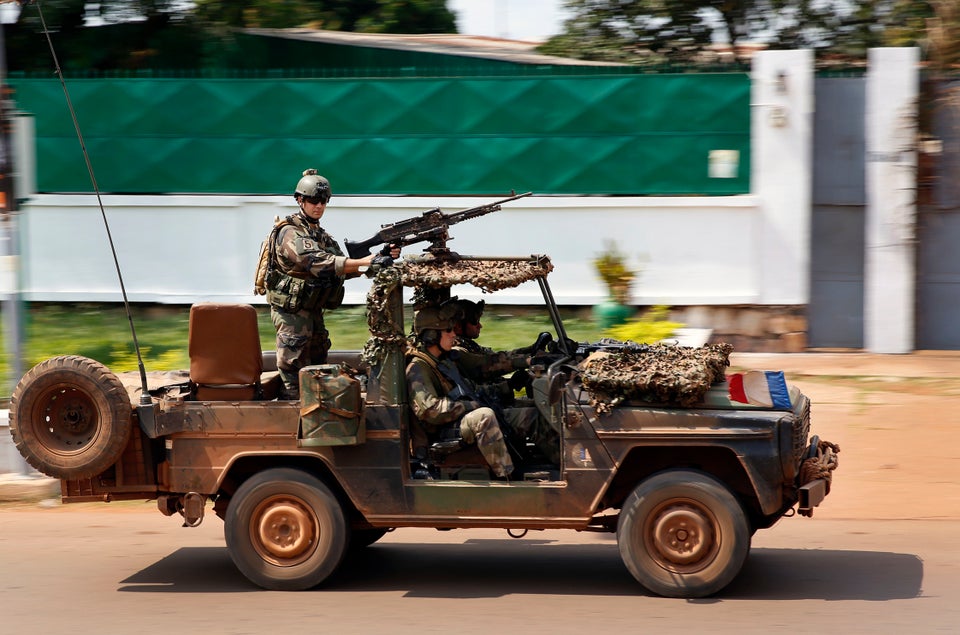 Fighting Rocks Central African Republic
Popular in the Community