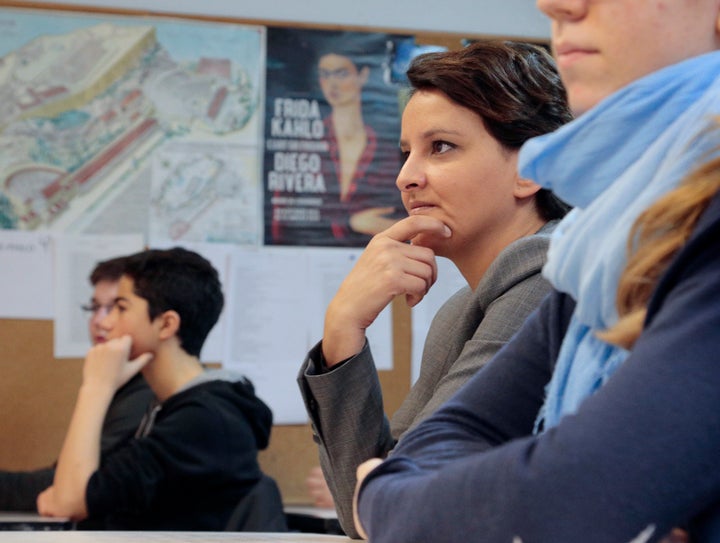 PARIS -- Days after terrorists attacked French satirical magazine Charlie Hebdo and a kosher grocery store last January, the country called for a moment of silence in schools.
Most students complied, standing to honor the victims. But hundreds openly rebelled.
Some students understandably said they were offended by the magazine's depictions of the Prophet Muhammad, said Education Minister Najat Vallaud-Belkacem.
These varied reactions point to a much larger problem: students' vulnerability to conspiracy theories and extremist propaganda on the Internet, Vallaud-Belkacem told The Huffington Post. 
Teachers and students need to have more frank discussion about these issues in a safe and inclusive space, the minister said, and she is setting out to make this one of her administration's main focuses.
French students returned to school in the fall of 2015 with a new mandatory course devoted to civic and moral issues. Teachers are being trained to encourage discussions about current events that promote inclusion and respect for diverse opinions. They also are being taught to pay closer attention to children who may be slipping through the cracks.
How Other Countries Are Dealing With Youth Radicalization
The threat of young people becoming radicalized after viewing pernicious material on the Internet is one that governments around the world are dealing with in different ways.
The so-called Islamic State has produced over 1,000 propaganda videos since January 2014 that are specifically "based and constructed according to Western values and images" to appeal to those audiences, Javier Lesaca, a visiting scholar at George Washington University's School of Media and Public Affairs, told The New York Times.
Community-led efforts to combat radicalization have flourished across Europe for years, but none have sought to alter national education the way France's have.
The United Kingdom launched several local initiatives in predominantly Muslim communities after the 2005 bombings on London's subway system, all under the bundle of an ambitious program called Prevent. One program brings in Muslim scholars to speak to young British Muslim audiences. Another program puts on theater productions that teach about the dangers of extremism, intolerance and terrorism.
In Germany, a country that took in over 1 million refugees last year, the government announced in December that it would introduce Islamic classes in regions with a high population of Muslims to properly educate people about the religion.
In the United States, the Department of Homeland Security says it is coordinating with several government branches, including the Department of Education, to promote online safety. The Education Department declined to comment to HuffPost.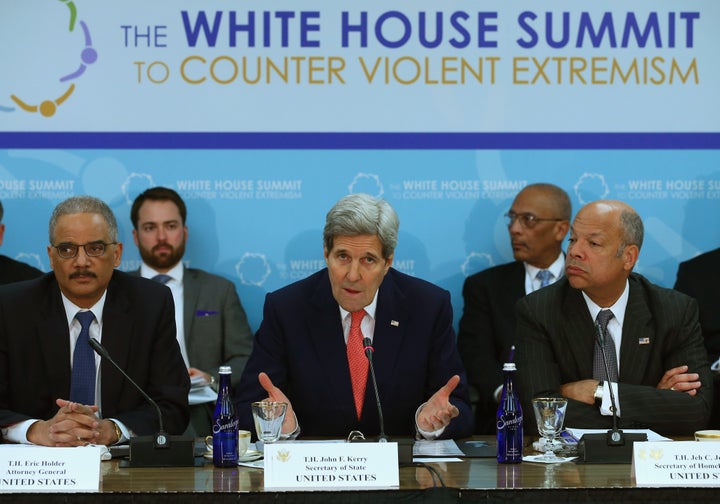 France's Education Initiative
In France, the government is tackling the risk of youth radicalization by creating national education programs. 
After the terror attacks in Paris last year, Vallaud-Belkacem said the reaction from French people was: "What can we do to prevent this from happening again, notably by focusing on education? How can we make sure there are no more new young terrorists?" 
She and her team began to think about how this could be productively discussed at school -- not an easy feat in a country dealing with deep-seated feelings of anti-Semitism and Islamophobia.
"School is at once a place of hope, but it's also a laboratory that exposes our differences," she said.
Vallaud-Belkacem added that in France, teachers "did not feel equipped to respond to students who spend hours in front of their computer screens, who are confronted with conspiracy theories or alternative arguments that contest what they're taught at school."
New Civic And Moral Curriculum
Secularism is one of the founding principles of the French Republic. Religious education is banned in French public schools and students are forbidden from wearing symbols of their religion -- crosses, skullcaps, headscarves -- to school. 
Yet it's become a point of contention across the country, particularly for France's Muslim community.
"Some Muslim students experience secularism as an act of aggression," Vallaud-Belkacem said.
The Ministry of Education has created video tutorials to expose teachers to questions that students struggling with secularism might ask, as well as proper ways to address them. Tens of thousands of teachers have already gone through the training, the minister said. 
"We need to better explain to students that it's meant as a form of protection, not an affront to their religion," she said. "We need to get students to appreciate secularism, instead of kids saying that it's contradictory to their religion."
She also launched a "civic and moral" curriculum through 12th grade so students can discuss and debate current events in a safe setting instead of taking what they read online at face value.
Through a more active debate culture, Vallaud-Belkacem hopes to promote "a strong message against discrimination, racism, anti-Semitism, sexism and bullying."
Experts agree that such efforts are crucial to curb the growth of violent extremism.
Isolated or marginalized students may dabble in "a whole lot of social evils" aside from extremism, such as gang or drug activity, said Humera Khan, executive director of Muflehun, a nonprofit that promotes programs to prevent radicalization and violent extremism.
"Anything which can be done to make communities more inclusive is better, because it reduces vulnerability if you do it early enough," Khan said. "We want to actually have kids learn about tolerance and diversity to compensate [for] what they might be hearing in the home environment."
"Since the attacks against Charlie, national education has made important strides in promoting secularism," Vallaud-Belkacem tweeted in French.
Citizen-Sponsored Learning
After last January's attacks, Vallaud-Belkacem said she received thousands of letters from members of the public who offered to lend their expertise and "bring something specific to the classroom that a teacher can't always touch upon," she said.
She created a "Citizens' Reserve" of 5,000 people across France -- such as family members of people killed in terrorist attacks -- who can offer an added dimension to discussions about tolerance and nonviolence. 
"We've told teachers that as soon as a tough topic comes up that they don't feel equipped to tackle themselves, use this list," she said. "Teachers alone can't educate young people."
So far, she noted that teachers are taking advantage of the list to discuss the topic of secularism.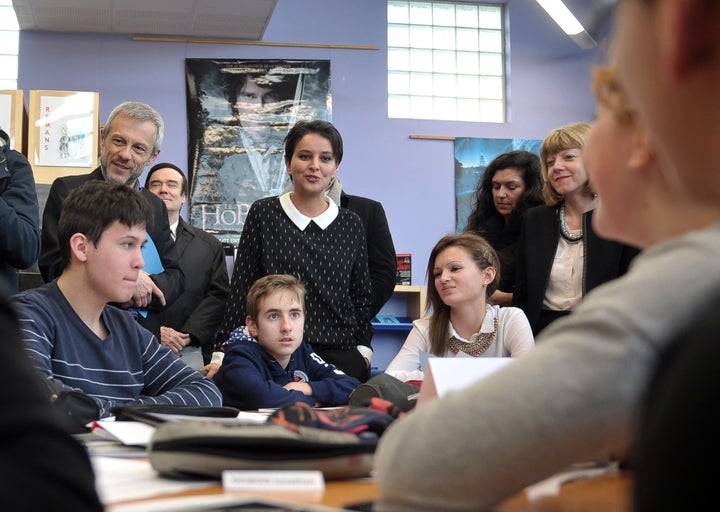 Teaching Students To Critically Analyze News And Information
Vallaud-Belkacem is particularly concerned about conspiracy theories on social media. Without the tools to identify false information, she said, young people risk subscribing to dangerous theories or communicating with extremists online.
"It's more necessary than ever before to ensure that discernment and the development of a critical mind guide our take on the world and inform our relationship to the media and information," she said in December.
She has invited journalists from across France into the classroom to discuss how they verify facts, research information and vet sources. She's also encouraging more opportunities for student journalism through school newspapers and radio stations.
The minister and her team plan to step up their efforts to ensure that teachers recognize the warning signs of youth radicalization. 
"School needs to be the place where we can prevent in real time and begin to detect signs of radicalization," she said. 
PHOTO GALLERY
Paris Attacks
Calling all HuffPost superfans!
Sign up for membership to become a founding member and help shape HuffPost's next chapter