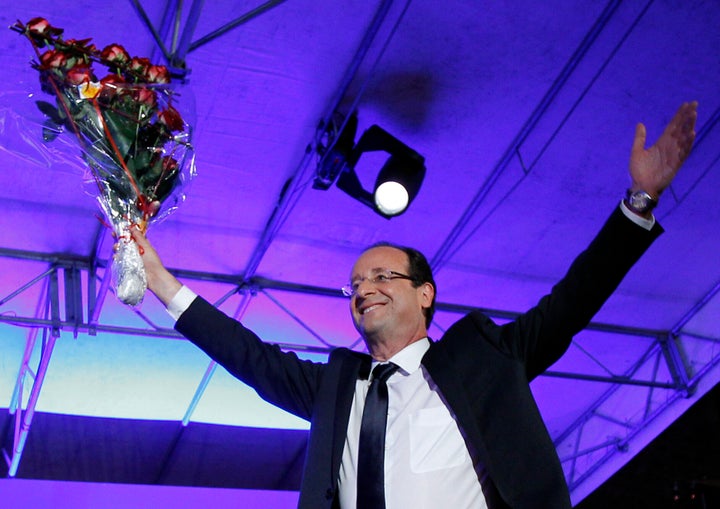 In an almost universally expected result, Socialist candidate François Hollande has unseated French president Nicolas Sarkozy, winning the French presidential runoff Sunday, France 24 reports. Hollande won 51.9 percent to Sarkozy's 48.1 percent.
Mr. Sarkozy trailed Mr. Hollande in the days leading up to the runoff, according to the New York Times, and his popularity waned in the face of high unemployment, austerity and a possible recession throughout Europe.
The two candidates advanced to a runoff election after first-round elections held on April 22; according to France 24, Hollande won 28.63 percent of votes, while Sarkozy won 27.18 percent of votes. The surprise result of the first-round came for third-place Marine Le Pen of the far-right National Front, who won a surprising 17.90 percent of votes, the highest the right-wing party had ever secured in a presidential race.
Read the full report from the Associated Press below.
By ANGELA CHARLTON Associated Press PARIS (AP) -- Socialist Francois Hollande defeated conservative incumbent Nicolas Sarkozy on Sunday to become France's next president, heralding a change in how Europe tackles its debt crisis and how France flexes its military and diplomatic muscle around the world.
Sarkozy conceded defeat minutes after the polls closed, saying he had called Hollande to wish him "good luck" as the country's new leader.
Exuberant crowds filled the Place de la Bastille, the iconic plaza of the French Revolution, to celebrate Hollande's victory. He will be France's first leftist chief of state since Francois Mitterrand was president from 1981 to 1995.
Sarkozy thanked his supporters and said he did his best to win a second term, despite widespread anger at his handling of the economy.
"I take responsibility ... for the defeat," he said.
Hollande's former partner and mother of his four children, Segolene Royal, said she has a "feeling of profound joy to see millions and millions of French renew the tie to the left."
"The French can be confident," she said on France-2 television. "We will need everyone to help the country recover." Royal faced off Sarkozy in the 2007 election.
Partial official results, with about half of the nationwide votes counted, showed Hollande with 50.8 percent compared to 49.2 percent for Sarkozy. The CSA, TNS-Sofres and Ipsos polling agencies predicted that Hollande will win with 51.8 percent to 53 percent, compared with 47 percent to 48.2 percent for Sarkozy. They made projections based on the vote count at select voting stations around the country.
Hollande wants to renegotiate a hard-won European treaty on budget cuts that Germany's Angela Merkel and Sarkozy had championed. He wants more government stimulus, and more government spending in general despite concerns from markets that France needs to urgently trim its huge debts.
The election outcome could also have an impact on how long French troops stay in Afghanistan and how France exercises its military and diplomatic muscle around the world.
Calling all HuffPost superfans!
Sign up for membership to become a founding member and help shape HuffPost's next chapter
BEFORE YOU GO
PHOTO GALLERY
French Elections 2012