"What a day!" I can still hear François Mitterrand pronouncing these words the night of May 10, 1981, attempting to redact his victory speech and incredulously putting down his pen in front of a television flashing his image.
We can draw parallels between what happened that year and the current presidential campaign, the first phase of which culminated Sunday. The outcome of the second phase ― in two weeks ― is now easy to predict. Until, of course, the legislative elections in June, which could either cement the narrative that's been formed or turn it on its head.
In the past two years, we have seen two presidents and three prime ministers totally fall apart in the face of an angry and disappointed French populace. In two years, we've seen how every possible scenario and every possible outcome can become totally derailed, sometimes several times over. In two years, the country's establishment parties have fallen apart, especially the Socialist Party, which hasn't been this damaged since 1969. The primaries were a farce during which parties completely and totally failed to rally their supporters. Some ministers flat-out refused to vote for the candidate representing their own party.
The notion of the National Front holding a slot in the second round of presidential elections has now become commonplace, whereas 15 years ago it would have been the subject of outrage. Never could we have imagined Marine Le Pen polling at 24 percent, then at 30 percent, only to come in second place with just shy of 22 percent of the vote. François Fillon emerged as an indomitable candidate at the end of the primary, only to lose that edge in the last two months.
And finally, two phenomena shook up establishment politics in France. First, Jean-Luc Mélenchon used deceptive gentleness to seduce the indignant and marginalized populations of France. He fell short of the second round by just a hair. And then there's Emmanuel Macron, who prior to this election season was a relatively unknown young man. He created a political party from scratch, without any reinforcement. His stupefying race to the top is now tilting in his favor.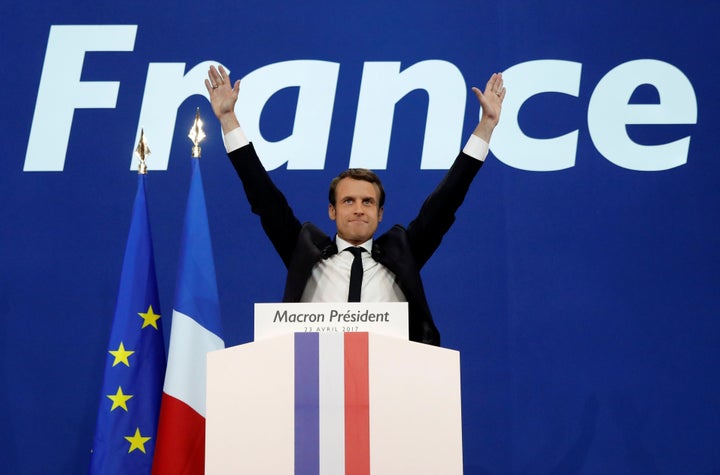 Macron's presidential destiny is improbable both historically and statistically. He launched his own political movement ― "Onward!" ― exactly one year ago. The basic tenet consisted of throwing the norms of France's Fifth Republic out the window, even though he doesn't have much political experience to go off. He had only been the country's finance minister for two years at this point, and pundits joke that he only made a name for himself by liberalizing the auto market and keeping shops across France open on Sundays.
Politicians mocked him; journalists rejoiced. Who is this presumptuous dreamer with an almost messianic urgency, they would say.
But his discourse was convincing. Magazines were enamored of him, and campaign rallies were always full. And now here he is, head of the presidential first round, with the highest shot of being elected president of the republic in a mere 15 days.
As Macron took a victory lap, cameras in tow, through the streets of Paris on Sunday night, it was almost reminiscent of Jacques Chirac's triumphant ride in 1995 ― he, too, knew that the odds were more or less in his favor.
But is he not somewhat fearful in the face of his own destiny? His audacity, stemming from his intuition that France was fed up with being divided between good and evil, was bolstered by failures of his opponents. Think about it ― Alain Juppé, Nicolas Sarkozy, François Hollande, Manuel Valls, Fillon ― all were defeated due to external circumstances or due to their own faux pas. Macron alone came out of this unprecedented political slaughter alive.
Yet he knows self-glorification wouldn't be wise at this stage. France is fragile, and another terror attack could make everything fall apart. France is also divided. For the first time since 2002, no candidate surpassed 25 percent in the first round. French people are incensed in the face of glaring inegalitarianism. Establishment parties are crumbling. Politicians are bitter and have taken to tearing each other apart, carrying out sneak attacks to expose and crucify the losers.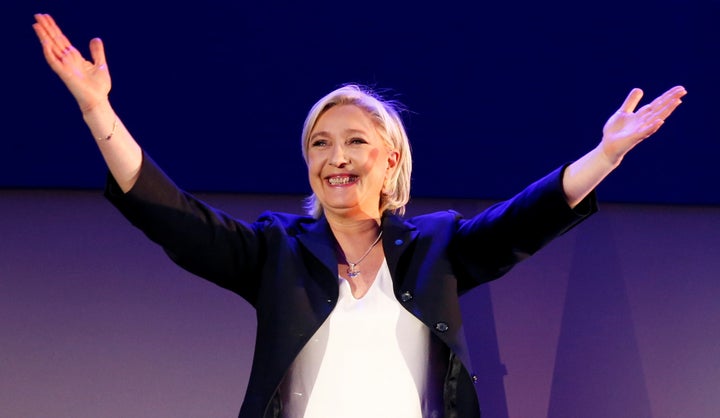 We all expected blood to be shed among those in the Republican Party, which has not taken defeat lightly. People like Laurent Wauquiez, thick in a legislative battle, said he would refuse to vote for Macron.
Meanwhile, the left has some serious soul searching to do. It's true that candidates like Benoît Hamon unambiguously called on their supporters to vote for Macron. But they need to examine the reasons behind such a messy campaign ― not to mention a disastrous presidential term with Hollande at the helm. And there are people like Mélenchon, who announced that throwing his support behind Macron would be "difficult." His evident fury was a reminder of all of the uglier moments throughout his long political career. His deception is understandable, especially after his meteoric rise in the last few weeks, but the refusal to elegantly accept his defeat and take responsibility for it evoked the fiery rhetoric of Georges Marchais rather than the more eloquent and pacifist tendencies of Jean Jaurès.
Le Pen's chances of winning the final round are slim, despite a base of almost 7 million people ― a historic record for the National Front. Her glass ceiling is more tangible than ever, and many of us certainly hope it doesn't disappear, but France needs to restore its unity. One quarter of French people dream of a gentler and less precarious life. Another quarter prioritize taxes and debt reduction. A third quarter is seeking national security and a populist leader who doesn't represent the elite. And finally, a fourth quarter, slightly more confident about the country's future, is interested in profound modifications to governance and French politics.
Macron embodies this last category. He has two weeks to prove that he can also embody and represent the other three. If he can pull this off, his remarkable story effectively begins now.
Calling all HuffPost superfans!
Sign up for membership to become a founding member and help shape HuffPost's next chapter
BEFORE YOU GO
PHOTO GALLERY
France Strikes