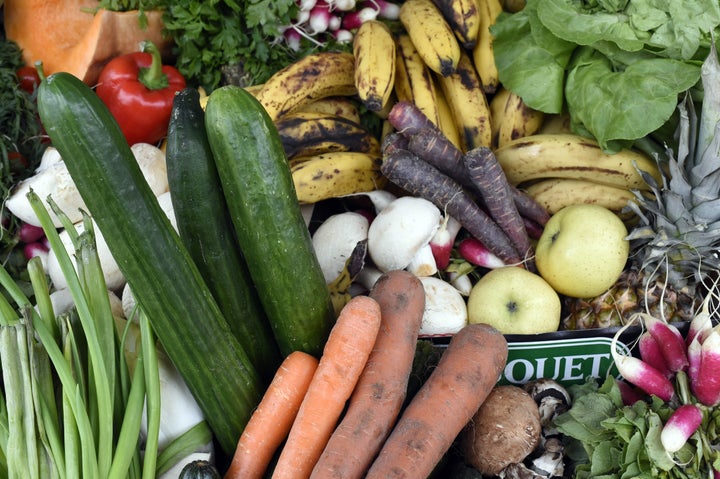 The land of baguettes, wine and cheese is ramping up its fight against food waste and climate change.
On Wednesday, the French National Assembly unanimously passed a bill that will effectively forbid food vendors and producers to waste food, Le Monde reported. The bill will be presented to the senate in early 2016.
The legislation includes measures that would have food producers and distributors compost or give to an authorized charity unsold food that has gone beyond its sell-by date. It would let people set up associations to collect and distribute food so that ordinary citizens could also give food to those who need it, per The Guardian. The bill would also require school curricula on food to discuss "the fight against food waste."
In France, a single person throws away 20 to 30 kilograms (44 to 66 pounds) of food, worth 159 euros ($174), every year, the country's Environment and Energy Management Agency noted in October. Supermarkets waste over 44 pounds of food every day, French politician Arash Derambarsh wrote in an online petition against food waste.
Food production has a high carbon footprint, contributing as much to global emissions as transportation, U.N. Secretary General Ban Ki-moon said in September. Food waste also represents a waste of land, water and energy, the U.N. Food and Agriculture Organization (FAO) noted. Europe emits almost 1,540 pounds of carbon per capita in food waste every year, according to a 2013 FAO report.
After Wednesday's vote, 100 restaurants in Paris launched a campaign called "La box anti-gaspi" ("the anti-waste box"), which calls for diners to bring home unfinished food in a doggie bag.
The legislation passed as international leaders and representatives wrap up the COP21 climate change talks in Le Bourget, near Paris. On Dec. 5, the United Nations released a draft agreement outlining measures that would help mitigate climate change.
PHOTO GALLERY
15 Ways You Contribute To Climate Change
REAL LIFE. REAL NEWS. REAL VOICES.
Help us tell more of the stories that matter from voices that too often remain unheard.