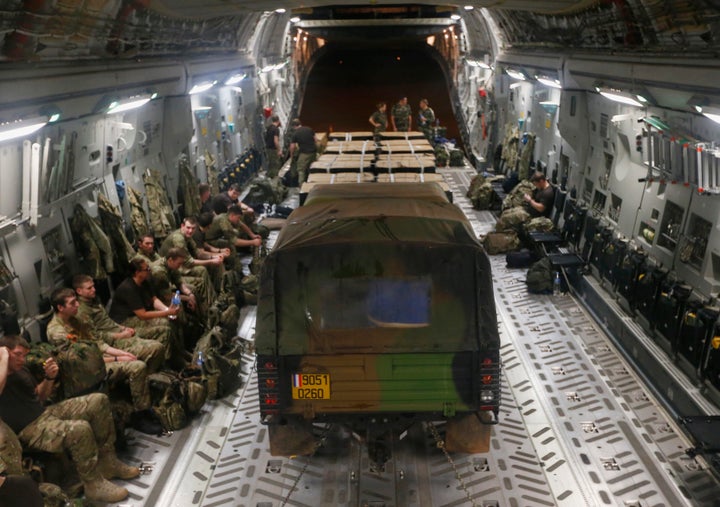 Following Friday's terror attacks in Paris, French President Francois Hollande vowed that his government would pursue a "merciless" offensive against the Islamic State militant group that took credit for the killings.
Hollande's pledge to increase military intervention in Syria, where France has already been conducting airstrikes against extremist fighters, marks an escalation in the country's interventionist foreign policy that frequently uses force abroad.
France is currently the only nation in the European Union to be actively conducting airstrikes in Syria. It was also the first European country to join the U.S.-led coalition targeting the Islamic State in Iraq last year, breaking a 15-year hiatus on French airstrikes in the Middle East.
France has carried out nearly 300 airstrikes in Iraq and Syria over the course of its year-long air campaign against the Islamic State, a number that will rise as it intensifies its bombing operations. And while this doesn't approach the more than 6,300 airstrikes the U.S. has launched, it makes up a sizable portion of the around 1,700 non-U.S. airstrikes that the 11 other coalition members have conducted.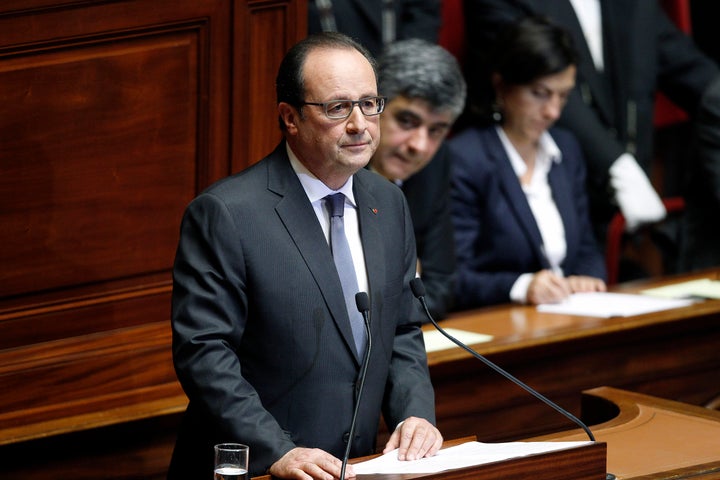 Additionally, France has taken one of the hardest lines among Western countries against Syrian President Bashar Assad's regime. In 2013, the French government ardently called for Western intervention against Assad following the revelations that his troops had used chemical weapons. 
While the U.S. and Russia brokered a deal on the Syrian government's chemical weapons stockpiles that averted an intervention, the French have continued to call for the removal of Assad and this year launched a war crimes investigation against his regime.
France's foreign military operations are far from limited to Syria and Iraq, and include engagements across West and Central Africa.
France launched Operation Serval in Mali, a former French colony, two years ago in an attempt to drive out al Qaeda in the Islamic Maghreb, or AQIM, militants that had seized cities in the north. The intervention involved around 3,500 troops backed by airstrikes, and successfully retook the city of Timbuktu from the militants along with other major cities. Continued instability and terror attacks led France to deploy troops there again in 2014, where many remain.
Thousands of French troops, along with reconnaissance drones and combat aircrafts, are stationed in Western Africa. France currently has armed forces in Chad, Mali, Burkina Faso and the Ivory Coast, among other nations. 
Hollande also deployed around 1,200 troops on a peacekeeping mission to the Central African Republic amid rising violence and threat of genocide in that country in 2013. Earlier this year France's government also called for doing more to mitigate the conflict raging in Libya, though didn't advocate for military intervention.
That wasn't the case in 2011, when France supported the NATO-led mission to impose a no-fly zone over Libya and conduct airstrikes against the regime of President Muammar Gaddafi. 
On Tuesday, France's defense minister, Jean-Yves Le Drian, called for assistance from EU nations to help in its many military endeavors.
Le Drian used a EU mutual-defense clause for the first time in the organization's history, saying other nations should either help in Iraq, Syria or any of France's numerous other operations across the globe.  
Read More Paris Coverage
PHOTO GALLERY
Politicians React To Deadly Paris Attacks
Calling all HuffPost superfans!
Sign up for membership to become a founding member and help shape HuffPost's next chapter