There have been 10 notable terror attacks in France since the start of 2015, including Thursday's massacre in Nice.
While many countries are struggling with a rise in terrorism, the frequency of the attacks over such a short period in France is shocking. As one observer noted on Twitter, the country has faced an average of one such assault every two months.
Agence France-Presse created a graphic laying out the horrifying events: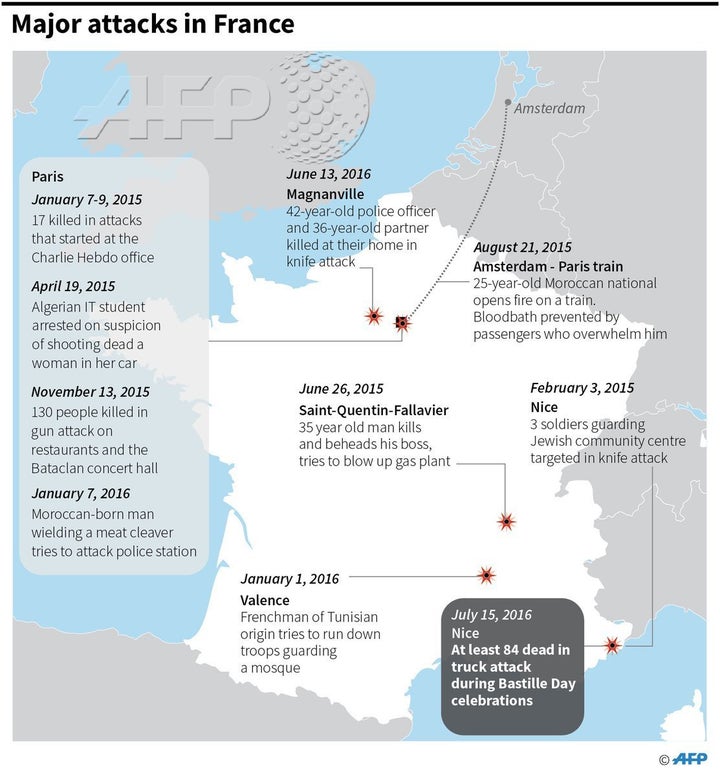 But the French are not alone in their grief. There has been a wave of attacks across Europe, from Belgium to Turkey, most of which are the work of the Islamic State or its followers.
These are the 10 assaults in France since January 2015, according to AFP.
Jan. 7-9, 2015: Charlie Hebdo And Kosher Supermarket Attacks, 17 Dead
Two gunmen invaded the Paris offices of Charlie Hebdo on Jan. 7, shooting 12 people dead. The assailants targeted the satirical journal in retaliation for its mocking depictions of the prophet Muhammad. Al Qaeda in Yemen later claimed responsibility for the attack.
Two days later, another gunman with ties to the Charlie Hebdo shooters killed a police officer before opening fire in a kosher supermarket in Paris. He killed four more people and then died in a hostage standoff.
Feb. 3, 2015: Knife Attack Against Soldiers Guarding Jewish Center
In the aftermath of the Charlie Hebdo terror spree, soldiers were deployed across the country to protect vulnerable institutions. Less than a month later, an assailant stabbed three soldiers guarding a Jewish cultural center in Nice.
April 19, 2015: Student Accused In Terror Plot And Murder
An Algerian-born university student was arrested in a Paris suburb after calling an ambulance because he'd accidentally shot himself in the leg. He was suspected of planning a major attack and of killing a woman who was found dead in a nearby car earlier that week. Authorities found a cache of weapons on his property and evidence that he was in touch with extremist militants active in Syria.
June 26, 2015: Man Beheads His Boss, 1 Dead
Authorities arrested a truck driver near Lyon for decapitating his boss at a chemical factory. The severed head was placed on the factory gate alongside a cloth with the Islamic profession of faith. The man also set off an explosion at the plant, destroying one building. He was in the process of tinkering with other explosive chemicals when he was apprehended.
Aug. 21, 2015: Gunman Thwarted By Passengers On Train
A heavily armed man with ties to extremist groups was about to begin shooting on a train from Amsterdam to Paris, when four passengers ― three American and one British ― overpowered him.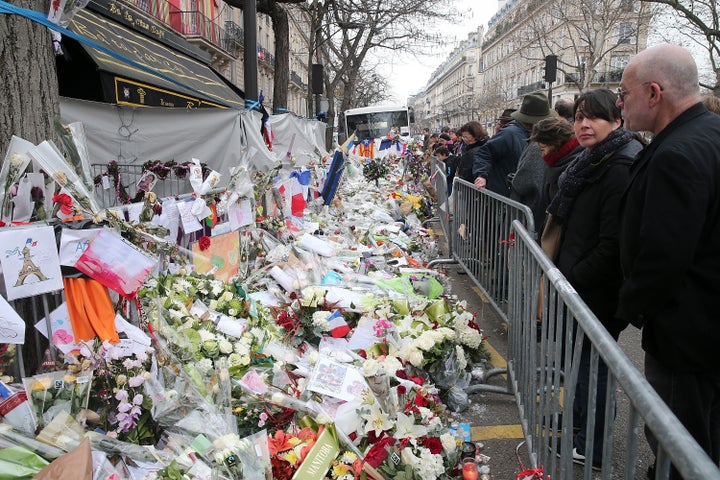 Nov. 13, 2015: Shootings At Bataclan Theater And Other Paris Nightlife Spots, 130 Dead
A group of extremist gunmen inspired by ISIS launched coordinated shooting assaults at several Paris restaurants and the Bataclan concert hall, killing 130 people, including 89 at the theater. The deadly spree, which also included explosions near the Stade de France during a soccer match, constituted the largest attack on French soil since World War II.
Jan. 1, 2016: Car Driven At Soldiers Guarding Mosque
A man drove a car at soldiers guarding a mosque in the town of Valence before he was stopped by the soldiers' gunfire. One soldier and a Muslim man were injured.
Jan. 7, 2016: Meat Cleaver Assault On Police Station
A man holding a meat cleaver and wearing fake explosives charged at a police station in northern Paris a year to the day after the Charlie Hebdo attacks. He shouted "God is great" in Arabic, according to French police. Officers shot and killed him.
June 13, 2016: Police Officer And Partner Stabbed, 2 Dead
A man murdered a police officer and the officer's girlfriend in their home in a town west of Paris, while streaming the act on Facebook Live. The video showed the perpetrator declaring his allegiance to ISIS. The murders were committed in front of the couple's young child.
July 14, 2016: Truck Rampage During Bastille Day Celebration, 84 Dead
A man drove a truck into a massive crowd for more than a mile along Nice's coastal promenade during a Bastille Day fireworks display, killing at least 84 people, including 10 children, and injuring some 200 others. ISIS officially claimed responsibility for the attack on Saturday.
CORRECTION: An earlier version of this story mischaracterized the nationalities of the four train passengers who stopped a gunman in August 2015. Three of them were American, and one was British.
Before You Go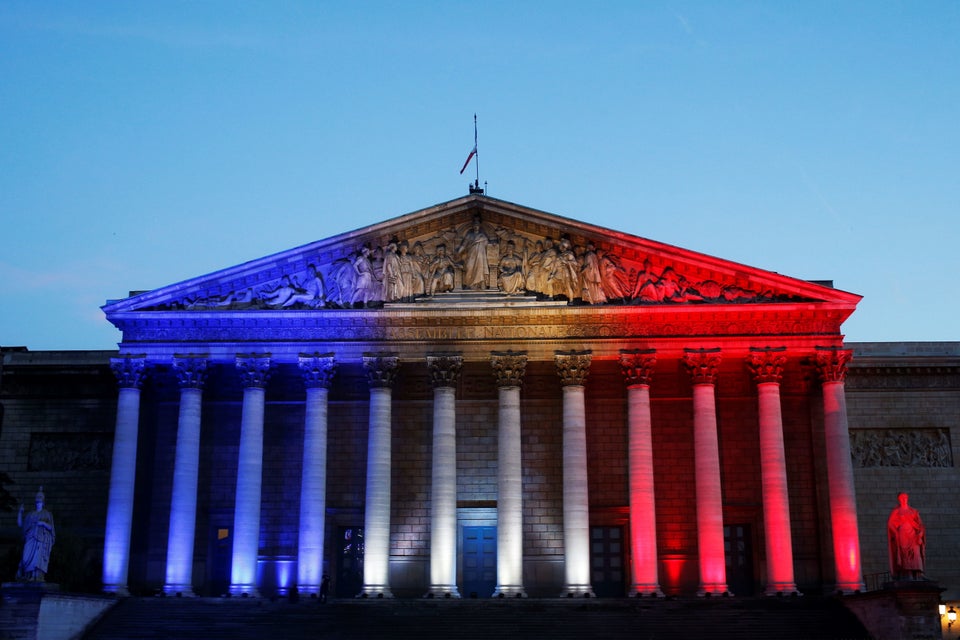 World Reacts To Nice, France Attack
Popular in the Community