The French made history in the first round of their presidential elections on Sunday, as neither of the two winners came from the country's large, traditional establishment parties for the first time in modern France.
Pro-European Union politicians and voters hope that independent candidate Emmanuel Macron will defeat far-right National Front leader Marine Le Pen in the second round on May 7, giving a much-needed boost to an embattled EU. Polls predict that Macron will win with around 60 percent of the vote.
Some hold up Macron's first-round victory as proof that the forces of populism are no match for the current liberal order. But in fact, the French election can be seen as an extreme example of a trend across Europe, in which establishment parties and traditional left-right divides are being supplanted by new political movements, anxiety over national identity and radical parties railing against the effects of globalization.
Even if Le Pen loses, millions in France will vote for her and she is set to remain a prominent political figure for years to come. France's traditional left will still be in shambles and the country's electorate divided.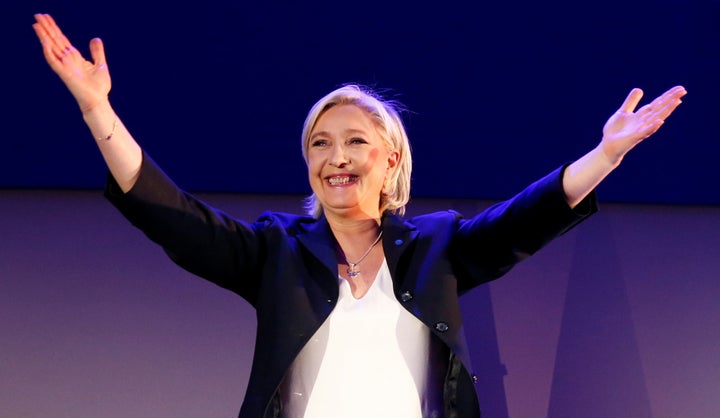 "That we're talking about whether Le Pen will achieve between 30 and 40 percent of the vote is massively significant. It would have been unthinkable," said Duncan McDonnell, an expert on populism and professor at Griffith University. The only other time the National Front reached the second round was in 2002, when Marine's father Jean-Marie Le Pen was crushed in a landslide, 82 to 12 percent.
Unlike her father, however, Marine Le Pen has managed to find support among a wide range of voters ― from youth who are facing a near 25 percent unemployment rate to voters who feel left out of the benefits of trade and globalization.
"If you look at an electoral map of France in this past election there are basically two Frances, between who voted for Marine Le Pen and who voted for Macron. It's in that sort of France that has been forgotten in many ways ― rural France, rust belt France ― that Marine Le Pen is doing really well," said Mabel Berezin, a professor at Cornell University who writes on European politics.
The stark divide is not solely the result of populist success, analysts say, but also of the failure of the ruling Socialist Party to address growing discontent among its working-class voter base.
"The rise of the populist right both in France and in Europe more generally should be seen less of a cause than a consequence," argued Sheri Berman, a professor of politics at Barnard College.
"The center-left parties, the social democratic parties or labor parties, have really had a huge amount of difficulty adjusting to the economic and social challenges of the last several decades," said Berman. "What that has done has fragmented its traditional constituency."
It's not just the far right that has benefitted from the break-up of the traditional left, either, but some radical left parties as well. Communist-backed candidate Jean-Luc Mélenchon gained nearly 20 percent of the vote in France's first round, and was the favorite among youth voters. He campaigned on a platform opposing what he described as France's "oligarchy," and likened himself to U.S. Sen. Bernie Sanders (I-Vt.)
The French distaste for the entrenched political system was so strong that in the first round, over 40 percent of voters cast their ballot for candidates on the extremes of the political spectrum. Even Macron, a pro-EU former banker, claims he is anti-establishment and neither left nor right.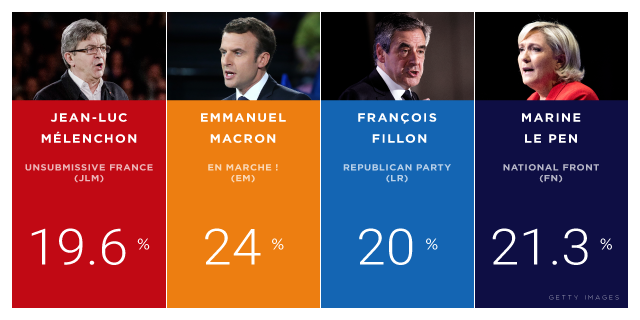 What happened in France's election isn't unique.
"Clearly in a whole range of European countries the allegiances of people are changing, party affiliation and loyalty are changing. People are now prepared to abandon their former ideological homes either on the center-left or center-right and vote for parties like the National Front," said McDonnell.
The fracturing of established party systems is prevalent across Europe. Last month, the Netherlands' elections saw the labor-oriented PvdA go from the second most powerful party to the seventh in a catastrophic defeat. France's ruling Socialists were effectively wiped off the electoral map in the first round of voting and gained only 6.4 percent of the vote. In Britain, the once-powerful Labour Party appears headed for a humiliating loss in snap elections this June.
Italy's center-left Prime Minister Matteo Renzi resigned last December following a referendum defeat, and now the most popular party is the ideologically amorphous Five Star Movement ― whose leader Beppe Grillo is a former comedian who applauded President Donald Trump's election as a rebuke to the political establishment.
"Clearly in a whole range of European countries the allegiances of people are changing, party affiliation and loyalty are changing."
While all these nations have domestic idiosyncrasies that make their political systems different, the threat to establishment parties is a cross-country trend.
As with Le Pen in France, far-right populist parties have capitalized on and fostered this political fragmentation. Amid persistent antipathy toward the EU ― as well as a debate over how to address immigration and the refugee crisis ― far-right populists have gained support by arguing they will take power from a corrupt elite and return it to the people.
These parties often possess a narrow and discriminatory definition of who "the people" really are, however, and it tends to exclude immigrants, Muslims and other minorities.
In addition to railing against elite politicians and officials in Brussels, far-right populists have played on ethno-nationalist sentiment and accused establishment parties of favoring immigrant and refugee interests over those of native-born citizens. They have vowed to close borders, enact anti-Islam legislation and turn away from international institutions.
Although there is an increased spotlight on the rise of populism following the United Kingdom's Brexit vote and the U.S. election, Europe's far-right has been a growing presence for decades. But now, in several European nations, some of these parties have reached unprecedented levels of support.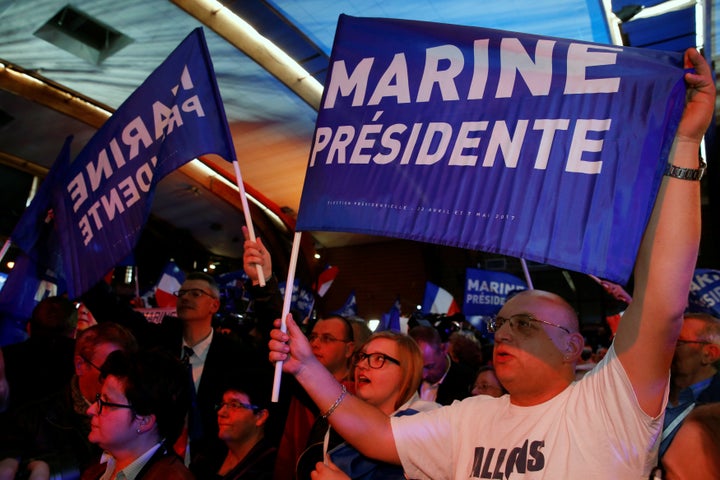 In the countries where establishment politicians have held onto power, such as Germany, the U.K. and the Netherlands, they have often made capitulations to the far right. Dutch PM Mark Rutte hardened his stance on immigrants, German Chancellor Angela Merkel backed a ban on face veils and former British PM David Cameron notoriously gambled that the Brexit referendum would be a way of easing pressure from the anti-EU right.
But these measures to undercut populist challenges may be a Band-Aid solution. If establishment parties fail to address the social and economic issues that are increasingly driving voters to the extremes, analysts believe populist parties may continue to thrive and grow in the opposition, where their policies don't have to be tested.
Though Macron is predicted to win the vote in May, he will face huge challenges as an inexperienced politician from a newly formed party tasked with fixing France's myriad ills. Le Pen, meanwhile, will be able to point to any of his failings as proof her populist platform is the only real alternative to politics as usual. When France's 2022 presidential election comes around, that appeal may be stronger than ever.