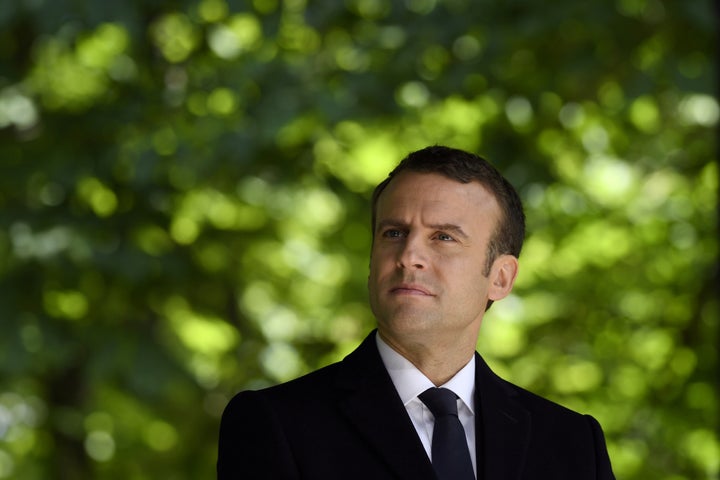 PARIS — French President-elect Emmanuel Macron's extraordinary victory should not mask the Herculean task that lies ahead. France is in a world of hurt, scarred by a series of terrorist attacks and a decade of mass unemployment and stagnation in standards of living. Without decisive fiscal, tax and labor-market reforms, and a noticeable improvement of the economy, it may well be far-right nationalist Marine Le Pen's turn to become president in 2022.
Whether Macron can implement market reforms depends on whether he can coalesce a majority in the National Assembly in the parliamentary elections coming mid-June. Macron's party is barely a year old and doesn't have a single seat in the Assembly.
Although many pundits expect Macron to ally himself with the ailing Socialist Party (which he deserted last year) to achieve a majority, he may well have something shrewder in mind. Appointing a premier from the center-right party, the Republicans, would not only forge an overture to the right to implement economic and security reforms, but also — and this has been Macron's grand scheme all along — it would create a "recomposition" of the French political landscape.
Macron's extraordinary victory should not mask the Herculean task that lies ahead.
In the parlor game that commenced after the presidential election, there are four plausible scenarios for the outcome of the parliamentary elections:
1. A hung Parliament
This would be the worst outcome. There are at least four political formations besides Macron's "En Marche!" vying for the 577 seats in the Assembly. A poll by Kantar-Sofres released on May 7 and conducted before Macron won the presidential vote points to a small lead in the upcoming legislative election for his party (24 percent) over the center right (22 percent) and the far right (21 percent), with the far left well behind (15 percent). If there is no strict majority, Macron would have to govern with a fragile grand coalition. This would make bold reforms more improbable and possibly embolden voters to vote for the extremes in 2022.
2. A blank check
Although French voters gave their president a parliamentary majority in 2002, 2007 and 2012, it's a tall order for Macron to win a majority, least of all because the movement has never participated in parliamentary elections. More critically, the first round of the presidential elections showed that nearly three-quarters of French society want, at the very least, to be protected from the massive economic, social and cultural changes brought about by globalization, and many simply wish to reverse them.
But the legislative elections could be just as unexpected as the presidential one. Macron is banking on a new generation of political rookies — who have never run for office and who will make up half his legislative candidates — to appeal to voters' yearning for renewal. He is also betting that the sclerotic local right-left political machines of yesteryear are dead, and that the impressive grassroots network of 270,000 foot soldiers that he built from scratch (largely online, Obama-style) in just over a year will carry the day. There is an unusually high number of incumbents not running due to a new law prohibiting local officials from also running in Parliament, which further enlarges the playing field.
Macron views his election as a foundational act.
3. "Cohabitation" with the center right
If the center right wins the legislative elections, the parliamentary majority (and thus the prime minister) will be from a different group than the president, as was the case in 1986, 1993 and 1997. Macron and the Republicans would easily find agreement on numerous issues, ranging from labor-market reforms, fiscal discipline, a pro-Europe stance and a hawkish position on security. This scenario holds high promise for reform but may yet be undone by the center right's insistence that it is "naturally in the opposition," in the words of François Baroin, who is leading the center right's legislative campaign. There's also the bruised egos of some of the center-right party bosses who, despite their eager supplications to lead a Macron government, have not appeared in the unofficial chatter of those close to Macron's circles.
4. A "big bang"
Macron has said that he will announce his prime minister around May 15. His choice may yet usher in a fourth scenario, a "big bang" in French politics that he has dubbed "la recomposition."
Macron views his election as a foundational act. In this new framework, the fracture lines of French politics are no longer about the right-left divide, but about an alliance of the "progressives" versus the "nationalists." He has made no secret of his belief that the right as it is today is bound to implode, with a "progressive" wing joining him and a "reactionary" wing drifting toward a nationalist discourse. The renaming of his movement to "La Republique en Marche" on May 8 — coupled with his acceptance that candidates from other parties can carry the colors of his movement for the legislative elections, yet retain their original party membership — should leave no doubts as to his aim to rally the moderate right.
He is banking on a new generation of political rookies to appeal to voters' yearning for renewal.
Ironically, Macron shares many intellectual roots with Alain Juppé, the former prime minister who lost the center-right primary to François Fillon. Both view France as open, pro-European, multicultural and ripe for deep labor, tax and educational reform. As one Juppéist recently put it, their programs are not dissimilar, except that Macron is a little friendlier to households and Juppé to business. 
Macron's choice of prime minister will be critical. Appointing a center-right prime minister could kill two birds with one stone: it could enhance his chances of creating a parliamentary majority under the banner of his movement in June that would fuel a strong impetus for reform, and it would give him a choice of the prime minister he wants to govern with before the center right imposes one, should they win.
It may be good news for Macron that the right-left divide is dead. But if he doesn't move swiftly to create a majority focused on reform in Parliament, the nationalist-globalist divide that has replaced the left-right divide may well contain the germs of a much more radical populist uprising that might open the gates to a more virulent Marine Le Pen in 2022.
Juppé may have the last word after all. As he stated in 2015, "Maybe we should think one day about cutting both ends of the omelet so that reasonable people can govern together and leave aside the two extremes, left and right, that don't understand anything about the world."
Calling all HuffPost superfans!
Sign up for membership to become a founding member and help shape HuffPost's next chapter
BEFORE YOU GO
PHOTO GALLERY
France Votes In Crucial Presidential Elections