But controversy was close behind: Jean-François Jalkh, her party's newly appointed interim leader, lasted less than a week on the job. He stepped down suddenly on Friday as reports emerged that he once called the use of Nazi gas chambers during World War II "impossible" ― delivering yet another devastating setback to Le Pen's election bid and her sweeping efforts to "de-demonize" the Front.
The criminal issue of anti-Semitism and Holocaust denial is one that has plagued Le Pen's party for years: her father Jean-Marie Le Pen, National Front founder and leader for nearly four decades, was convicted and fined multiple times for repeatedly dismissing the Holocaust as just "a detail" of history. Le Pen kicked him out of the party in 2015, after she had taken over.
But Jalkh's newly surfaced comments have countered Le Pen's painstaking work to recast the party's image, and stirred memories of her father's infamous remarks. In an interview in 2000, Jalkh was recorded questioning the events that led to the Nazi massacre of millions of Jews using the deadly gas, Zyklon B.
"Me, I consider that from a technical point of view it's impossible, I say impossible to use it in … mass exterminations," he said, according to a transcript.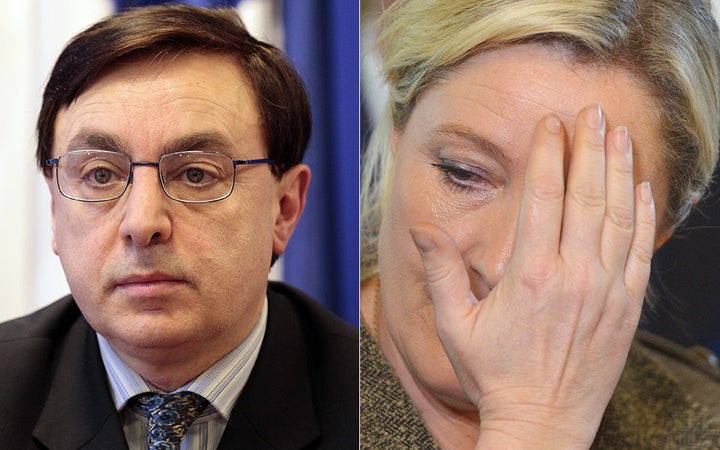 Jalkh initially denied making such comments. Now, Front party member Steeve Briois will replace him as leader, but Jalkh's ousting comes at a particularly disastrous time for Le Pen and her populist platform: On May 7, she will face off in France's final round of elections against centrist En Marche! party leader Emmanuel Macron, who is leading in the polls.
The Front's most recent downfall is just the latest in a series of events that have seen the race for the presidency become increasingly fraught with scandal.
Eliminated candidate François Fillon, who was knocked out in the first round of elections earlier this month, has also been embroiled in controversy. The conservative Republican party leader was investigated over allegations of embezzlement and paying his wife and children for fake jobs he created.
And on Thursday, the European Parliament accused Le Pen of defrauding it of around 5 million euros (US$ 5.4 million). Le Pen has denied the allegations, but an investigation is underway.
Le Pen has also raised questions surrounding the events of the Holocaust, declaring this month that France was not responsible for the Vel d'Hiv Roundup in 1942, when French police arrested thousands of Jewish people in Paris and deported them to death camps.
Popular in the Community