The truck deliberately zigzagged with its headlights off through a large crowd celebrating Bastille Day in Nice, France.

At least 84 people were killed including 10 children, French officials said. More than 200 people are currently hospitalized, including 25 people on life support.

The truck was "loaded with arms and grenades," a local official said, but some were reportedly fake.

The driver has been identified as a 31-year-old French-Tunisian named Mohamed Lahouaiej Bouhlel.
The vicious Bastille Day attack in the French city of Nice that killed at least 84 people, including 10 children, was an act of terrorism, France's President Francois Hollande said early Friday.
Counterterrorism officials have taken over the investigation into the attack, HuffPost France reported. Interpol announced on Twitter that it's sending a team to Nice to help with the identification of victims. No group has claimed responsibility.
Police sources told The Associated Press and French media they identified Bouhlel from documents they found in the vehicle. He was known for local crimes but had no known ties to terrorism, they added.
Paris Prosecutor François Molins said at least 202 people were injured in the attack. Fifty-two individuals were still in critical condition Friday, he said, with 25 of those on life support. At least 50 children were among those hospitalized, French officials said. An American father and his young son were among the first victims to be identified.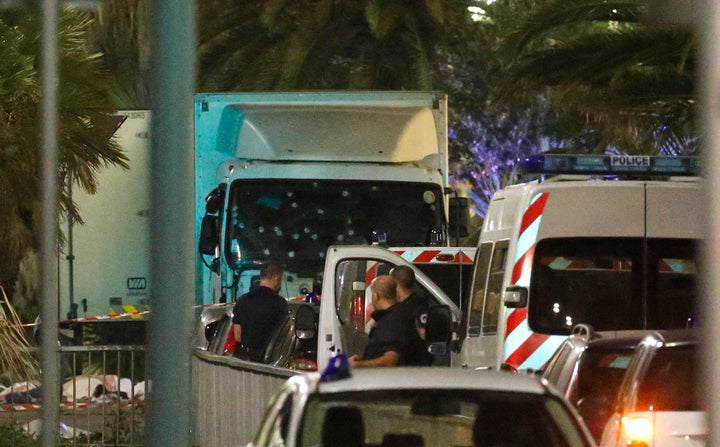 Hollande, addressing the nation early Friday after a crisis meeting, said the carnage in Nice was "an attack whose terrorist character cannot be denied."
"We need to do everything we can to fight against the threat of terrorism," Hollande said. Recalling recent attacks in Paris and St. Denis, he said. "It's all of France that's under the threat of Islamist radicalism."
The president said he would extend the state of emergency implemented after the November Paris attack for another three months. Earlier on Thursday, just hours before the Nice attack occurred, he had indicated that the emergency measure would expire as planned in less than two weeks.
"We don't yet know if [the driver] had accomplices, but we are hoping that his identification will offer us more leads," Hollande said.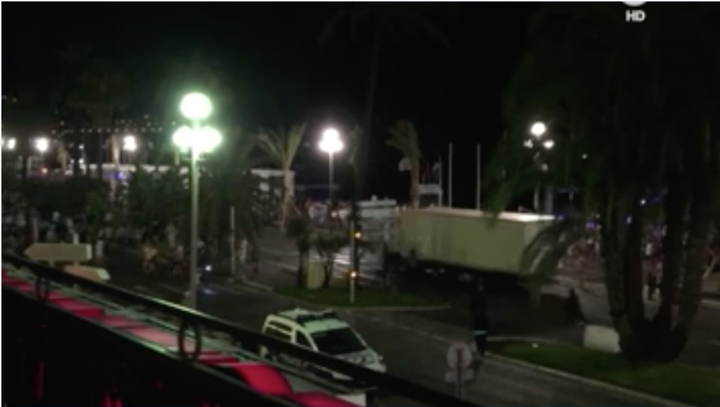 Witnesses recounted a harrowing scene. "There was carnage on the road," Nice resident Wassim Bouhlel told the AP. "Bodies everywhere."
Cheerful crowds had gathered along the promenade to watch a fireworks display for the French holiday. But then a white truck barrelled down the street at high speed, hitting terrified pedestrians and sending debris flying into the air, an Agence France-Presse reporter recalled.
"Nobody in the way stood a chance," Pierre Roux told The New York Times. There was no honking as the truck plowed through the crowd with its headlights turned off, he said.
"My husband picked up the kids and started running," Linda, another witness who did not provide a last name, told French TV station iTélé. "I turned around and just saw so many dead people. I even saw a baby with its head totally crushed."
"All of the images we all saw from Paris, we are living them now here," David Haziza, a Nice resident, told iTélé.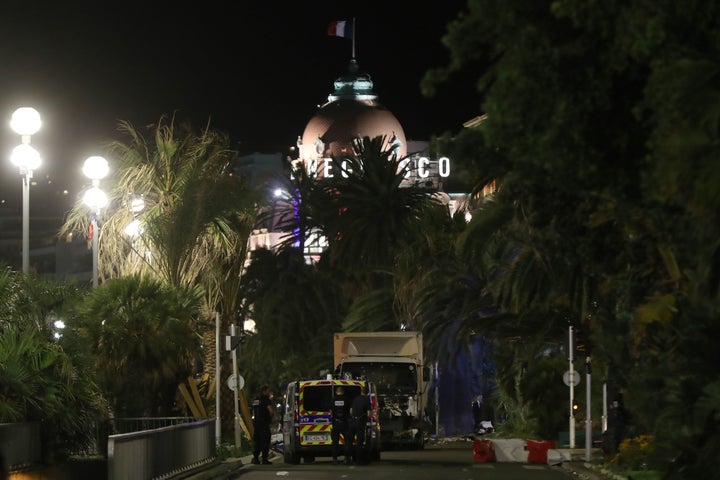 Images posted on social media showed people running through the streets of the southern French city. Local newspaper Nice-Matin posted images of a white truck at the scene and said the vehicle was riddled with bullets.
Police urged residents to stay indoors, and medical teams were on the scene, AFP said.
U.S. President Barack Obama called the attack "horrific" and said that his administration was in touch with French officials and had offered to help with their investigation. Presumptive presidential nominees Hillary Clinton and Donald Trump offered their support to victims and solidarity with France.
German Chancellor Angela Merkel also expressed solidarity with the people of France.
"Together with many others we stand side by side with #France in the fight against terrorism," she said.
Facebook activated its safety check feature to enable people in Nice to assure friends they are safe. Concerned friends and relatives appealed for news about loved ones on Twitter using the hashtags #RechercheNice and #RecherchesNice.
"France is horrified by what has just transpired ― this monstrosity of using a truck to deliberately kill dozens of people who were merely celebrating July 14th," Hollande said in his address to the nation. "But France will always be stronger than the fanatics that attempt to bring it down."
Related
Before You Go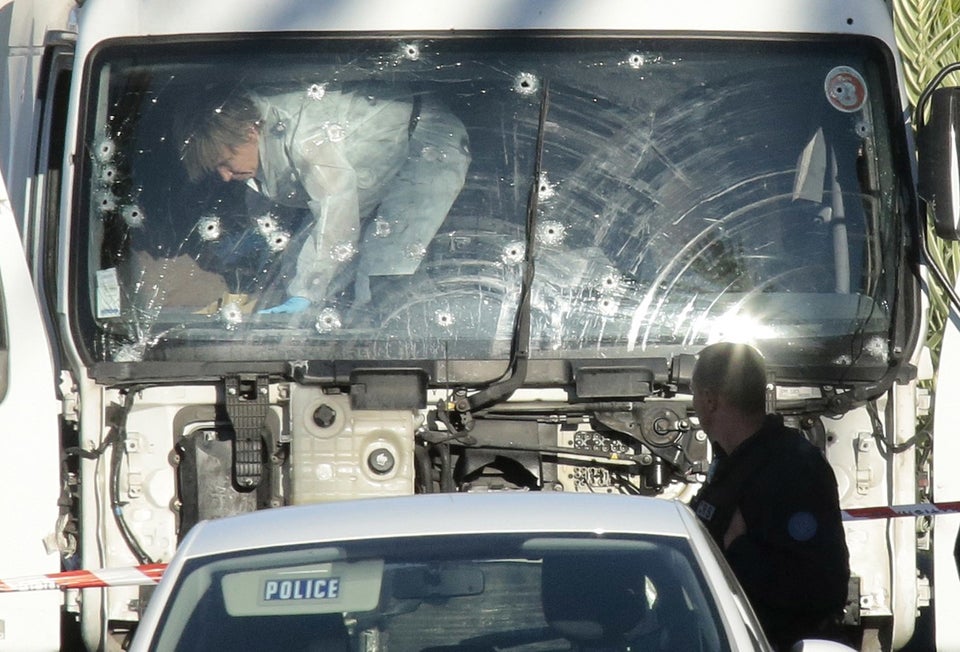 Aftermath Of Truck Attack In Nice
Popular in the Community