Centrist candidate Emmanuel Macron won the final round of France's pivotal presidential election on Sunday with a decisive victory over far-right candidate Marine Le Pen.
With almost all votes counted, Macron claimed 66.1 percent of the vote, according to government tallies reported early Monday. Le Pen conceded shortly after initial tallies were released Sunday night.
Macron celebrated his victory with a rally at the Louvre in Paris, where joyous supporters waved both European and French flags as they cheered their candidate.
"A new page of our long history is turned ... one of refound hope and trust," Macron said after the results came in.
In her concession speech, Le Pen said that France had decided to vote for continuity rather than change and vowed that her National Front party would undergo an overhaul to prepare for the future.
"The National Front ... must deeply renew itself in order to rise to the historic opportunity and meet the French people's expectations," she told supporters.
Florian Philippot, the National Front's vice president, said the party will change its name.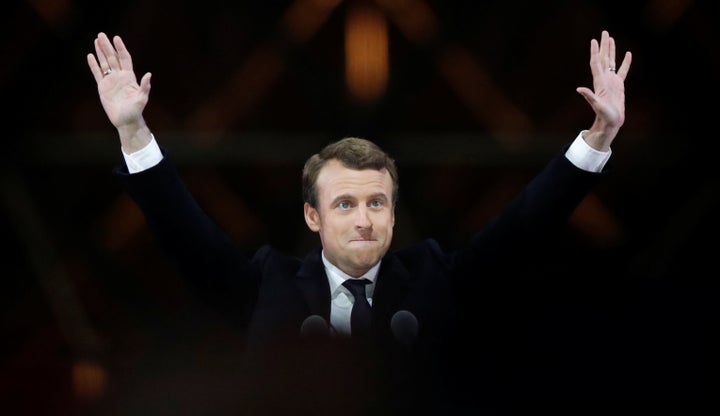 Millions of people cast their ballots in towns and cities across the country on Sunday, but turnout was lower than previous elections. The Interior Ministry said about 12.5 percent of votes cast were either blank or spoiled and nearly 25 percent of voters abstained, indicating that many voters didn't support either of the candidates.
In a solemn address Sunday night, Macron recognized the deep divisions in the country.
"I know the divisions in our nation, which have led some to vote for the extremes. I respect them," Macron said.
"I know the anger, the anxiety, the doubts that very many of you have also expressed. It's my responsibility to hear them," he continued. "I will work to recreate the link between Europe and its peoples, between Europe and citizens."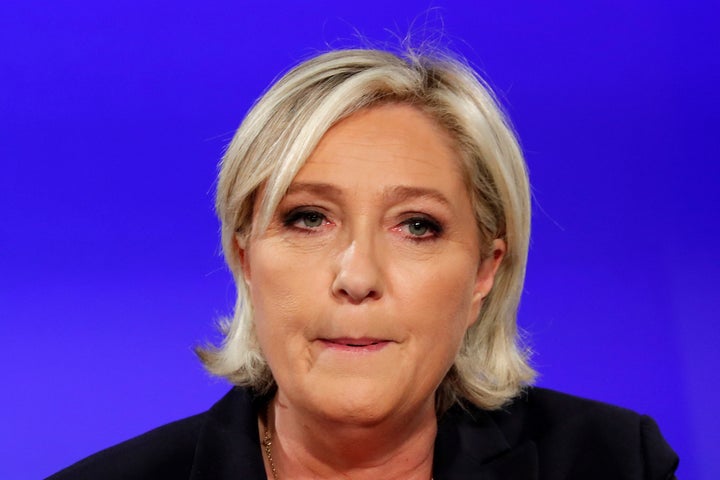 France's election is a crucial moment for both the country and the European Union. Le Pen promised to pursue a French exit from the EU, a move that would likely lead to the collapse of the trading bloc. Macron ran on a pro-EU platform, promising to reform the union and bring back economic prosperity to France.
Pro-EU politicians, including President of the European Council Donald Tusk, were quick to congratulate Macron on the win.
"The French people have chosen hope over fear and unity over division," tweeted London Mayor Sadiq Khan.
The vote was seen as the biggest test yet of how much support there is for France's far-right. Similar right-wing populist figures ― who vow to take power from a corrupt elite and return it to their narrowly defined version of "the people" ― have gained popularity across Europe. Many of these leaders, including Le Pen, have played on ethno-nationalist sentiment, declaring they would implement laws targeting immigrants and Muslims.
The election has also seen a fracturing of France's traditional party system. Either candidate will be the first president not to come from one of the country's historically powerful establishment parties. France has been struggling with years of economic malaise, major terror attacks and questions of national identity ― all contributing to widespread antipathy toward the political establishment.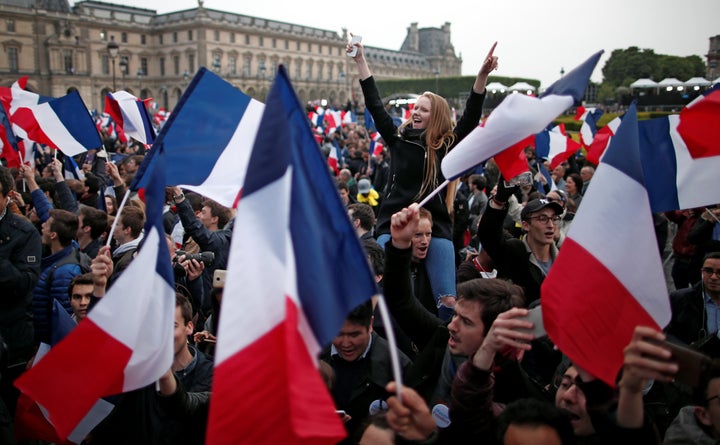 The road to Sunday's vote was one of the most unconventional in modern French political history. The ruling Socialist Party is in shambles after the deeply unpopular presidency of Francois Hollande, while Republican Party candidate François Fillon's candidacy was crippled by scandal and corruption allegations. Fillon's fall allowed the field to broaden and saw Macron, a former banker who launched his En Marche ! political party last year, become the front-runner.
Macron took the election's first round on April 23, with 24 percent of the vote to Le Pen's 21.3 percent. Following close behind in the 11-candidate vote were Fillon at 20 percent and far-left leader Jean-Luc Mélenchon at 19.6.
The final weeks of the campaign saw Le Pen attempting to downplay or moderate some of her policies in order to appeal to a wider range of voters and quell fears that her election would send financial markets into chaos. She announced following the first vote that she was stepping down from leadership of her National Front Party ― a bid to temporarily distance herself from a political organization many in France associate with decades of anti-Semitism and racism under the leadership of Le Pen's father, Jean-Marie.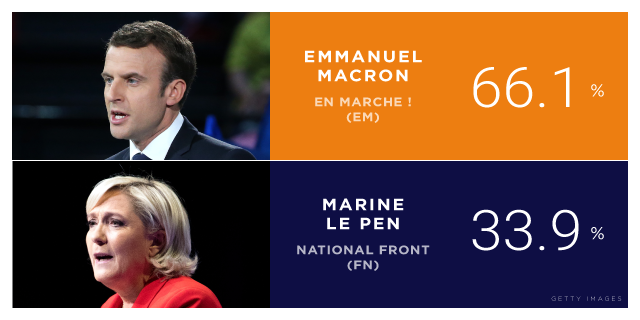 Le Pen even wavered on her signature policy of holding a French referendum on EU membership after six months, saying a return to single currency could take longer if necessary. She floated the idea of a parallel French currency for daily purchases while keeping a common currency for major business deals, but provided no details on how that would work.
Le Pen also went on the offensive in the lead up to the final vote, attempting to paint Macron as no different from Hollande and "complacent" about Islamic fundamentalism.
"His program seems to be very vague, but in reality it is a simple continuation of Francois Hollande's government," Le Pen said.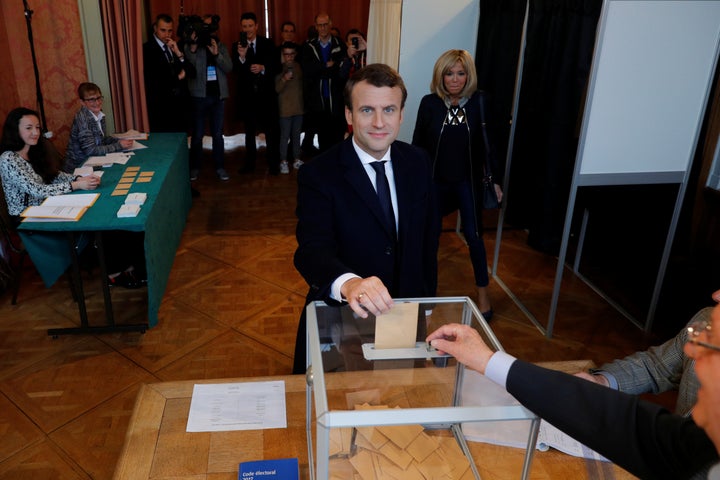 Macron, meanwhile, tried to remind voters of the extreme rhetoric, policies and history of Le Pen and the National Front. At a speech in Paris on Monday, he described his opponent as a "candidate of hate" and called on voters to join together to cast their votes against her. Macron also laid flowers at a memorial for a man who was killed by skinheads during a demonstration in 1995, highlighting the history of violence associated with far-right ideologies.
During a heated televised debate on Wednesday, the two ridiculed each other's plans for governing. Le Pen accused Macron of being a stooge of private interests and banks, while Macron claimed she was stirring up fear and spinning lies for political gain.
Concern over foreign interference loomed over the race, as Macron's party alleged it was the target of hacking attempts throughout the campaign. On Friday, the election saw another twist when a massive trove of hacked emails from Macron's campaign leaked online. Party officials claimed that the documents also contained fake messages to spread "doubt and misinformation."
French media largely refrained from covering the emails, with major newspaper Le Monde publishing a statement saying the hack was a clear attempt to influence the validity of the vote. French law asserts a media blackout and ban on campaigning for the 44-hour period before the election.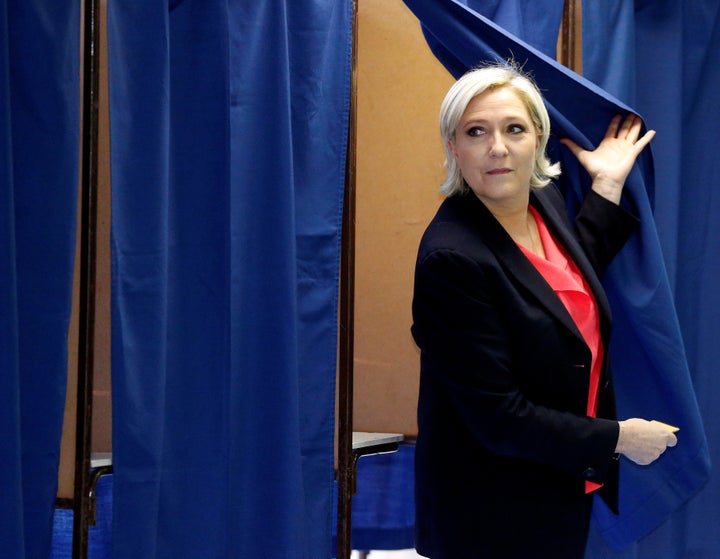 Macron derived his support in the first round from major cities, as well as areas with higher levels of education. But in the second he gained he also picked up voters who simply wanted to oppose a radical Le Pen presidency. Except for Mélenchon, all the top contenders for the presidency told their constituencies to back Macron.
Macron will now be tasked with fixing France's flagging economy and dealing with security fears resulting from years of terror attacks.
But the most immediate concern for the next president will likely be seeking an assembly majority in the upcoming parliamentary elections in June. Without parliamentary support, Macron will have a very difficult time implementing the sprawling changes he has promised France.
This article has been updated with details from Election Day.
Before You Go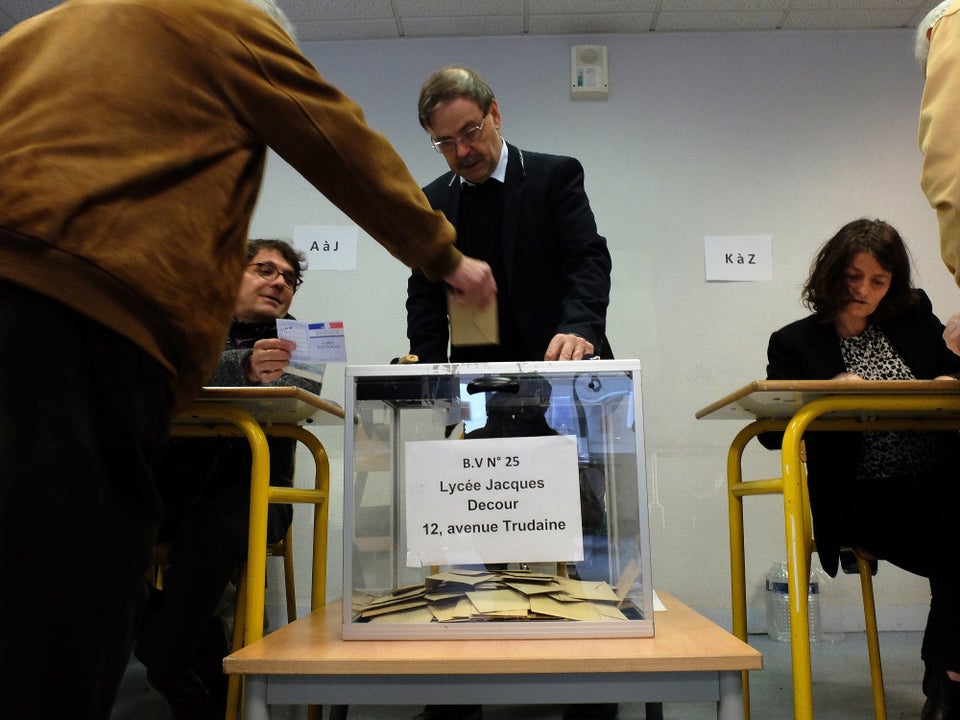 France Votes In Crucial Presidential Elections
Popular in the Community