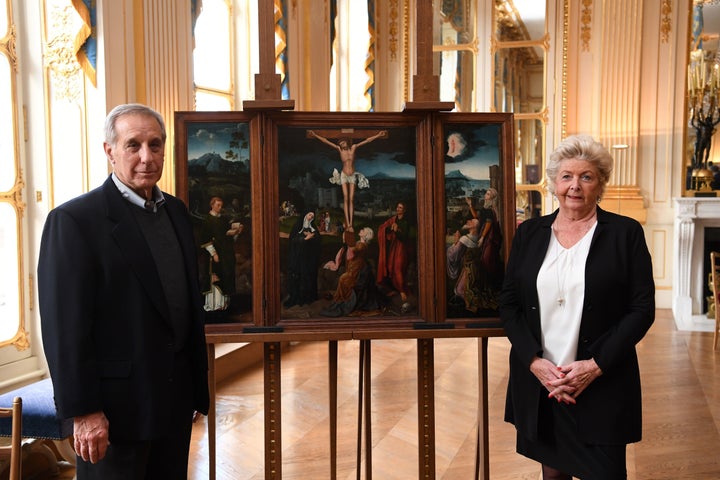 France has returned three 16th-century oil paintings to the descendants of a German-Jewish couple who sold the artwork in order to flee the Nazis.  
On Monday, France's culture minister, Francoise Nyssen, handed the paintings over to Henrietta Schubert and Chris Bromberg, descendants of Herta and Henry Bromberg, during an official ceremony at The Louvre Museum in Paris.
The collection included artwork by the Flemish painter Joachim Patinir, a master of landscape painting. One of Patinir's pieces, "Triptych of the Crucifixion," is an oil painting depicting Christ on the cross surrounded by his followers.
After the Nazis occupied Paris, the triptych was sold for a cheap price. It was reportedly destined to be added to Hitler's Fuhrermuseum, an unrealized art museum the Nazi leader wanted to build in his hometown of Linz, Austria.
The Brombergs' Patinir paintings were discovered in Munich after World War II. They were then added to France's state collections and remained unclaimed for decades.
It's estimated that about 100,000 paintings, drawings, sculptures and antiquities were either looted by the Nazis in France around World II, or sold by Jewish families under duress, The New York Times reports. Many of the pieces ended up in Germany. Between 1945 and 1949, more than 61,000 were returned to France. About 45,000 were reclaimed by their owners. 
The country has been working on handing the remaining artwork over to descendants, although not much progress has been made since the first wave of restitutions. The French government still has possession of 2,143 pieces, which are entrusted to museums like The Louvre. 
REAL LIFE. REAL NEWS. REAL VOICES.
Help us tell more of the stories that matter from voices that too often remain unheard.
BEFORE YOU GO
PHOTO GALLERY
Jewish Social Justice Organizations