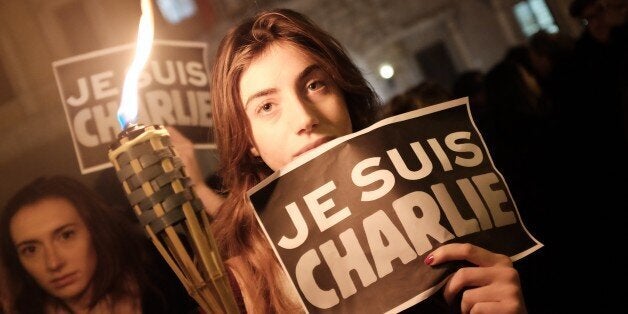 In the lead-up to Wednesday's brutal attack on the Paris offices of satirical newspaper Charlie Hebdo, France was already on edge. Weeks before, a series of incidents had raised tensions in the country and led to fears about the possibility of an extremist attack.
In December, there were three separate violent incidents across France -- two of which were highly visible, as they involved someone crashing a vehicle into crowds, injuring civilians. In the third, a man walked into a police station in the town of Joue-les-Tours and assaulted three officers with a knife, then was shot dead.
Despite the attacks occurring days apart, there was no coordination between them, according the French Prime Minister Manuel Valls. The similarities between the three attacks were limited to the fact that in two of the incidents, assailants reportedly yelled "Allahu akbar," or "God is great" in Arabic, as the assailants in Wednesday's attack reportedly did. The two assailants in vehicles reportedly also suffered from a history of mental illness. The man who veered his car into a crowd of people in the city of Dijon had been in psychiatric care more than 150 times.
Following this string of attacks, Prime Minister Valls issued a statement saying the country had "never ... seen such a great danger due to terrorism." French leaders also insisted the nation refrain from panic.
At the same time as President Francois Hollande urged calm, though, an increased police presence filled the streets, as hundreds of additional officers were deployed to public spaces and landmarks.
There is still not enough known about the attack on Charlie Hebdo to directly link it to broader terrorist movements, but on Thursday reports did emerge that Said Kouachi had received training from an al Qaeda affiliate in Yemen. In addition, Said's younger brother and fellow suspect Cherif also has a history of association with terror networks. What remains unknown is whether this attack was carried out under the direction of a terror group, or was merely inspired by it.
These incidents occurred amid an atmosphere of heightened tension in France, and also came on the heels of the Sydney hostage crisis and an attack on Canadian Parliament, which highlighted the global risk of extremism. Additionally, Islamic State propaganda often encouraged the targeting of France, which is a prominent member of the coalition against ISIS and has been vocal about intervention against terror groups.
Additionally, France is involved in a number of anti-terror campaigns across the Middle East and Africa. In early December, it launched a raid that killed a prominent militant leader in Mali, and currently has more than 3,000 troops stationed across West Africa. Militants have cited France's anti-terror campaigns as their reason for attacking French citizens abroad, including Algerian militants who beheaded French tourist Herve Gourdel last September.
French citizens also have played a notable role in contributing to extremist groups, especially the Islamic State. An October report by the U.N. Security Council named France as a source of foreign fighters in Syria. French authorities also identified two radicalized French citizens who were seen in one of the Islamic State's mass beheading videos.
Calling all HuffPost superfans!
Sign up for membership to become a founding member and help shape HuffPost's next chapter