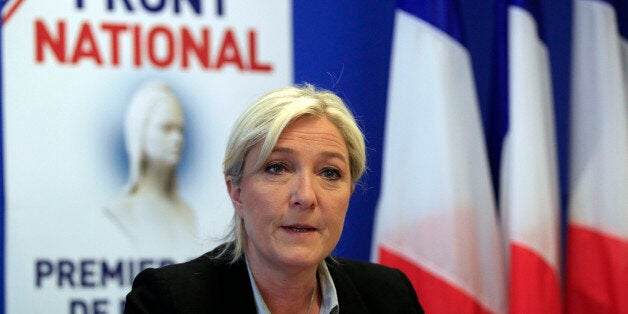 It is a far cry from the National Front of Jean-Marie Le Pen, who, as a paratrooper in Algeria was later accused, though not convicted, of torturing Algerian prisoners, and who once described the Holocaust as a "mere detail" of history; to the National Front of his more presentable successor-daughter, Marine Le Pen, who recently claimed she is not an anti-Semite, despite the fact that anti-Semitism and xenophobia have been a hallmark of her party since its inception.
The anti-EU far-right National Front has won big in the elections to the European Parliament on May 25. With 25 percent of the votes, it has significantly outdistanced the mainstream parties, the Gaullist Union for a Presidential Majority (UMP) (20.3 percent) and the Socialist Party (14.7 percent), whose leader, President François Hollande, has been unable to significantly lower the unemployment rate after more than two years in office.
Nevertheless, the mainstream pro-EU parties in the 751-member European Parliament will still retain 70 percent of the seats. Its initial mission will be to elect a new president of the EU's executive body, the Commission, to succeed José Manuel Barroso.
This is the most significant victory of the National Front since its formation in 1972. Later, the then President, François Mitterrand, gave life to the Front by introducing a system of proportional voting in an election in the mid-'70s -- a move clearly designed by the man sometimes described by the wily sobriquet of "Le Florentin" as an attempt to split the parties of the Right in France, just as Mitterrand all but obliterated the French Communist Party by locking it into a coalition embrace with the majority Socialists in his government.
The National Front's victory on May 25 is a warning shot for the 2017 presidential elections, particularly for the Socialist Party of François Hollande, who has already said he will not run if he cannot improve the unemployment rate; but also for the Gaullist UMP, whose defeated, but still dynamic figure, Nicolas Sarkozy, is faced with a cluster of legal charges as he makes up his mind whether to run again for President in 2017. In the meantime, it is still too early to tell whether the new rock star of the Socialist Party, the recently appointed Prime Minister, Manuel Valls, can turn the situation around for the non-Marxist Left in France. Judging from the results of the May 25 vote, the prospects are not good. (Not, however, that Marine Le Pen can become the next President of France.)
Calling all HuffPost superfans!
Sign up for membership to become a founding member and help shape HuffPost's next chapter